How to Use WordPress Bulk Edit and Quick Edit
Two of the most time-saving features in WordPress are the Bulk Edit and Quick Edit options. You'll find them when you're viewing all your Posts, Pages, Media Library, Categories, Tags, etc.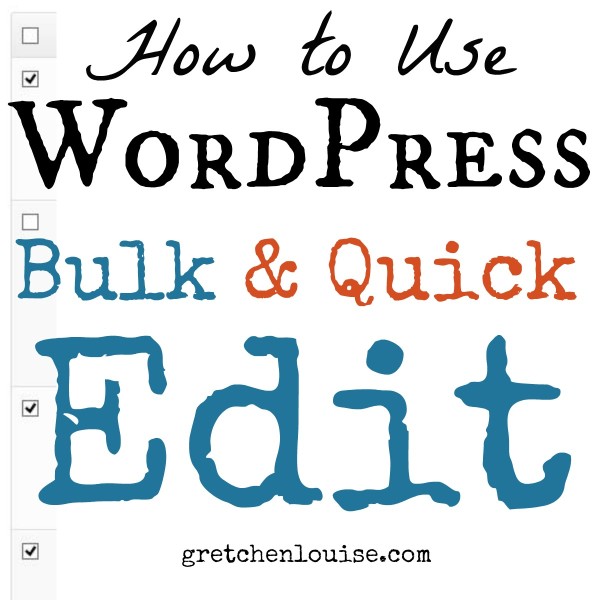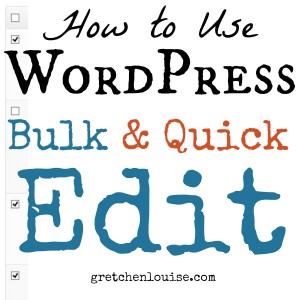 Bulk Edit
The Bulk Edit option is available when you check the box next to any number of posts.
Check the box in the top left of the header row to select all your posts visible on that page. You can selectively un-check posts, or selectively check only a few.
Click the "Bulk Actions" drop-down and choose your desired action before clicking "Apply": usually Delete or Edit.
If you choose Edit, a box will come up that allows you to bulk assign categories, tags, status, etc. to a large number of posts at once.
Choose the desired attributes and click "Update."
Wait a few moments for the settings to be applied (if you close the screen before the box disappears, your changes may not save).

Note: If you choose a category it will add that category to all posts—it will not remove any other categories applied to them.
How would you use Bulk Edit?
Search for all posts with the word "writing" to apply the category "writing" to all of them without having to individually edit each post. Select all posts by one author or in a specific category to revert them to draft or private.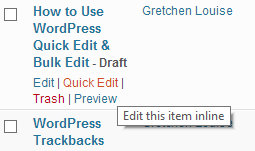 Quick Edit
The QuickEdit option appears when you hover over a Post, Page, etc. when you're viewing all Posts, Pages, Comments, etc. QuickEdit allows you to perform quick, inline edits to the attributes of one specific post.
Why would you use Quick Edit?
You can quickly edit different options on different posts or pages without ever leaving the view you're on. Plus, it's faster than editing the entire post, especially if you're on a slower internet connection!