The 5 Minute Guide to WordPress Plugins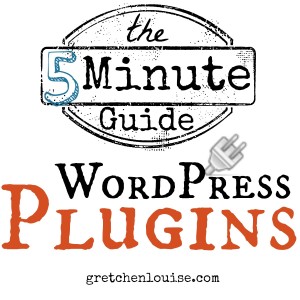 WordPress.org allows you to add features to and completely customize your website through the use of plugins. A plugin is something you choose and install on your WordPress.org site that adds some sort of feature or enhancement to your site. You can activate or deactivate each plugin at will.
There are thousands of free plugins in the WordPress directory. In addition, you can purchase and download professional plugins, then upload them to your site. There is a WordPress plugin for everything from site security to social media sharing.
Here's a quick guide to understanding the ins and outs of using WordPress plugins.
1. When it comes to WordPress plugins, less is usually more.
You don't need every plugin in the WordPress plugin directory. In fact, you may not even need all the plugins your friends use. Install only the plugins you really need. And if you're not using a plugin, deactivate and delete it. The more plugins you install, the more potential plugin conflicts you have. The more plugins you install, the more processes you have running on your site. And just like your computer, the more windows you have open, the slower your computer may run.
2. Plugins may not be what is slowing down your WordPress site.
However, it's not always the number of plugins that is the cause of a sluggish website. It's often poorly coded plugins or plugins that are set up improperly that are at fault. It doesn't matter if you add the feature via a plugin or via PHP code, it will still be the same draw on your site's resources. Again, less is more. But don't delete all your plugins just because you have site load issues. Ask your host to identify which plugin or which script is causing the server load. Don't settle for the answer "too many plugins."
3. Out of date plugins can compromise your site's security.
When a plugin update is available, it usually means one of two things: either the plugin has added new features or removed a security issue. Never install a WordPress plugin from an untrusted source. Neither is it a good idea to install a plugin that has not been updated within the past year or two (though there are always exceptions).
4. Different plugins work well with different themes or frameworks.
Many plugins are designed specifically for one WordPress theme or framework, to enhance or add on to its features. They usually won't work with other themes. If this is the case, it will usually be noted in the title (i.e. plugins for the Genesis framework like Genesis eNews Extended or Genesis Simple Edits).
5. All WordPress plugins are not created equal.
Before you install and activate a WordPress plugin, do your homework. Check the support tab. Make sure you're not installing a plugin that comes with horror stories. When was the plugin updated last? Does it have a fair number of downloads compared to similar plugins? Is it by a professional plugin author?
Got more than 5 minutes?
You'll find that every WordPress user has their own plugin preference. There is not one complete list of the perfect plugins to install on your WordPress site, or there wouldn't be thousands available to choose from. Here is a list of my favorite plugins: The WordPress Plugins I Install for My Friends. Pick and choose what works for you and your site.
The easiest way to search for plugins is to visit the WordPress plugin directory at http://wordpress.org/plugins/. There it's quick and easy to view the details about a plugin, check the support tab, and view other plugins by the same author.

The easiest way to install a plugin is to click Plugins, Add New from within your WordPress Dashboard. Search for your plugin by name, browse featured or favorite plugins, or upload a plugin you've purchased. Click Details to find out more about the plugin, or Install Now to install it. Once installed, you have to Activate the plugin before it will go into effect. Sometimes, plugins require additional set up before they will start working on your site (Akismet and most cache plugins are examples of this).
Did you know? Anyone who is logged in to the WordPress.org Support Forums can "Favorite" a plugin. Visit anyone's WordPress.org profile to find their favorite plugins. Or, find and install your own favorite plugins–or those of others–from right within your dashboard. When you click Plugins, Add New, you can search by Favorites. Enter the WordPress.org username of anyone you wish (mine is gretchenlouise) and click "Get Favorites".

What are your favorite WordPress plugins?