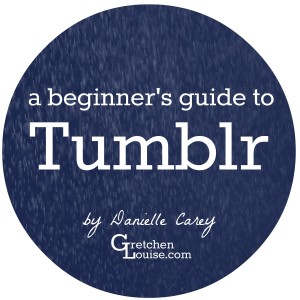 Tumblr 101
If you're unfamiliar with Tumblr, it's kind of hard to explain without comparisons to other social media. Think blogging – but short, punchy, informal, and immediate. Think Pinterest, but in a scrolling feed style. Think Twitter, without the limitations of 140 characters. And think of hashtags like you've never thought of them before.
The Tumblr interface has been around for seven years now, but when I jumped on the bandwagon about five years ago, it was still relatively small. I didn't know anyone from "actual real life" who used Tumblr, and I'd stumbled onto it quite randomly. While Tumblr has grown steadily in that time, in the last couple of years in particular it seems to have gained momentum and reached a point of mainstream recognition. I was watching a sitcom the other day and someone threw out a Tumblr reference. I had coffee with a new friend recently and finally worked up the nerve to say, "Are you on Tumblr?" A few years ago I would never have dared to do this. I'd be far too certain that the answer would be, "I – I have no idea what that is." Tumblr is now too familiar to ignore.
At its barest definition, Tumblr is a microblogging platform. But I like to think of it as a form of digitised scrapbooking. Not the Creative Memories-style scrapbooking which is about events and moments, but the Victorian-era tradition of collecting ephemera, quotes, thoughts, and ideas, and keeping them all together in a highly browsable collection. Just as a physical scrapbook can be themed or random, coordinated or haphazard, so too with a Tumblr account: it gives you the opportunity to share or curate what you like, when you like.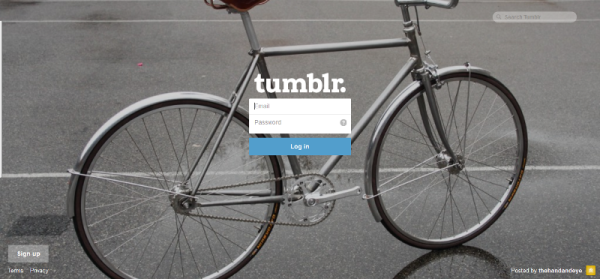 Getting Started
Getting started is simple. The minutiae of the interface has had several incarnations and is likely to have several more, but essentially the process is still the same. Here's what's happening in March 2014:
Heading to Tumblr.com will take you to a sign-in page with a signup button at the bottom left. Signing up will require of you an email address, password, and username. Your username will become your URL, but don't panic – this is changeable later on. You'll then be taken to a confirmation page to check your age and also that you're not a robot, and then you're done.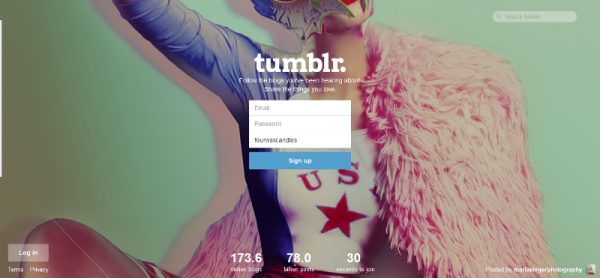 Tumblr will push you to find some blogs to follow – three, to be precise – which you can do by typing a Tumblr username into the search box or adding a few of the suggested blogs (you can get started by following Tumblr usernames danielle-carey, gretlouise, kindredgrace, adornabelle, and simplemom if you like).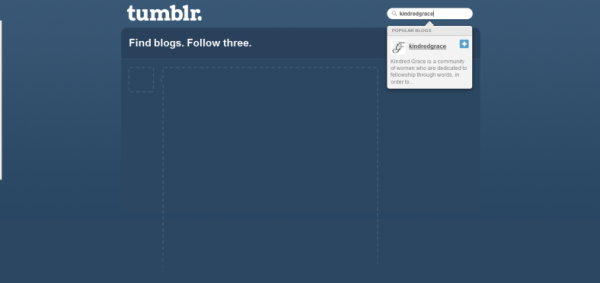 Then you'll be tasked with creating your own blog. You can tweak pretty much any aspect of this account so don't stress if you're not quite certain what you want to title it or what you think your avatar should be. That can all be arranged (or rearranged) later. You'll be prompted to sign up for a link to the Tumblr app, but I skipped that since I'm already using the app (and yes, it's handy).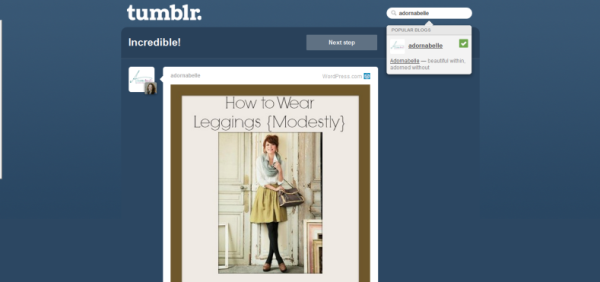 Annnnd there you are, right on your Tumblr feed. The feed is similar to a LiveJournal friends page, or a feed on feedly. All the posts of the Tumblr accounts you follow will appear there according to chronology. Yours, too, will show up in your feed. Which brings me to…
Creation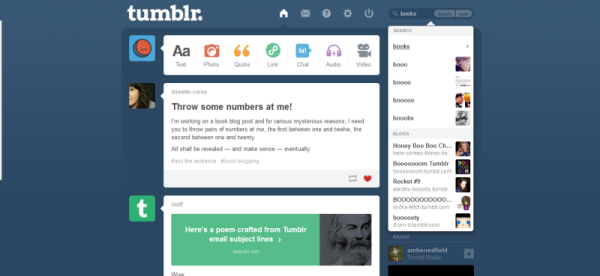 You'll notice at the top of the logged-in home page (which is also your Tumblr feed) that Tumblr provides six distinct posting options. I personally think this is one of Tumblr's coolest features; the interface makes it incredibly easy to share text posts, photos, quotes, links, chat conversations, audio, and video. I won't create a break-down of what each post draft option looks like as it's very self-explanatory and you'll only need to play for a little bit to work out just how it all runs. I will, however, add that the photo sharing option includes ways for you to upload your photos and configure them in fancy schmancy layouts, but it can also work with your webcam to take a shot and upload it, or – happiest of happy time wasting devices – make a gif. You'll have a lot of fun with that. Similarly, the audio-sharing option allows you to upload your own audio files (those not in breach of copyright, of course), or share through Spotify or via an external URL.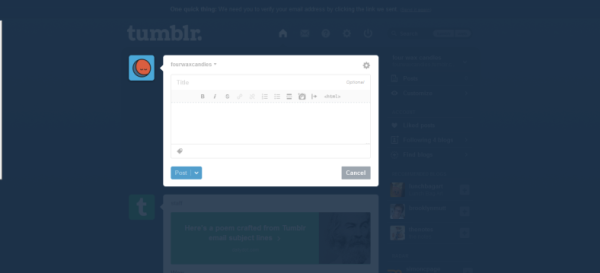 The nature of what you want to share is up to you, as is the voice with which you communicate. Tumblr varies from traditional blogging formats in that the emphasis is not on a polished piece of writing or reserved, academic-style information-sharing (although of course both are welcomed). In fact, Tumblr rides the spectrum from late-night all caps rants to Serious Business content-sharing for esteemed sources like the New Yorker or the Paris Review, and that's what makes it so much fun. A quick summary of my feed on any one day might be: someone flailing over a new film, a thoughtful book review, a pretty photo, happy fanart, flail, flail, historical rant, pretty, pretty, and then a heartfelt anecdote about someone's dog having to be put to sleep. There is an immediacy to Tumblr posts which adds to the fast-paced sense of movement. Content is constantly being shared and yes, Tumblr can totally become a vortex of sleep-deprivation and bleary eyes if you don't monitor your time spent there.
Curation
Tumblr provides a unique way for users to interact with one another's posts. At its most basic level, you can 'like' a post (by clicking on the little heart at the bottom right of the post). These likes get stored and you can access them any time you want by visiting the tab for liked posts in your feed sidebar. You can also reblog them, which you do by clicking on the swishy little double-arrowed thingummy next to the heart. This takes you to a reblog window which looks a lot like the 'new post' interface – except that the post content has already been filled by someone else. You can simply hit reblog and the post will now appear on your Tumblelog, with accreditation to the original poster. [Read more...]