Here are a few simple tips to help you create the best possible posts for your Facebook page.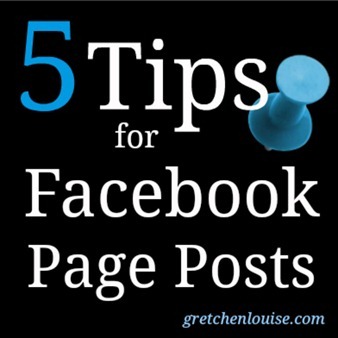 1. Post Frequently
Whenever you are on Facebook, your fans are likely online as well. Give them something fresh and new to share and like.
Say it often.
2. Put it Briefly
Keep it short—respect their time. One-line posts will get a lot more interaction than a paragraph.
Say it succinctly.
3. Preserve Quality
Your Facebook posts are a representation of your brand or business. Proofread them. Post carefully. Better to post too little than to post too much of too low a quality.
Say it well.
4. Post Photos
Photos get a lot of attention (not to mention space) on Facebook. Take pictures of your products, your place of business—anything that represents your brand. (Be sure to ask permission before posting photos of customers—especially children.)
Say it without words.
5. Pose Questions
Post things that encourage participation. Ask questions. Begin your posts with "Click like if…" The more your fans like, comment, and share your posts, the more others will see your posts.
Say it so they will respond.
Related Posts: