Allegories Worth Reading That Make Me Feel Hopeful and Loved
(This post contains affiliate links. Read my full disclosure.)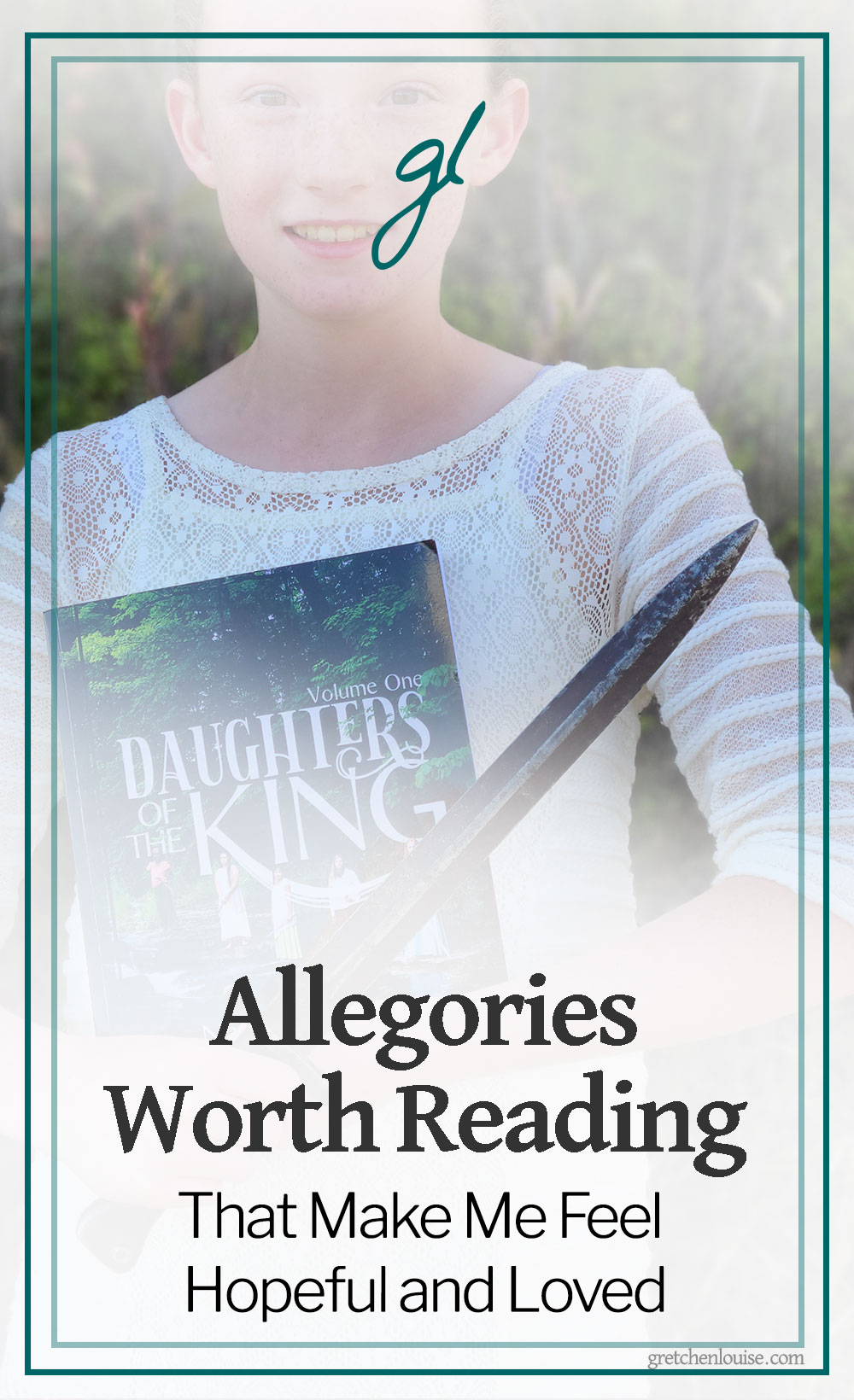 When I'm not writing or reading, I'm pondering a plot line, developing a character, dreaming up a new idea, or wondering what happens next in the book I'm reading.
With an allegory, I know what happens next. I know that the Greatest Author of All Time will write the character's story, redeem their brokenness, and let in the light.
And I know that I will close the book feeling hopeful and loved.
What I don't know is how the story will play out. How will the character's motives be changed, or their morals challenged?
Allegories are always worth reading because they are stories that retell, again and again, the stories of God's love and redemption.
Here are some of my favorites.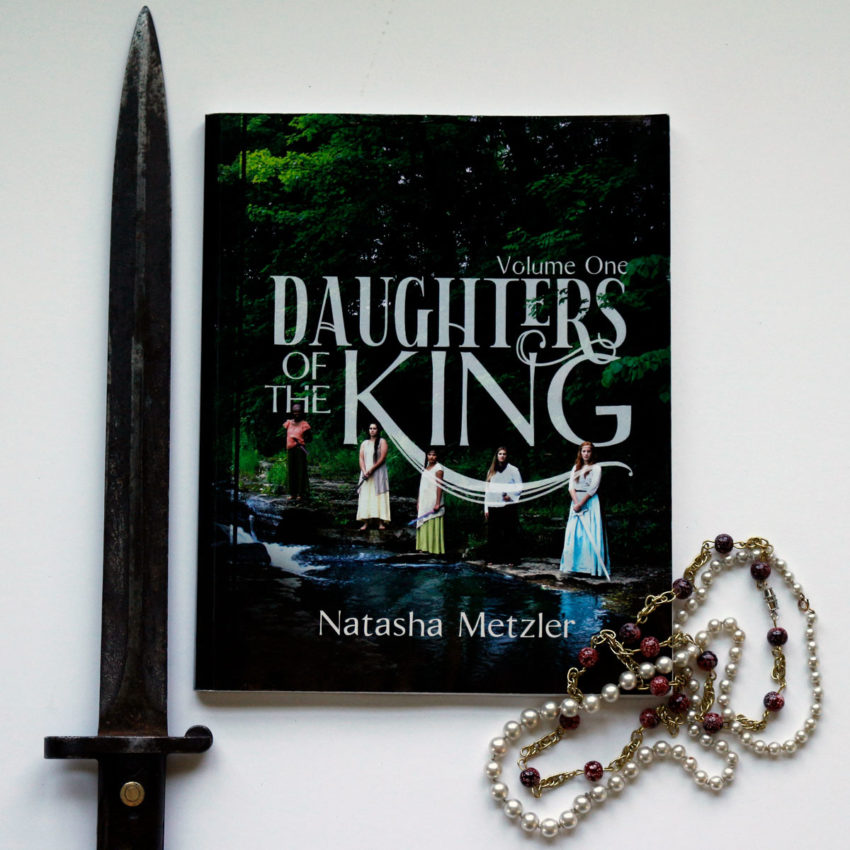 Five girls. One King. And one mission: the saving of the lost.
Daughters of the King is an allegorical story about the love of the King, how we serve Him, and how He rescued us.
Alana, Emberlyn, Claire, Toria, and Katisia are all daughters of the One-True-King. They all have different stories, all face unique temptations, and all help to save the lost.
As the King said, "Each person has their own story."
Daughters of the King reminded me of Priscilla Shirer's The Prince Warriors, except geared more towards a feminine audience. The photography is superb, the writing beautiful, and the message critical. It touched my heart and brought tears to my eyes. (I also wanted to get a sword and destroy the evil enemy—at least it was all for a worthy cause.)
"A true warrior-princess will be clothed in love. She will know her identity. She will hold fast to the truth that has been given."

~ Natasha Metzler's Daughters of the King, Volume I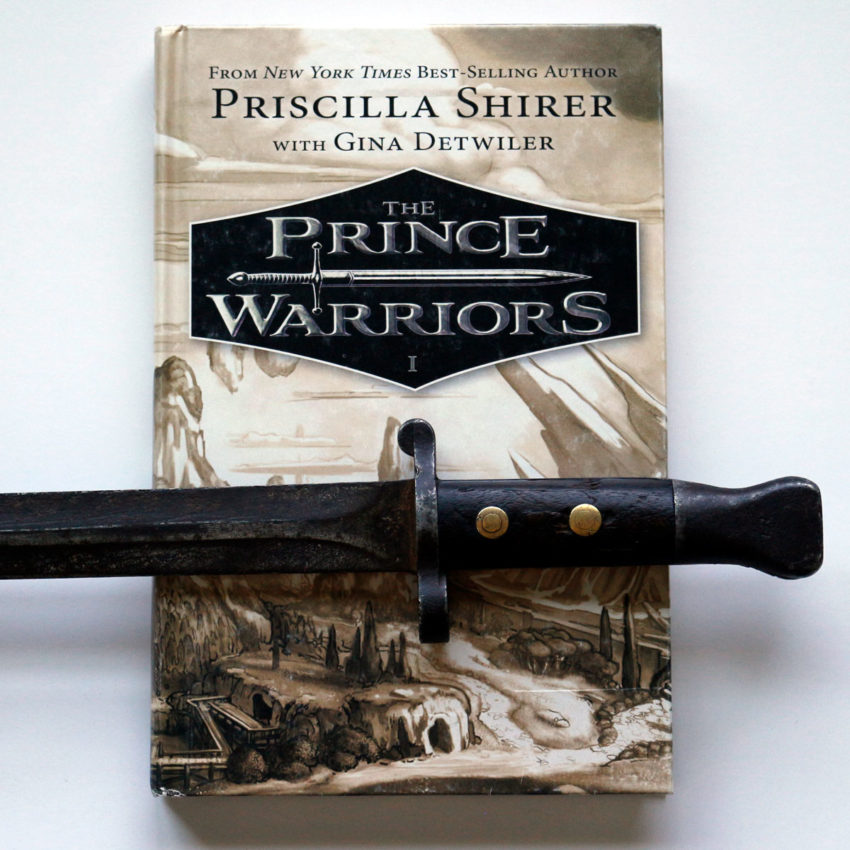 In a completely ordinary world, Evan and Xavier feel like normal boys who struggle as they adjust to a new neighborhood, start in a strange school, and tease each other mercilessly. But one night a strange purple "non-trollish" creature opens the door into Ahoratos, the unseen realm.
The kingdom of Ahoratos is outfitted with a guide to show you the ropes, a castle in the clouds, a dragon/sea monster, armor, a bad guy lair, and even bad guys to fight. Not forgetting Ents, creepy metal butterflies with laser beam eyes and stingers the size of ball-point pens.
Ruwach shows the boys the difference between light and dark, safety and danger, hope and despair. Do Evan and Xavier have the courage it takes to trust the Source and be true Prince Warriors?
This story's central focus is the Armor of God, which helps us to withstand the devil's tactics. Sword, belt, boots, shield, breastplate, and helmet all guide the Prince Warriors as the battle in the Unseen Realm. The Prince Warriors is wonderful for all ages. My six-year-old sister listens to these books on repeat, much to my occasional chagrin.
"'You have everything you need.'"

~ Priscilla Shirer's The Prince Warriors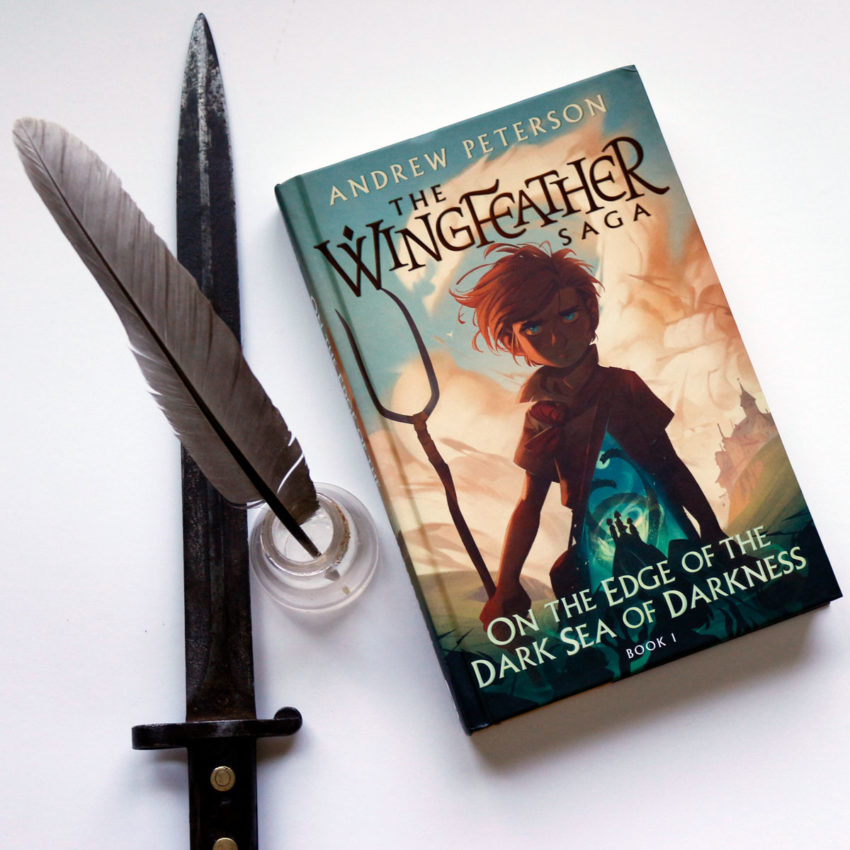 The Wingfeather children think that they are normal children with no father, who live in the small town of Glipwood, on the cliffs of the Dark Sea of Darkness. The township is overrun with the Fangs of Dang, evil slimy lizards from across the sea, and the Jewel of Anniera have been missing for nine years. But Glipwood's small township is harboring a secret stash of priceless jewels, the heirs to the throne of Anniera.
In this amazing four-book saga, author and singer/songwriter Andrew Peterson tells an epic story about toothy cows, treehouses, trolls, sea dragons, a man named Gammon, and an odd sock-handed man named Pete.
The story of The Wingfeather Saga is one of redemption, heartache, faithfulness, and hope. I almost cried at the end, for I had forgotten how powerful Andrew Peterson's prose is.
"Darkness was everywhere. Except, of course, in a tree house, deep in the murky heart of Glipwood Forest, where the Jewels of Anniera shone like the sun"

~ Andrew Peterson in On the Edge of the Dark Sea of Darkness
For those of you who wish to meet the creatures of Aerwiar face to face, check out Andrew Peterson's pictorial Creaturepedia, a delightful gallivant through the Jungles of Plonst and the Woes of Shreeve. Filled with fascinating creatures and amusing notes by Ollister B. Pembrick, this jaunt through the wilds of Aerwiar is charming in every sense of the word.
Also available is Wingfeather Tales, a compilation of stories by Jonathan Rogers, Jennifer Trafton, N.D. Wilson, and Douglas Kaine McKelvey. It is beautiful, traveling from Glipwood by the sea to a city in the Woes of Shreeve.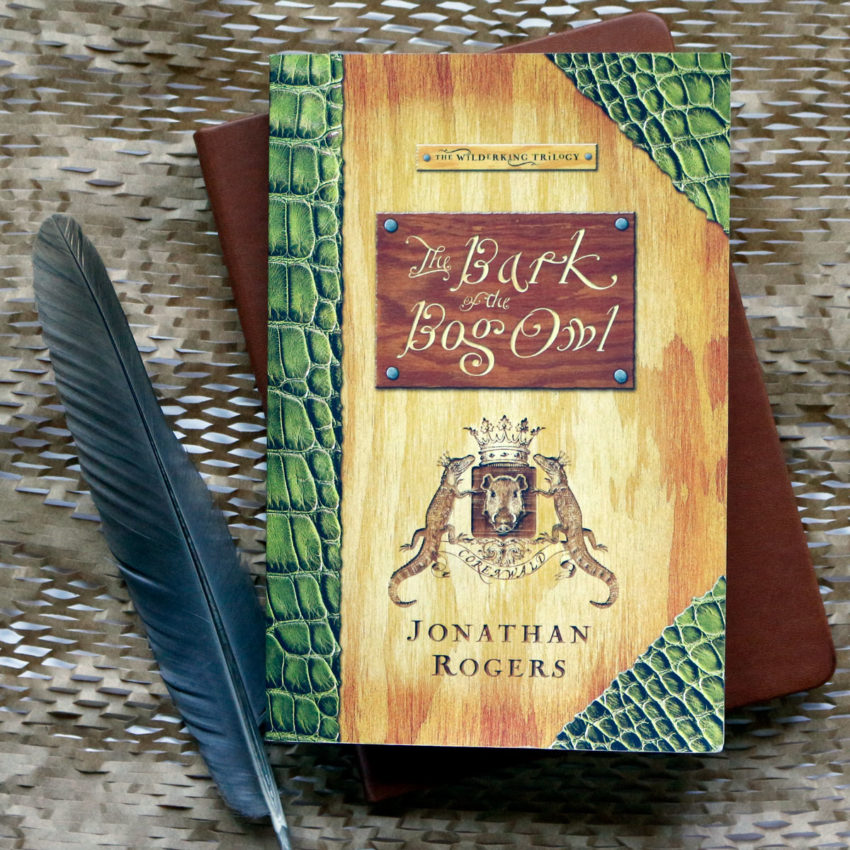 Aidan Erollson believes whole-heartedly that he was meant to serve King Darrow of Corenwald. But it seems that the One True God has other plans for him. When Bayard the Truthspeaker visits Longleaf Manor and proclaims Aidan the long-awaited Wilderking, it's a turning point in his career as a shepherd boy.
And when Aidan slays an enemy leader in battle, he becomes a kingdom-wide hero. But King Darrow would wish it otherwise. Following the story of King David, Jonathan Rogers' Wilderking Trilogy is a wonderful allegory of love, courage, and the struggle for freedom.
Joined by hilarious feechie Dobro Turtlebane and prophetic Bayard the Truthspeaker, Aidan discovers his prewritten destiny and lives the life that unfolds before him.
King David didn't live in Corenwald, he didn't hang out with swamp men, and he didn't wrestle alligators, but the Wilderking did, and this amazing allegory tells the story of a shepherd becoming a king in a way that will bring the story of King David alive anew.
"'If the boy wishes to die for his country,' added Lord Selwyn, 'why not let him?'"

~ Jonathan Rogers' The Bark of the Bog Owl
Note: I have decided after long inner debate that Jonathan Roger's and Andrew Peterson's worldbuilding skills are rivaled only by C.S. Lewis and J.R.R. Tolkien. Their worlds are so real it's incredible. I mean, who wouldn't want to visit Corenwald or Aerwiar?
No list of allegories is complete without mentioning a few classic allegories that have been around for a while. There's John Bunyan's amazing literary work Pilgrim's Progress, written in 1677, and Hannah Hurnard's Hind's Feet on High Places, named for a verse at the end of Habakkuk and published in 1955. More recently, there's David and Karen Mains' Tales of the Kingdom Trilogy, first published in 1983 (books one and two are also available as audio adventures).
I hope these allegories encourage you, fill you with hope–and make you cry at the end.
Best wishes and the Maker's blessing,
Ruth Anne