Which email service provider is the best for you?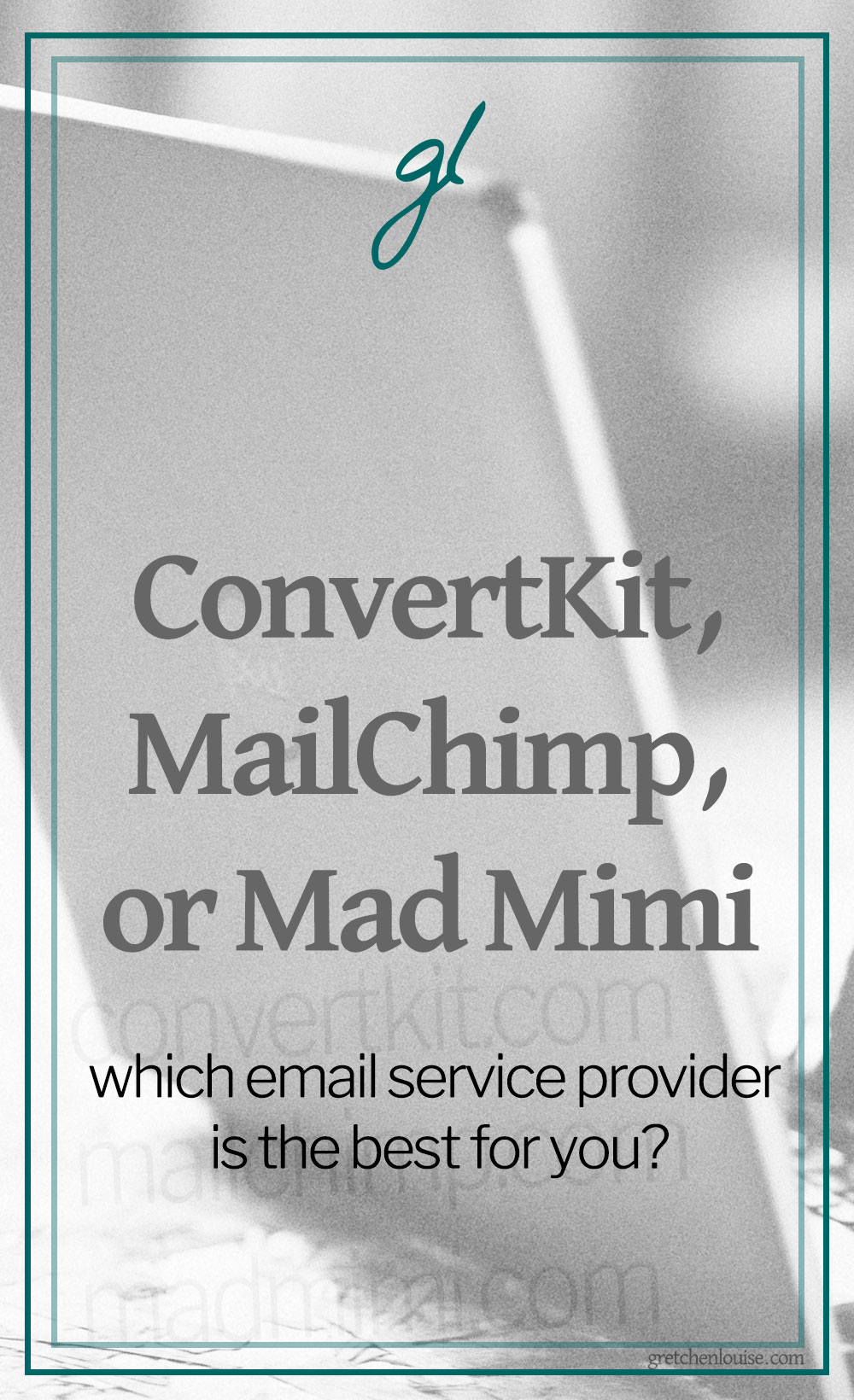 Choosing an email service provider can be daunting–whether you can't stand your current service and are anxious to move elsewhere or you're just beginning to build an email list and don't know where to start. Regardless, you'd like to choose the perfect solution from which you'll never have to move.
I've spent the last five years using both MailChimp and Mad Mimi on a regular basis. Based on my experience, I recommend each to different users, depending on their needs. With the advent of ConvertKit, the "new kid on the block" when it comes to email service providers, I found a fabulous third option. And while I've moved my own email list to ConvertKit, I still recommend MailChimp and Mad Mimi to others.
Below you'll find a brief overview of my favorite features of each email service, who I recommend them to, and what I use them for.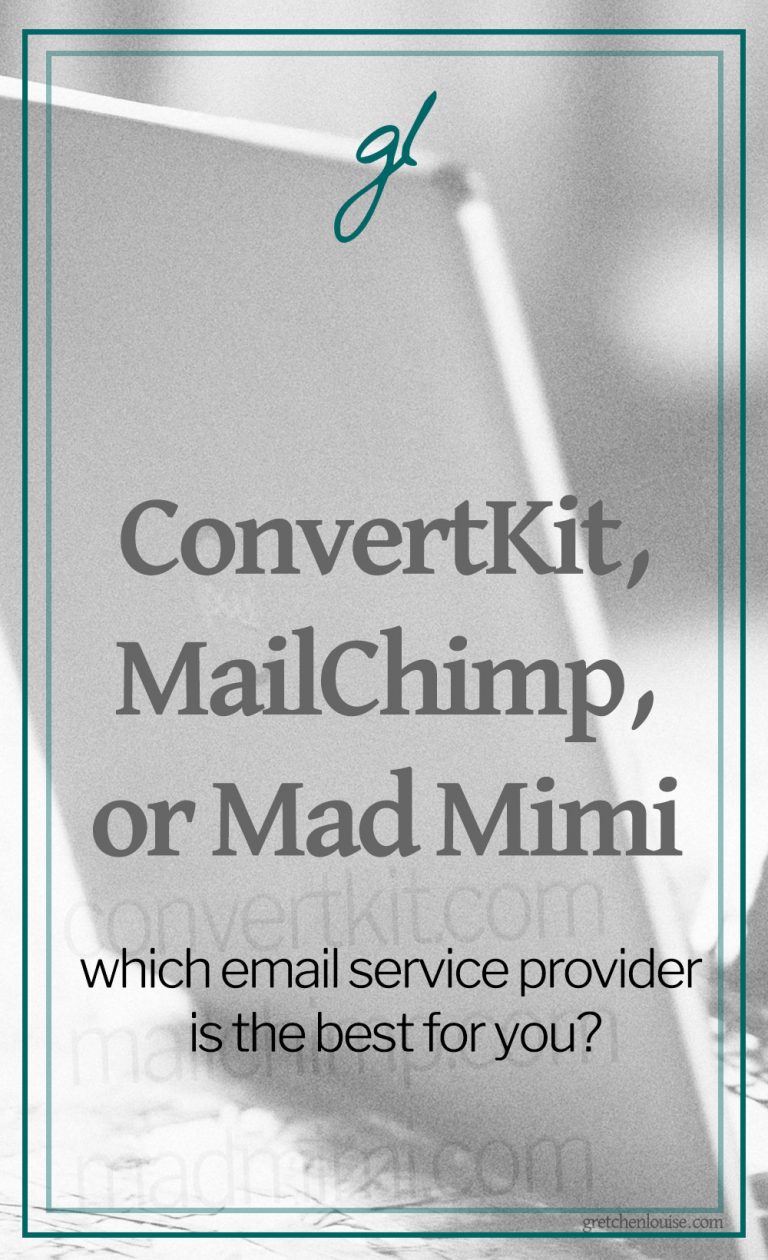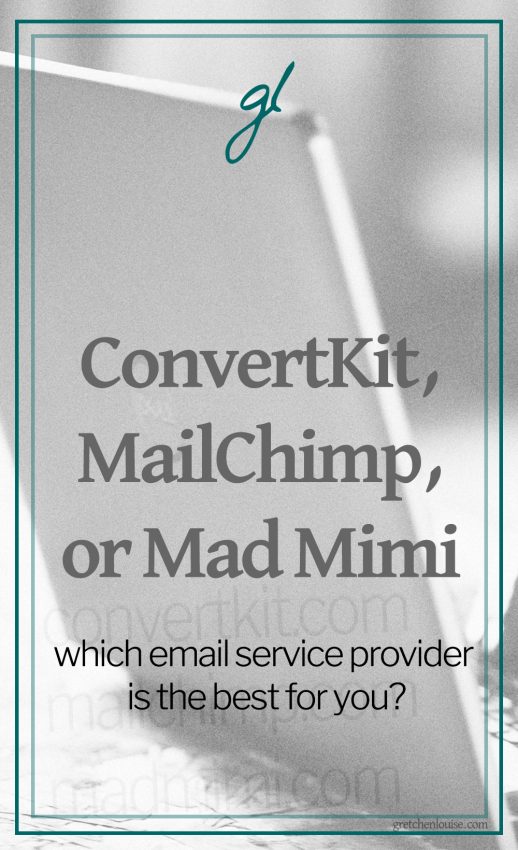 (Please note that, when applicable, links may be affiliate links. This means that, at no cost to you, I may receive credit for your clicks and purchases through the links on my site. I appreciate it when you support my family by using my affiliate links!)
I love the way ConvertKit saves me money. Not only does it bill me based on actual subscriber count so that multiple lists don't count against me, but it brings the best features of LeadPages and OptinMonster (to name a few) right into one service.
When I login to ConvertKit, the first thing I see is the bar graph showing my list growth. At a glance, I can see confirmed signup counts for today, the last 7 days, and the past 30 days, plus a total list count. Scrolling down the page allows me to see every signup form I've created, how many people have viewed it, how many subscribers have resulted from that form, and the total percentage of conversions. I like ConvertKit's emphasis on numbers, counts, and conversions because the goal is for me to know not only that ConvertKit is doing its job, but how my forms and incentives are performing. That's all visible at a glance in ConvertKit.
While I switched to ConvertKit for the tag-based segmentation, my favorite feature has become the custom form and incentive options. Each time I create a signup form, I can choose the exact incentive option. If someone enters their email address that has already subscribed, the download is available to them immediately (no worries about a "you're already subscribed to this list" notice like in MailChimp). I can even hide forms for visitors who have already subscribed to that incentive. My favorite signup form option is the Modal link trigger (similar to OptinMonster's MonsterLinks™), like this:
Click Here to View ConvertKit Signup Form
Some people won't like the simplicity of ConvertKit's email templates. However, the benefit is that they allow you to strip back the typical formatting and simply focus on the words. One ConvertKit user told me he already saw a difference in the responses he was receiving to his ConvertKit emails because they looked so much more personal than his previous email service provider. The simplicity comes through in all its beauty in the emails that ConvertKit generates when a new post appears on any RSS feed you specify. ConvertKit automatically creates a single or digest style email with your latest blog posts, ready for you to customize and send.
My initial complaints about ConvertKit's slow support time are no longer an issue: their support has improved by leaps and bounds. You do have to contact support to have your account activated, not only before you can send emails, but before your signup forms will actually send confirmation emails to any subscribers they collect. While ConvertKit is lacking the "update subscription preferences" option I used in MailChimp, I see why this isn't on their planned radar: they use tags and link triggers instead, in order to give you more control over your list. (And there are ways to custom code checkboxes for ConvertKit tags into your signup forms.)
I recommend ConvertKit to any blogger who sells things to their readers, as well as to bloggers who have a lot of lead magnet options or need a segmented list. I use ConvertKit for my own segmented email list.
"I made the switch to Convert Kit because it allowed me to take subscribers who had made a purchase and tag them on my list as customers without having to create an entirely separate list (with its own separate charge for duplicate emails!). This allows me to pinpoint who my customers are and better meet their needs after the sale."


The dashboard is my favorite thing about MailChimp. The moment I login, I see the open and click stats from my most recent campaign, along with a bar graph of my list growth. My top 5 campaigns (based on reader views/interaction) are below.
Most people love the flexibility of the templates and drag and drop options for the look and feel of MailChimp campaigns. I appreciate the way that even the RSS to email campaigns can be completely manipulated (removing byline and date, customizing the footer, placing an "update subscription preferences" button anywhere in the email, etc.).
The free version of MailChimp provides you with one "final welcome email" per list–a great place to give away that lead magnet you were offering. However, with one welcome email per list, you're stuck if you have more than one lead magnet. You'll need the paid version of MailChimp to use Automations to send an email with the free download to anyone who subscribes to a specific list.
The problem with MailChimp is the way you have to manipulate list groups to keep track of your subscribers. If you add one subscriber to two lists in MailChimp, that will be counted (and charged) as two subscribers. So, you have to use groups to keep track of everything from whether they've purchased an item to how often they want to hear from you. You can't easily change group styles (checkbox vs. radio button) or visibility (hidden from signup form or not).
(It's worth noting that I have no experience with MailChimp support because I've literally never had to contact them.)
I recommend MailChimp to small local businesses. It's also a great entry point for bloggers who don't demand much out of their email service and aren't likely to have more than 2,500 subscribers in awhile.
"My favorite thing about MailChimp is that I know I am not using it to its full potential. Sad, yes, because I really should be focusing more on its capacities. But happy because I am a busy entrepreneur and don't have time to spend fiddling with complicated email list management processes. It's comforting to know that it's ready for me to dig into a little deeper when I am ready to spend the time on it."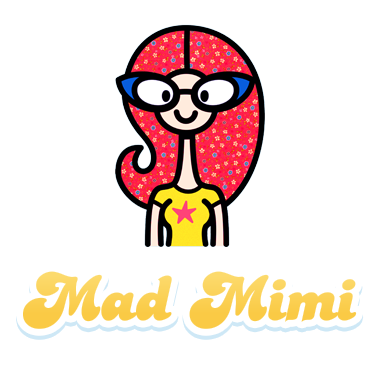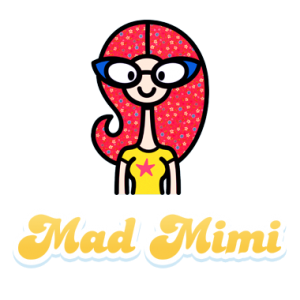 The best thing about Mad Mimi is their fast and friendly customer service. If they aren't on live chat, someone will reply to your email within the hour. While there aren't any options for segmenting your subscribers (whether it's cold subscribers who haven't opened your emails or something else), the support staff is always glad to create custom lists for you based on your requests.
Many people like the simplicity of Mad Mimi's email service. And it is very straightforward for sending no-fuss emails. However, some of the features I use the most are in the "Add Things" section and have to be switched "on" for every account I work with. Things like "List Names" are helpful in that they let you choose what lists are visible in "Preferences" (which you also have to switch on) but confusing because you have to name each list twice. Mad Mimi does have the notable add-on feature of adding anyone who clicks on a specific link in an email to a specified list (this option is visible every time you add a link in an email).
Many people don't like the lack of HTML composition in the free version of Mad Mimi. Everything is done in the "Markdown" language. This means that you can't paste pre-formatted text or HTML–you have to do your formatting within Mad Mimi, unless you know Markdown.
My biggest issue with Mad Mimi is in their subscriber stats. When in the "Audience" tab, you can see it boasting all sorts of new subscribers for the week. However, a closer look reveals that only a fraction of those have confirmed their subscription. My new unconfirmed subscribers in Mad Mimi often look a lot like spam email addresses. There's nowhere to see actual list growth. And RSS campaign stats are hidden under the RSS tab, meaning that unless you send out many custom campaigns, the stats that greet you when you login are often from a campaign that is months or years old.
The automatic confirmation emails (different for each webform, not each list) are plain text and hard to manipulate. If you want to send out lead magnets, you'll have to use Drips (part of the paid service).
I recommend Mad Mimi to those who need to send emails to a large quantity of subscribers at the cheapest rate possible.
"I love Mad Mimi because they have quick, excellent customer service. I like that I find them very easy to use, even someone like me that is not very technically minded. I find it very user friendly and great customer service."
Pricing Comparison
(current as of the writing of this post)
ConvertKit:
3,000 subscribers: $49/month
5,000 subscribers: $79/month
MailChimp:
Forever Free up to 2,500 contacts
2,801-5,000 subscribers: $50/month
Mad Mimi:
Free up to 100 contacts
2,500-5,000 subscribers: $27/month
Which email service provider is right for you?
I use all three on a near daily basis, and each serves me well in different ways. ConvertKit is what I use for my own email list right here on this blog. MailChimp has always served us well for our family farm's business emails. Mad Mimi has been the budget-friendly choice for my ministry blog, Kindred Grace.
(For multi-level marketing consultants, it's worth noting that ConvertKit is the only one of the three that allows MLM emails, providing they use appropriate non-spammy marketing methods and the products are of actual benefit to the readers. Aweber also allows MLM emails, but has proved to be the most confusing service I and my clients have ever used.)
The email service provider you choose will hopefully become one of your most favorite and frequently used tools. Choose carefully–but don't be afraid to change if the one you started with isn't working right for you. And if you need help along the way, I'm here to help you move–whether it's from FeedBlitz or Aweber or whether you're choosing ConvertKit or Mad Mimi.