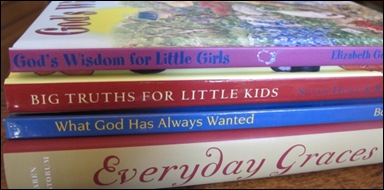 When my grandmother came to visit last month, we took her to our favorite little bookstore, and she told me to pick out some books for the girls.  I had fun browsing, and ended up with two titles I'd heard about on the radio.
I've long been fascinated with the idea of using catechism to teach my children the basics of the Christian faith.  In Big Truths for Little Kids: Teaching Your Children to Live for God, Susan and Richie Hunt use stories to teach the principles of the catechism questions, followed by the questions themselves.  I'm excited to start using it with Ruth when she gets a little older.
Meanwhile, her daddy has already read Charles F. Boyd's book more times than he can count.  Ruth loves the pictures and easy-to-follow story line of What God Has Always Wanted: The Bible's Big Idea from Genesis through Revelation.  And I love the way it simply explains His Story and what we believe!
I was also drooling over Everyday Graces: A Child's Book of Good Manners when shopping with my grandma.  I showed it to my husband on another trip to our favorite bookstore, and he surprised me with it on Mother's Day!  It's a beautiful hardback anthology of stories that teach manners (compiled with commentary by Karen Santorum).  Like The Book of Virtues but just about manners—with excerpts from Anne of Green Gables, Goops and How to Be Them, and Chronicles of Narnia!
One other favorite in the same vein (which can also be found at this little shop we love!) was a gift from a homeschool mom who is a mentor of mine.  Ruth calls it "the girl book" because of all the adorable illustrations of the little girl who learns about the truths of Proverbs 31 in Elizabeth George's God's Wisdom for Little Girls.
Any of those titles familiar?  Or perhaps they are all on your Paperback Swap auto-request list or in your Amazon wish list for when you earn a few more SwagBucks!
Have you tried out Paperback Swap or SwagBucks?  I've traded dozens of books on Paperback Swap for no more than the price of Media Mail postage.  And we're always finding another title to add to our PB Swap wish list.

I've also (finally) tried out SwagBucks (now that I have internet at home!), and am looking forward to earning my first $5 Amazon gift card.  It's easier than I thought: just use the SwagBucks search bar in place of Google Search, and earn "SwagBucks" (redeemable for all sorts of gift cards) on random searches.