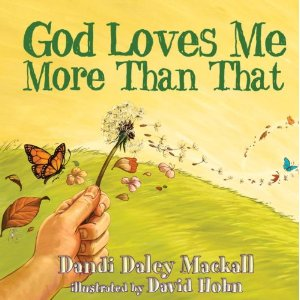 It took no more than a glance at the back cover for my daughters to be in love with this book by Dandi Daley Mackall—the kitty looks like it's about to meow at you!
But even better is the message inside, that God Loves Me More Than That. It's almost like a God-sized version of Guess How Much I Love You? And my daughters love it.
In rhyming terms little ones can understand, Dandi compares God's love to the wildness of cowboys, higher than space shuttles can fly, bigger than a hippo, and softer than a kitten's sneeze.
My 3-year-old calls it "the book about God's love" and it's a favorite we'll be reading many times.
Thanks to WaterBrook Multnomah Publishing Group for the free review copy!