Eloise Wilkin's Poems to Read…
(This post contains affiliate links. Read my full disclosure.)
When a PaperbackSwap package arrived the other day, I realized I had to write another post for YLCF's "Snapshots of Favorite Books".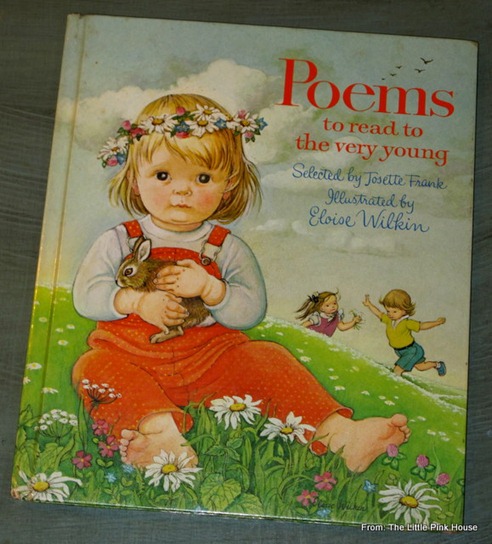 I grew up with a pink blanket and "Fuzzy Wuzzy was a bear…" and "The Goops." My brother and I (not to mention our mom and dad!) could quote many of the poems from memory. But Eloise Wilkin's Poems to Read to the Very Young was one of the books that my mom didn't want to part with. So I set out to find my own.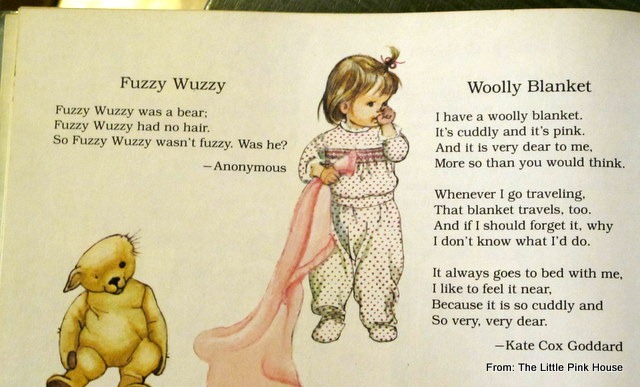 The first time I ordered a copy from PaperbackSwap was when I discovered that they'd reprinted these beloved poems and winsome illustrations in board book form. I was delighted to discover that the collection is now more readily available, especially in a form I can let my girls look at it without fear—but alas, the board book didn't have all my favorites (neither "Fuzzy Wuzzy" nor "Woolly Blanket"!).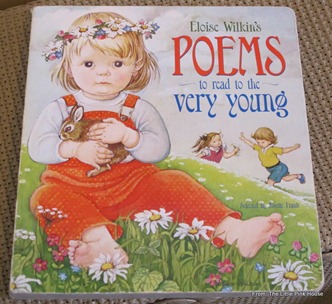 That didn't stop me from getting more copies to share my beloved Eloise Wilkin with friends. But I searched long and hard to find the tall hardback copy I grew up with, which contained 70 poems (more than double what they reprinted in the board book). I was finally rewarded on PaperbackSwap with a 1982 copy that was not only just like mine, but just like new!
Now I can read to the girls about Fuzzy Wuzzy (as if I didn't already have his lines memorized) from the book just like I grew up with, and they can still enjoy perusing the pictures at their own pace in the board book. It's a title that just might have to stay on my PaperbackSwap wish list, so that I can continue to collect more copies to give to friends—not to mention to have on hand for when my girls leave home someday! I have an idea they might be even harder to find then.
(You can still find the original Josette Frank collections of Poems to Read to the Very Young and More Poems to Read to the Very Young—but, while no offense is meant to Dagmar Wilson whose cheerful drawings accompanied the copies from the 1960's, no one can illustrate a children's book like Eloise Wilkin. So make sure you're getting a copy from the 1980's for her delightful pictures to complete the poems!)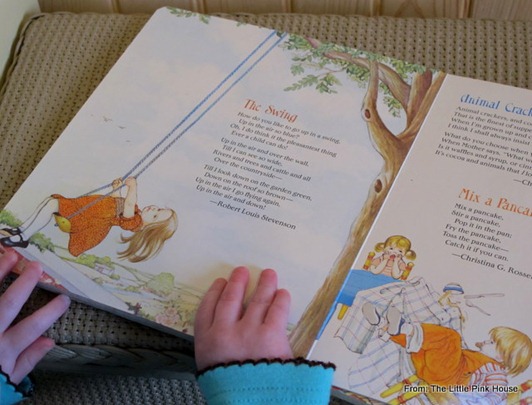 P.S. If you learn to love Eloise Wilkin, you'll have to find My Goodnight Book and My Good Morning Book, too. Read about my friend Amanda's favorite Eloise Wilkin tales here. Because what better way is there to revisit childhood than to read favorite titles from childhood?