(This post contains affiliate links. Read my full disclosure.)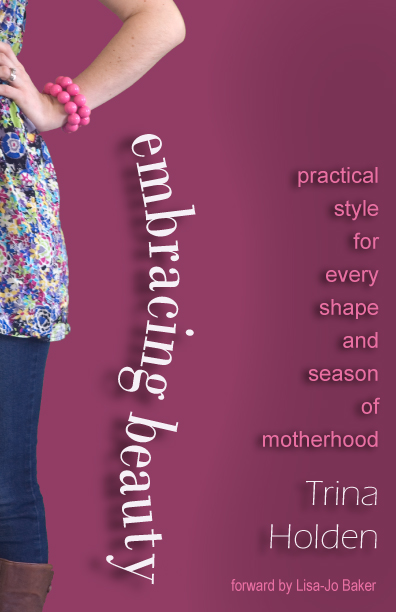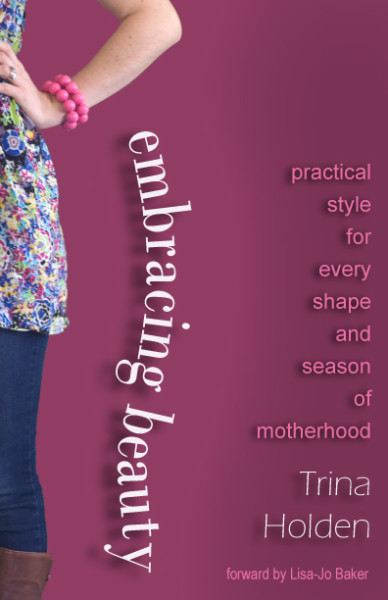 "What we wear is a song we sing to those around us."
If you read my interview with Trina Holden last week, you know how excited I am that she is sharing her passion for beauty in book form. Embracing Beauty has armed me with all sorts of ideas for adapting my shopping habits and my closet to fit my every-changing momma-body. From scarves to tunics (and everything in between!), Trina gives a new spin on old classics as she details the how and why of the staple items (and color!) in her own primarily thrifted wardrobe.
But Embracing Beauty does more than just provide fashion and accessory tips that fit every body and budget. Trina Holden ignites a passion for becoming ambassadors of beauty in every area of our hearts and lives.
Her book is not just about what's in our closet, but about how we view our clothes and our bodies. Trina's words help us moms to see ourselves as God sees us: beautiful creations made in His image. And that's a beauty worth embracing!
"May we see ourselves through the eyes of our Creator who rejoices over us no matter what we're wearing."
Tweetables
"What we wear is a song we sing to those around us." – Click to Tweet
"The most flattering aspect of a woman's outfit is her confidence." – Click to Tweet

"People will be drawn to the layers of grace and joy that you wear." – Click to Tweet
Order the Paperback from Amazon
Read it now on your Kindle Download the PDF
Giveaway
Trina was kind enough to share an eBook copy (PDF or eReader compatible file) with one of you!
{Disclosure: I received an advance review copy of this book but will be buying multiple copies for gifts!}