Why would you want to read a book about a dying woman?
(This post contains affiliate links. Read my full disclosure.)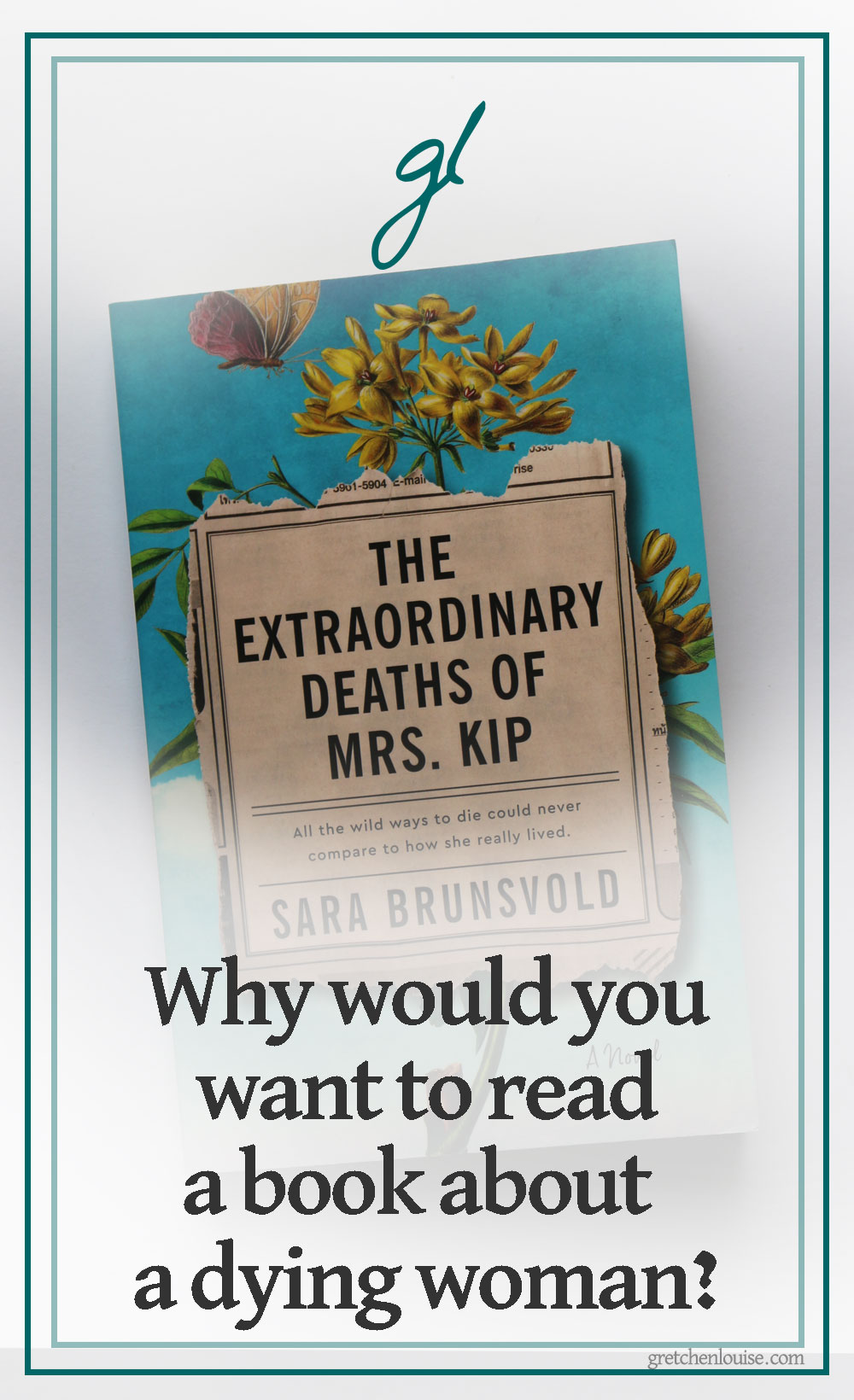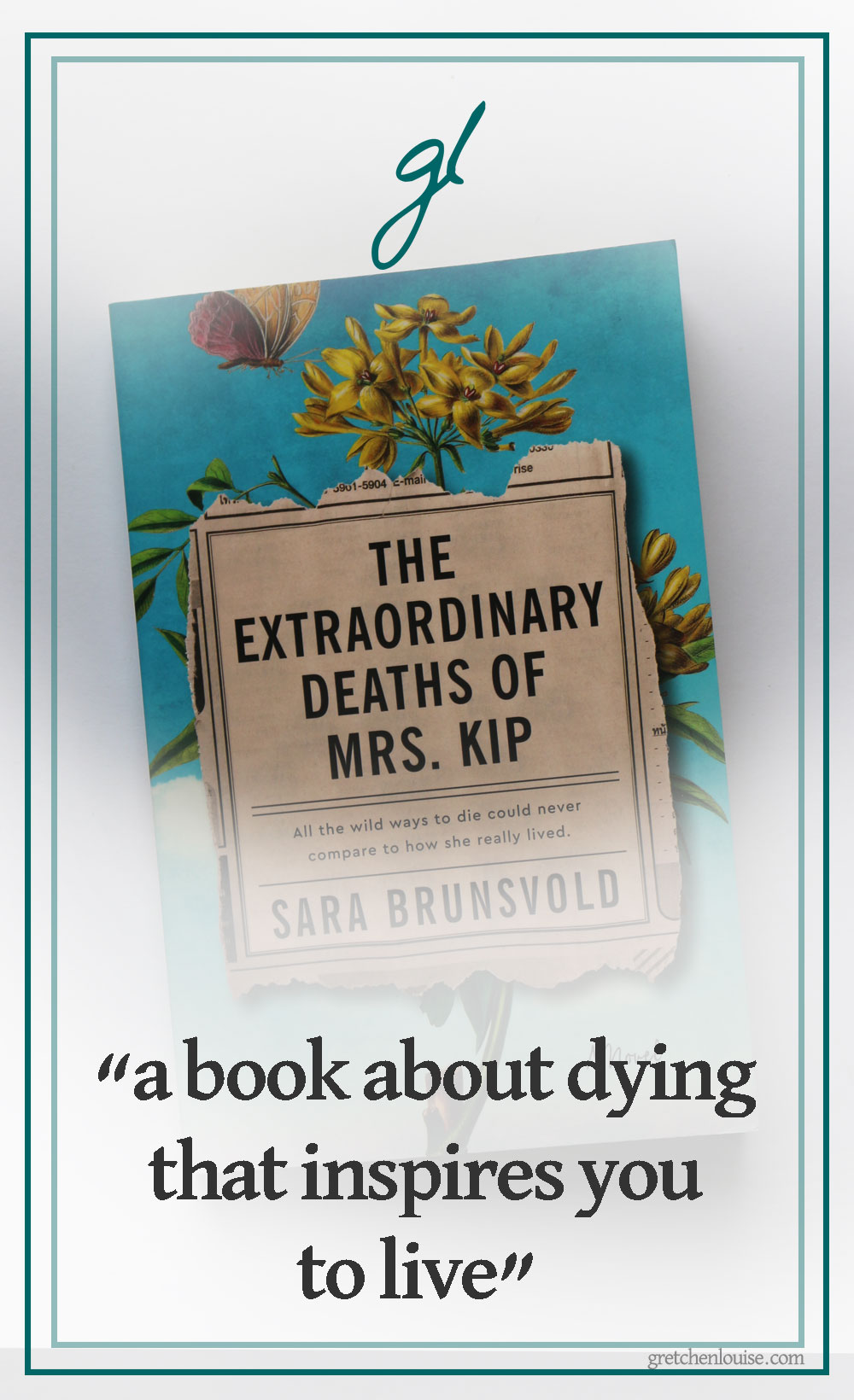 The Extraordinary Deaths of Mrs. Kip is a book about dying that inspires you to live.
This debut novel from Sara Brunsvold, published by Revell, won't leave you the same after you've read it. A unique split-time approach, with the modern timeline covering the space of just a few weeks, the reader walks through intense emotions with Kansas City Star cub reporter Aidyn Kelley.
From the moment I first read Randy Alcorn's Deadline, I knew I'd forever love books about journalists (and movies! Let's not forget "His Girl Friday"). And The Extraordinary Deaths of Mrs. Kip has some memorable newsroom scenes. But that's not why I gave it five stars.
The Extraordinary Deaths of Mrs. Kip is the story of an unique friendship between a dying septuagenarian named Clara Kip and an ambitious twenty-something reporter named Aidyn Kelley.
In their story, we are shown a beautiful example of how to treat the dying and how to love the living.
It took me right back to the long, hot days of last summer, when our family gathered around my husband's 92-year-old grandfather, singing hymns and telling him how much we loved him. I remembered those hours I sat just listening to him breathe.
Tears filled my eyes as Aidyn read the Psalms aloud to Mrs. Kip. Because not so many months ago, I could barely read the Psalms through tears as I stroked the swollen, limp hand of a loved one, unsure whether that visit might be my last.
If you have an aged or terminally ill friend or family member, you might want to read The Extraordinary Deaths of Mrs. Kip by Sara Brunsvold—along with the Hospice end of life booklets by Barbara Karnes (read the booklets before you're at the Hospice stage, if you can). And if you have a friend or family member struggling with dementia, you may also want to check out When Stone Wings Fly by Karen Barnett.
But it's not just a book for those who are caring for the dying. The Extraordinary Deaths of Mrs. Kip is a book that will inspire each of us to really live—with extraordinary purpose and even pizzazz.
It's not often I finish a book and immediately order several copies to have on hand to share. But in the case of this debut novel, I did.
The Extraordinary Deaths of Mrs. Kip is rare in contemporary Christian women's fiction, because it's not a romance—it's a story about learning how to love.
Trigger Warnings: There's the death of a baby, the death of a spouse, cancer, and two different end of life situations. It's not an easy book to read—it's like the Hospice "blue book" in a much longer, fictional format—but it's an important book to read.
Review of The Extraordinary Deaths of Mrs. Kip by my 14-year-old daughter Ruth Anne:
Most teenaged girls don't prefer books with heroines of seventy-nine years old. I am, I confess, one of those. But that was before I met Clara Kip.
She is extraordinary, precocious, ornery—in her own words, "a troublemaker." She is the kind of old woman I want to be: one who pretends that her wheelchair is a Harley motorcycle. She's also the kind of lady who believes in the power of God and chocolate chip cookies.
With that belief firm in hand, she shows reporter Aidyn Kelley the marvelous majesty of God and the touch of His hand in every life He created. She also begrudgingly reveals her awe-inspiring legacy built on God's love and guidance.
I read The Extraordinary Deaths of Mrs. Kip in two days, my heart reaching out for more of this God-fearing woman and her incredible story.
Psalm 16:8—a key verse in the book—basically sums up what we need to know about Clara Lu Kip. It says, "I will always let the Lord guide me. Because He is at my right hand, I will not be shaken."
I hope you find the vitality that I found springing from every one of the pages in this book. I hope you discover answers to your own questions in this story. And I hope Mrs. Kip inspires you to reach onward, upward, and most importantly, Godward.