Girl in Overalls…and other books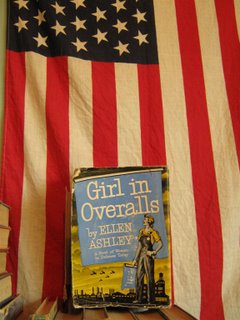 One of the wonderful things about owning an antique store is it gives you an excuse to go book shopping–and an outlet to sell books to make more room on your bookshelves. Often I'll pick up a book at a sale because it looks interesting, but after reading it decide it's not one I want to keep forever. I Fasten a Bracelet was one such intriguing title–it was the oddest kind of love-hate story.Or then there are the ones I start and decide are such run-of-the-mill fiction from the 20's they aren't worth my time–like Our Hearts Were Young and Gay–but they might make someone a wonderful bit of decor (I had one customer ask if our bookcases came with the books in them, they looked so nice). It was while browsing one of our other favorite antique stores, Manntiques, that Merritt spotted the book Girl in Overalls (we could spend hours looking at the spines, pulling the books out to admire the covers, and taking peeks inside…).
Girl in Overalls "A Novel of Women in Defense Today"by Ellen Ashley
We had to buy the book for the dust jacket. But when I read it, I found not only a delightful novel, but a story that made me think. "Rusty" becomes a "Rosie the Riveter" girl working in a bomber factory during World War II. But her proper mother and sister are horrified at the way she's lost her femininity by wearing overalls and grease smudges. And this young gentleman doesn't think girls should be working with the men. He was raised to marry a lady. Can Rusty find the balance between femininity and helping out with the war effort? Can lipstick make overalls feminine? Can a young woman find a way to serve her country (and pay tribute to the memory of a lost loved one) in wartime? What made this book so interesting to me was that it was written in 1943–these were real questions, being asked by real girls across the country. The answers weren't easy. And they were probably different for each girl. But I enjoyed finding out what this fictional redhead decided. (For older readers only.)
Wuthering Heights by Emily Bronte
I started it because it was there at the store and I needed something to read. I found the most unsual piece of literature I'd ever read. And I finished it just to see where in the world it was going–and to be able to say I'd read it. What a weird, dark tale! Was the author's entire premise the disaster of marrying for money and position rather than love? I never concluded. But at least I can say I've read Wuthering Heights.
Rescuer (The O'Malley Series) by Dee Henderson
Years after reading the rest of the O'Malley series, I finally got to read the sixth and final book. I've enjoyed Dee Henderson's modern mysteries, well-laced with romance and the Gospel. Especially great for helping me stay awake in the middle of the night while nursing! If someone's looking for Christian mysteries, hers are some of the first I recommend (after those by Randy Alcorn and Michael Farris, of course).
The Parting (Courtship of Nellie Fisher series) by Beverly Lewis
I love books from Natalie! She always knows what I'm in the mood to read. She sent me this when I was put on bedrest before my little daughter was born (along with Andes Mints!). Beverly Lewis' books about the Amish always tug at my heartstrings–she has just the right words to capture the feelings of the heart of a young woman in love. So many phrases struck chords in my memory. I'll be interested to see how the rest of this series about Nellie will go–maybe, for once, Lewis' characters will break out of the Amish church?
Who Gets the Drumstick? by Helen Beardsley
In a similar vein as Cheaper by the Dozen, this mother of 20 shares the laughter and the tears in blending her 8 with his 10 after each lost their first spouse… Though the lack of hope this Catholic woman had after losing her first husband was saddening, I truly enjoyed the book. I love reading about all the time-saving methods parents of many children come up with (Mr. Gilbreth in Cheaper by the Dozen had to be the master, with his "motion studies," but the Beardsleys did pretty well in a crash course). And the book made the thought of caring for the one little person in my tummy sound like a breeze! A definite favorite to keep on the shelf for when I need a laugh.
Heart of the Hills by John Fox Jr.
In the two books I've read by this author, I find the same down to earth style. And it makes me want to read more. In this tale, first published in 1912, young Jason Hawn is caught between a generations-old family feud between the Hawns and the Honeycutts. His journey to manhood is the storyline of the book. A good read. I plan to recommend it to my husband one of these long winter evenings–he detests modern fiction, and doesn't even care for my beloved George MacDonald, but John Fox Jr's books are just the kind my man would enjoy (so if that's not a recommendation, I don't know what is!).
"He realized too late now the danger to youth of simple proximity…and the appeal that any romantic element in the situation would make to them both." (Heart of the Hills, pg. 323)
"Primitive conditions forbade attention without intention: for life was simple, mating was early because life was so simple, and Nature's way with humanity was as with her creatures of the fields and air except for the eye of God and the hand of the law. A license, a few words from the circuit rider, a cleared hill-side, a one-room log cabin, a side of bacon, and a bag of meal–and [they] could enter the happy portals, create life for others, and go on hand in hand to the grave." (Heart of the Hills, pg. 316)
Black Daniel: The Love Story of a Great Man by Honore W. Morrow
I knew very little about Daniel Webster until I read this story of a this widower's second courtship. It focuses on his struggles with the gossip that surrounded him, and the complete lack of desire to continue in the political realm after the death of his wife and brother. In the end, it shows the power of a woman's love and belief in her man. "Behind every great man…" While it only focuses on a small segment of his political career, and is not a complete biography, it was yet a very informing "novel" about this historical figure. (Pop quiz for you homeschool book collectors–what other book did this author write?)
Narrative of My Life by Davy Crockett
We got a lot of laughs out of this autobiography when we listened to it on tape. Davy Crockett portrayed himself as a very simple, uneducated man–yet the big words he used in simple description in his book we would find only in the dictionary today. From his tales of bear hunts and courtship to his aspirations to the presidency (and the reasons he was convinced the public would vote for him), Davy Crockett seemed a rebellious boy and over-confident adult. Yet he was a powerful man in his time. The story ends in his own words just a few days before he fell at the Alamo. Boys of all ages would enjoy the exciting descriptions of hunts and Indian battles–a great replacement for a history textbook.
Little Britches by Ralph Moody
When I gave the Little Britches series to Merritt for his birthday, I knew I was giving myself the gift of many pleasant evenings listening to my husband read. He grew up listening to his dad read these books by Ralph Moody, and refers to them as often as to the Little House books. Merritt just finished reading Little Britches to me, and now we're starting on Man of the Family. If you've never read these books about Ralph's (real) adventures growing up, you're in for a treat (but beware of some mild language). I only vaguely remembered having the first book read to my brother and me–the rest is all new to me. It's like the book Farmer Boy, times eight, but with biblical principles held high and important life lessons passed on from father to son. They belong in every family's library.