"Come climb up here on Mama's lap
And read a book with me.
I know of one that's lots of fun.
Hop over and you'll see!"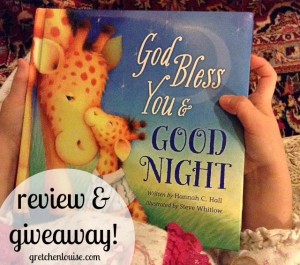 So said the Mama Kangaroo to Baby Roo in God Bless You & Good Night. The rhyming board book visits a different animal family's bedtime routine on each page spread. From penguins to owls, giraffes to elephants, there's snack time and bath time, story time and then bed time.
The simple rhymes by Hannah C. Hall are sweet and Steve Whitlow's watercolor illustrations are fun (preview them here). My own little people love identifying the animals on each page (though a few have us stumped–Meerkats? Raccoon?). And the children like it so much that the story is read more than one time before it can actually be bed time.
(Subscribers, click through to enter via the Rafflecopter form.)
Disclosure: I received a free copy of this book in exchange for a review. Links are affiliate links.