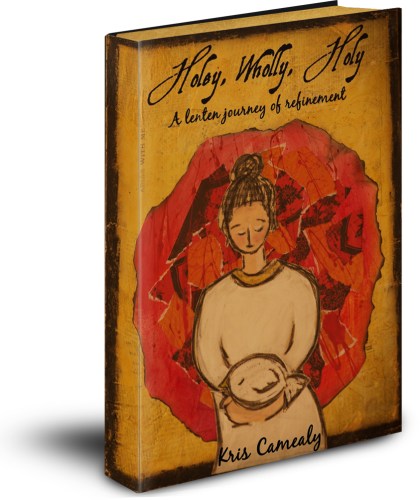 I grew up Baptist. We celebrated the Palm Sunday journey that led our Savior to Good Friday and finally Resurrection Sunday, but we didn't recognize the journey of Lent that paved the way in our own hearts.
My friends in the blogosphere spoke often of Lent in the days leading up to Easter, but even as an adult, I read their posts with uncertainty. I knew Lent only in the terms of giving up something, and often those somethings seemed rather ridiculous. I did not understand how integral Lent could be to my faith.
Holey, Wholly, Holy opened my eyes to the beauty and the brokenness of Lent. Kris Camealy paints a stirring picture of what the Lenten season can mean for the follower of Christ. But it's not just about a particular time of year—it's about self-examination and being willing to get honest with God in a way that will get us on our faces before Him.
"Like our cheap fasts, I'm certain God's not all that interested in our compelled confessions when we are not truly moved in our hearts to lay low before Him."
–Holey, Wholly, Holy
Holey, Wholly, Holy needs to be read slowly, in careful reflection and reverent worship, with a Bible and pen in hand. It is not a book of how-tos or simple steps; it is a book about confession and the Refiner's fire. Kris takes the reader on a journey to see that Lent is not about what we do for Him, but about what He has done for us.
With little glimpses into her heart, Kris gives a big glimpse into God's heart. Holey, Wholly, Holy points ever upwards even as it asks us to bend low before our Savior, not just for the 40 days of Lent, but also for the other 325 days of the year.
"His desire is for us to be wholly His, that He might make us holy for Him."
–Holey, Wholly, Holy
Disclosure: I received a free review copy of this book. Opinions expressed are my own.