At the beginning of this year, I decided I wanted to begin learning American Sign Language. A rather lofty goal for someone who hardly has time to get to her to-do list, let alone to learn a new language!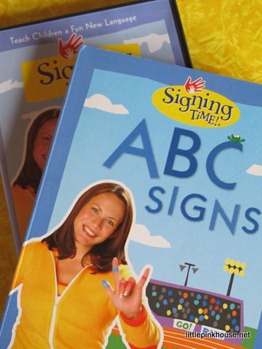 But my plan was to learn along with my girls, teaching them their ABC's and their ABC signs all at once. Nothing like teaching something to make you learn it, right?
We love the "Signing Time" DVD and board book series. Their explanations are so helpful and memorable. We learned our alphabet signs easily, thanks to the help of Rachel, Alex, and Leah on "Signing Time"!
And then we found these fun and colorful alphabet flash cards that also include the letter sign. We couldn't resist! Though sometimes we think the girls know which letter it is by the sign, instead of the other way around.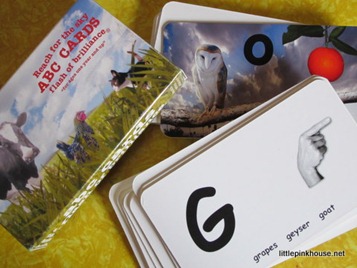 I often find myself doing dishes while the girls watch the "Signing Time" DVD's, so I'm relying on the girls to remember the signs and the explanations behind them to convey to me. (And my girls, being so creative, make up not only signs, but logical sounding details that sound just like the lady on Signing Time…so it's hard to know what to believe is really a sign and what isn't!)
When I searched PaperbackSwap for books on sign language, I was excited to find some that were just for children, and just for learning Bible verses! Not only is it a great way to help my children learn Scripture, it's a great way for us all to learn some signs—especially signs we might not learn in another ASL curriculum.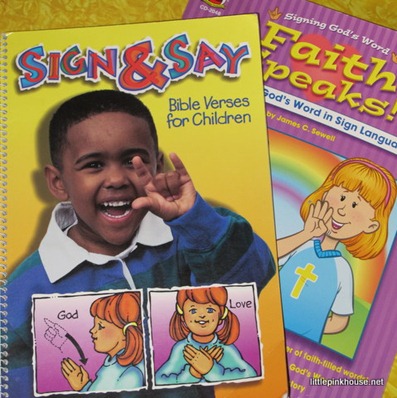 Sign & Say: Bible Verses for Children is fairly basic, with short, easy Bible verses. Faith Speaks! Expressing God's Word in Sign Language is more in-depth, even showing you how to sign the verse reference numbers! It includes some longer, less-common verses, as well as some basic "confessions of faith" based on other verses. Between the two, I think we'll be set for a while, not only in basic Bible memory, but new signs to learn! I think that learning the familiar verses will help us better remember the signs. And maybe one of these days, my girls (and I?) will be able to sign along with the songs we sing at church.
Do you know any sign language? What are your favorite resources for memorizing Scripture or for learning ASL?
Linking up with YLCF's Children's Books Reviews for the March Of Books.