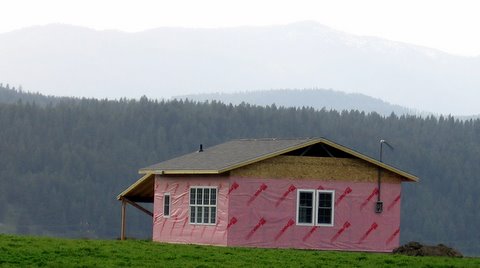 On February 14, 2006, my man knelt down on one knee in the middle of an alfalfa field and asked me if I would consider becoming a farmer's wife.
That rolling green field is what I see when I look out my kitchen window these days.
I said yes. He placed a ring on my finger. And he spent the three and a half months of our engagement building a home for us on the very spot he proposed.
In this country, for a bit of extra insulation and protection, wise builders like my man put something called Tyvek on a house underneath the siding–especially if it might be a while before the siding goes on. Tyvek frequently comes in pink, often even being called "pink-wrap." And pink Tyvek it was that graced the sides of our little one-room home.
We were wed on May 27, 2006, and are still honeymooning here in the Little Pink House (as it became known to everyone from next-door neighbors to blog friends around the world). That next Valentine's Day found my man putting siding over the pinkness. But even though it's seen the addition of a few rooms and weathered a few storms, it's still pink underneath.