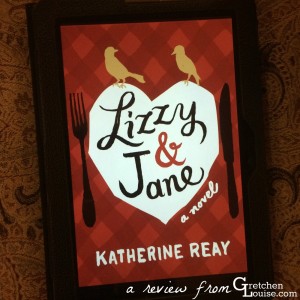 Some books make you want to start reading them all over again the moment you're finished. Like the perfect dinner, you still want another serving to enjoy the flavors and textures one more time–even when you're completely full and satisfied. Lizzy & Jane is just such a book.
Katherine Reay brings a delightful new flavor to the menu of modern fiction. She artfully mixes tales of deep sadness with love and joy, seasoning them with just the right amount of references to classic literature like Austen's Pride and Prejudice.
While Katherine's first novel, Dear Mr. Knightley, gave a provocative glimpse into the life of a grown-up orphan, Lizzy & Jane delves into the relationship of two adult sisters thrown back together by an all-too-familiar diagnosis. And while the meals mentioned throughout the book will make you wish for an accompanying cookbook, they are just part of the story–not the focus.
Great writers and my mom never used food as an object. Instead, it was a medium, a catalyst to mend hearts, to break down barriers, to build relationships. Mom's cooking fed body and soul.
–Lizzy & Jane
If you liked the movie "Julie & Julia", or if you're a fan of Sandra Byrd's French Twist trilogy, I promise: you'll like Lizzy & Jane even better. But you don't have to be a foodie to eat up this book. It's for anyone who thinks a good story involves great depth of emotion and a dash of romance.
While Lizzy & Jane has the potential to bring plenty of tears, is not a depressing book, but a soul-searching one. More often than not, I saw myself in one or the other of the sisters–and it wasn't always a pretty sight. But there's nothing in Katherine Reay's writing that preaches at you: instead, though published by Thomas Nelson, the book includes only a few vague references to faith and prayer. Like that good meal, it leaves you longing for more rather than leaving you with a bad taste in your mouth.
"It's never too late to learn that the love needs to be greater than the like… I let you two believe the 'like' mattered most and that it was okay to drift and hold grudges."
–Lizzy & Jane
Lizzy & Jane is that most delicious combination of gourmet and comfort food: artfully written while easy to read, again and again.
Disclosure: I received a free NetGalley copy of Lizzy & Jane in exchange for my honest review. But I'll be buying my own paperback copy because it's a book that belongs on my bookshelf!