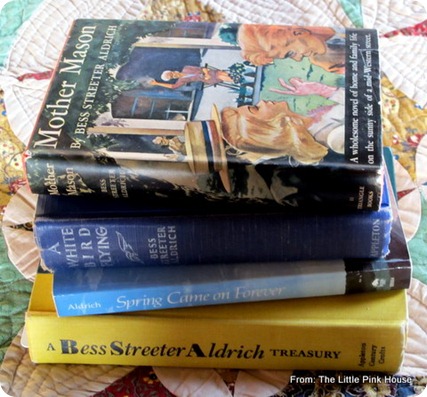 I had the titles that sat on my grandmother's bookshelf beside the fireplace nearly memorized. I studied the spines as I sat in the big cozy chair. The Rim of the Prairie. A White Bird Flying. A Lantern in Her Hand. Spring Came On Forever. My grandmother loved Bess Streeter Aldrich.
Somewhere in my teens, I finally picked one up—I think it was A Lantern in Her Hand—to see what grandma thought was so wonderful about this author. But I couldn't figure it out. I never could get "into" the book. So back it went on Grandma's bookshelf.
Upon reading an excerpt of Mother Mason in New Attitude Magazine in my late teens, I picked up Mother Mason from my mom's collection of homeschool books and thoroughly enjoyed it. But I don't think it registered that she was the author of the same books I couldn't get into at my grandmother's.
In my early twenties, collecting books with homeschooling in mind, I picked up a Bess Streeter Aldrich Treasury. I knew she was a classic author. Perhaps I'd been too young to appreciate her. But it sat on the shelf with the rest of my classic authors, collecting dust, joined occasionally by yet another Bess Streeter Aldrich book that this antique book lover couldn't resist.
Until one evening when my husband and I were perusing our shelves, trying to decide on the next title for him to read aloud in the evenings. "We could always try some Bess Streeter Aldrich," I suggested.
So he got a chair and rescued the book from its high spot on the shelf. Skimming through the collection, he landed upon one title. "This isn't what the movie 'Cheers for Miss Bishop' is based on, is it?" he asked.
I had no idea. He went on to tell me what an awfully boring movie it was. But he proceeded to start reading me the book anyway.
It took us a bit to get into it. And it wasn't very long before he realized it was what the infamous movie was based on. But we kept reading. And found a story that was long and rambling but delightful in its own way, about a young girl starting out at a new college, where she would eventually become a teacher and spend her entire life pouring herself out for the students and faculty.
A visit to my grandmother's house a few weeks ago found us discussing professors and the like with my sister-in-law. "We're reading Miss Bishop aloud," my husband began, and before he could finish, Natalie was expressing her sympathy and exclaiming what a terrible movie it was.
My husband winked at me. He wasn't alone in his opinions of the movie. But Natalie had never read the book, either, and Grandma wasn't there right then to defend one of her favorite authors.
The book grows on you. It really does. And from all reports, it is much, much better than the movie.
Truly, Bess Streeter Aldrich was a talented writer. Her ways of expressing things, her depiction of characters, is truly charming, and often brings a smile to my face.
The tale she tells in Miss Bishop is a sad one. Full of sacrifice, selflessness, sin, and selfishness. It is told slowly, in detail. But it is told well. And with an interesting look at the changes that take place from generation to generation.
I do believe I'll recommend the book to my sister-in-law. Through the years when she and my brother revisit their alma mater (which was nearly brand new when they began attending), she just might feel more in common with Miss Bishop. Until then, most likely much to Natalie's dismay, I'll be forever associating Miss Bishop with the young and prospering Patrick Henry College. (And I just might have to settle down on my in-law's couch to watch the VHS version of "Cheers for Miss Bishop." But I won't count on my husband's company!)

Have you read any books by Bess Streeter Aldrich? Which should I read next?
written for YLCF's March of Books