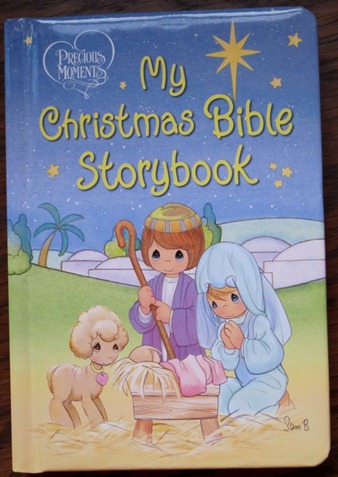 There's something about Precious Moments illustrations that I can't resist.  It could have something to do with my mom collecting the figurines.  Or the fact that I grew up on the Precious Moments storybooks myself.  Or just their very cuteness.
All that to say, the new My Christmas Bible Storybook board book from Precious Moments and Tommy Nelson is too cute.  It's filled with Scripture passages, poetry, and carol lyrics that tell the Christmas story—His story.
We read and sang our way through its pages and my kiddoes loved it.  I'm sure it will be joining the stack of "Bibles" we take to church each Sunday between now and Christmas.
Do you have little ones who would love this My Christmas Bible Storybook?  Enter below to win a free copy courtesy of Tommy Nelson (subscribers, you'll have to come over to enter).  (Click here to preview the book's pages.)
Disclosure: I received a free review copy of this book from Tommy Nelson.  Opinions expressed are my own.  Affiliate links are present.