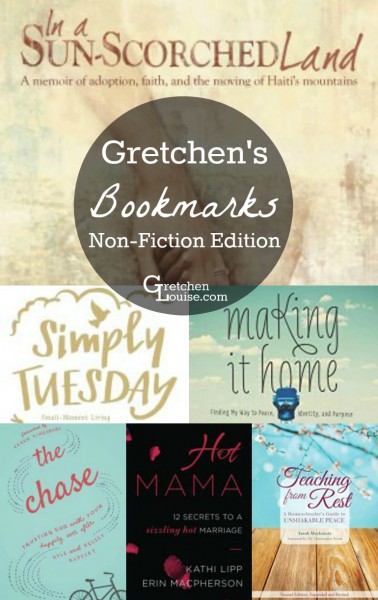 They say that "September is the new January." Perhaps that would be why September found me with a stack of non-fiction books sitting on my nightstand.
With a new homeschool year underway and an ever-changing host of responsibilities to juggle, I knew I needed a big dose of perspective. And it had to come my way long before January.
These non-fiction titles gave me just the perspective I was wanting. And they came with a generous side of encouragement that I desperately craved.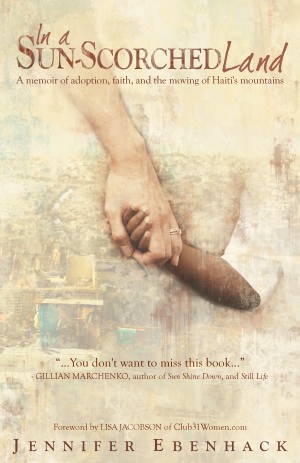 My first word upon reading Jennifer's story was "Wow". Her skillful story-telling pulled me right into her world: she was a newlywed when her husband Jarod mentioned adoption, a word she was convinced she'd not heard him mention before. But the story of how God opened her heart to Haiti and the children they'd find there is one that is about so much more than just adoption. Jennifer shares about her battles with anxiety, her struggle with fear, and her fight to keep perspective–amid the daily struggle of raising children in a fourth-world country.
Most pregnancies last around nine months. But Jennifer and her husband labored for nine years before the children they loved were legally adopted into their family. In a Sun-Scorched Land tells the story of those years. It had me on the edge of my seat, wondering how Jarod and Jennifer would cross the seemingly insurmountable barriers they faced in the way of adopting the children they loved. But God still moves mountains.
(If you liked Every Bitter Thing is Sweet, you'll love Jennifer's book. I know: they both made me cry!)
Emily Wierenga's memoir reads like a modern novel–wandering in and out of the story line at different points in time, eventually bringing it all back to the main character here and now. Her unique prose is raw yet rhythmic. Emily shares with brutal honesty her struggles with forgiveness and motherhood and loving so hard it hurts. But the beautiful examples of simple obedience and caring for the lost who cross her path make this a story that will tug at your heartstrings and your conscience long after you've finished it. The story Emily began telling in Atlas Girl is brought up to date in Making It Home. And if you're more in the mood for fiction? I'm convinced I caught glimpses of Emily's own story in her fiction work A Promise in Pieces.
Some words don't seem like they belong in the same sentence together. But Sarah Mackenzie has coupled "teaching" and "rest" into a breath of fresh air for homeschool moms. This was one book is one I need to read and re-read as we go throughout our homeschool year. Sarah is the friend every homeschool mom needs to encourage them along the way. Her book doesn't just cast a vision for the peaceful homeschool mom we all want to be; she shows us how we can make it reality.
It only took me a few chapters to realize that this was a book to be read slowly and thoroughly. Emily Freeman's words are gentle reminders to slow down and savor life. Just like Grace for the Good Girl, my perspectives are being challenged in each chapter. But it's the kind of book that takes time to read, because it makes you want to set down the book and go seek out a bench and some friends.
Money Saving Mom is hosting a Simply Tuesday book club on her blog and via Periscope, if you want to join in! (Also, I'd just like to say that I think Emily P. Freeman has the most gorgeous book covers ever.)
It's been a long time since I read a book about relationships directed to young singles. At least 10 years, in fact. But I think my younger self would have enjoyed this one. (It reminded me a bit of an old favorite, When God Writes Your Love Story.) Kyle and Kelsey share the lessons they learned about singleness and dating, in a friendly style that feels like you're out for coffee together. They don't advocate one method or specific rules, but they point their readers straight to the Author of Romance Himself.
If you're looking for an encouraging book to give a younger single (high school/college), this is a good one. And about so much more than just singleness! (For more great books for singles, check out the recommendations of some of my single friends over at Kindred Grace.)
I've read a lot of books about marriage and relationships. And if you asked me for a favorite title, I could name several. But when it comes to books about marital intimacy, I haven't found many that I could really recommend. Until now. I have not yet finished reading Hot Mama, but so far it's exactly the kind of book I'd want to share with my married mama friends. In a lighthearted tone, Kathi and Erin encourage you not to accept the status quo: tired mama with a never-ending headache. Their advice is Scripturally sound and spot on. Order yourself a copy. Trust me: it is an investment in your marriage.
Don't miss the 3 accompanying free eBooks for Kindle:
(Another title you should put on your to-read shelf is Unveiled Wife. Not quite as practical as Hot Mama, but just as inspirational!)
What are you reading this fall?
Next on my to-read list:
Disclosure: I received review copies of Simply Tuesday, Hot Mama, and The Chase, and an egalley copy of Making It Home. In a Sun-Scorched Land is published by Loyal Arts Media, of which I am a partner. As always, I guarantee to provide honest, unbiased reviews here on my blog–whether books I've received for free or publishing projects of which I am a part.