13 Ways to Prepare for Your #Write31Days Series
#Write31Days is for bloggers what NaNoWriMo is for authors. In November, authors all over the world commit to writing 50,000 words during National Novel Writing Month. In October, bloggers all over the blogosphere commit to publishing one post per day, linking up their own 31 Days series with the thousands of others on the host blogs.
NaNoWriMo began in 1999 with 21 writers in the San Francisco Bay Area. 31 Days began in 2009 with blogger "The Nester". She credits Darren Rowse with the inspiration, after reading his original "31 Days to a Better Blog" series (now a best-selling eBook) on ProBlogger.
In 2010, Nester talked 7 of her friends into joining her for writing about one topic for 31 days straight. And in 2011, 31 Days became a link-up "open to anyone who wants to take on the challenge of writing about one topic for 31 days."
Now #Write31Days is an annual event hosted by Crystal Stine that bloggers look forward to and plan for all year.
"What's 31 Days? Basically anyone can join in, just pick a topic and write about it every day for the month of October–we all come here and link up on October 1st."
–The Nester
Interested in participating in #Write31Days? Want to know how it works and what to plan? Here are 13 ways to prepare for your 31 Days series.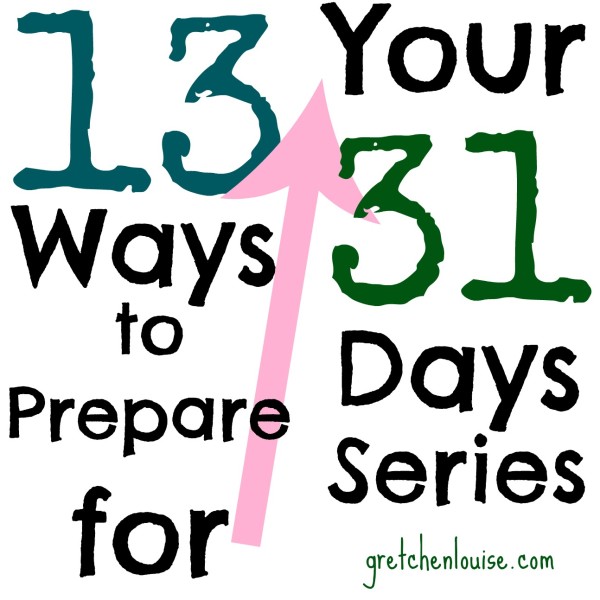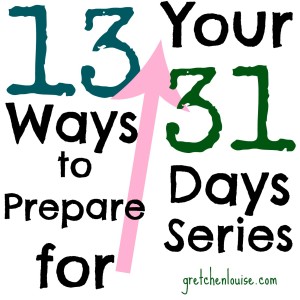 1. Choose a broad but specific topic.
Blogging about one topic for 31 days necessitates a broad topic. Even if your posts are just 300 words, that still means over 9,000 words on one subject!
But don't choose too broad a topic for your series, or you'll be overwhelmed with all the potential directions for your posts. Identify a specific aspect of your topic so you'll know what to focus on.
Browse previous year's link-ups for ideas (see below): the options are endless!
"You want it to be broad enough that you can write 31 posts about it without getting sick of it but specific enough that it feels like a series."
–The Nester
2. Select a subject that you love.
Whatever topic you choose, make sure it's one that you are passionate about and could write and talk and brainstorm about for hours on end. (Because you will be.)
3. Make sure your theme fits your blog (and your business).
Your #Write31Days series has the potential to bring new readers to your blog beyond just October. Make sure you choose a 31 Days topic that fits in well with what you usually blog about, so that when they come back for more they aren't disappointed.
If you're a published author, choose a topic that might interest potential readers of your book. If you're an affiliate for certain products or services, think of ways to work your affiliate links into your posts (with proper disclosure, of course).
4. Brainstorm post ideas.
Start with a numbered list and type out topics and titles as fast as you can think of them until you get to 31.
If you can't quite make it to 31 now, you'll likely find the ideas start coming as you start writing. Or save the last day of each week or the month for a Q&A post!
And if you're over 31 ideas, don't worry–you'll likely be able to consolidate posts or save one for another time.
"Mix it up. Not every post must be of the same nature. Consider inserting personal stories into a how-to series, top ten lists into a narrative, and graphics in place of text or vice versa."
–Trina Holden
5. Outline your posts.
If you start publishing posts on October 1 without any semblance of organization, neither you nor your readers will know where you are going or what to expect next. You don't have to outline your posts before you start writing and brainstorming, but do arrange your posts into logical order before you start scheduling. Go back through and organize them as they would flow naturally in an eBook (who knows, your series might be the perfect starting point for that eBook you've always wanted to write).
Maybe your series doesn't lend itself to chronological, start-to-finish steps; but you can still have some semblance of organization, even for a 31 Days of Photos series!
An editorial calendar is helpful to see how your posts flow throughout the weekdays. You may want to rearrange your outline so that the posts with the most potential will land on your blog's highest traffic days, or plan on shorter posts for the weekends.
6. Give yourself permission to take weekends off.
There are no rules for 31 Days. There's nobody checking your blog every single day for 31 days to see if you really published a post every 24 hours.
One I took Saturdays and Sundays off from my 31 Days series, making the total number of posts much more doable. Taking Sundays off would mean only 27 posts for 2015, or 22 posts if you take both Saturdays and Sundays off.
If you have enough content pre-written, you could schedule your weekend posts ahead of time or keep weekend posts to a quote or pinnable image. Just make sure that you'll have a life outside of your blog during October, especially if you have a blogging conference on the calendar that month!
7. Craft a killer title.
Your series title should give your readers a direct glimpse into your series. Make sure it's clear and specific. And make sure it promises something. Your series needs to sound like a must-read!
Test your title ideas on your loyal readers. Brainstorm with your mastermind group. Run it by your sister and your husband and your mom even if they don't read your blog.
"If you are doing this series with one of the goals being increased traffic, be sure to actually make your title something that draws your audience. Craft a title that will entice readers to visit. Get their attention by mentioning relatable emotions or situations. Use verbs. Promise the reader change, help, growth, tips, etc."
–Trina Holden
8. Design a catchy button.
Create your series button at 1200 x 1200 pixels but make sure it's readable at 125 x 125 pixels. Your button is what will make your series stand out in the sea of links on the link-up page each year. Make it fun to spot, easy to read, and exciting to click on. Your button is the visual of your entire #Write31Days series–make sure the colors, fonts, and background image are cohesive with your topic. This is what you want to go viral on Pinterest. (Click here for The Top Six Design Tips for Beautiful, Shareable Word Images.)
Looking for pre-made templates? The Nester created some button templates last year that you can use and modify in PicMonkey or your favorite editing program.
Buttons not your thing? Consider hiring a professional for your button design so that you can focus on writing without stressing over your button. Check out Christy at Sandy Feet Media for affordable buttons.
"Go for high contrast colors and clear fonts. Buttons in shapes like circles will stand out. Unique lettering catches the eye. Create depth in your button by using a photo background or a skin: just be sure your graphics are still clear. Don't waste space with a big old '31'. The phrase '31 days of' should be just big enough to read, with the majority of your space devoted to your topic."
–Trina Holden
9. Make sure all your posts are pinnable.
Whether you put your series button at the bottom of each post, or create an image for every post, make sure that every post has a pinnable image and is easy to pin. (Click here for 3 No Brainer Ways to Optimize Your Blog for Pinterest.)
Once you've designed your series button, consider creating a coordinating template so you can quickly and easily create a pinnable image with the title of each post. (Hint: write the series first, then create your buttons!)
10. Create a page for your series "index".
Rather than cluttering Day 1's post with all your links, create a page (not a post that will go to your subscribers) where you'll add your post title and link each day, a sort of index to your series (examples: 31 Days of Social Media and Become Savvy Inside WordPress in 5 Minutes a Day). This is the link you'll enter when you add your series to the #Write31Days link-up. (Want to know how the link-up will work? Check out the practice linky page.)
Not only does an index page make it easy for your new visitors to read your series, it's great SEO: you're creating a fabulous "content landing page" or "cornerstone page". Once the series is live, be sure to put the link in your menu and in your sidebar–make it easy to find, now and next year!
11. Link your posts together.
If your posts build upon one another, make sure to link to the previous day's posts in each post. Slip the link a few paragraphs in–or at the end–so it doesn't show in the Facebook previews.
Consider putting the series button at the bottom of each post so that readers who find your series halfway through will be able to go back and read your entire series quickly and easily.
Feel free to create a tag that's specific to this 31 Days series, but categorize your posts under your blog's normal categories so that they can be found by other visitors as well. Just keep in mind that few readers will scroll back through pages and pages of reverse-order archives to find a specific post, so that's the beauty of your series index page (see #10).
12. Keep your plans simple.
"Think short posts with one point made each day."
–The Nester
If you're going to keep up a once a day posting schedule for 31 Days, you have to keep your posts short. How many words do you normally publish on your blog per week? Divide that number by seven and make your posts that length.
Make the series doable for yourself as the writer, as well as for your readers. If they are keeping track of other 31 Days series, they will probably choose the easy to read posts over the chapter-length works, no matter how stellar your content.
But don't err on the side of publishing meaningless posts just for the sake of filling up a day. Make your posts short but meaty. Quality beats quantity every time.
Make your preparations, but keep your plans simple so you don't have blogging burn-out until next October!
13. Start writing (now).
Every year I make great plans to start writing my 31 Days summer earlier and earlier, but it's usually August before my outline takes shape and September when the majority of the writing gets done. But once your brainstorming is done, start writing. Even if your October calendar is empty, and you think you'll have time to write a new post each day, it's still a good idea to have a few written ahead of time to fill in those days when life happens.
"Make sure to have your 31 Days series done, mostly, before October even starts."
–Becky @ Organizing Made Fun
So what are you waiting for? Join the fun!
Have you done a 31 Days series before? Share your best tip in the comments!
Is this your first time to do #Write31Days? Comment with your questions!
Click to Tweet >>> "I'm in! I'm doing #Write31Days thanks to these 13 Ways to @Write31Days from @GretLouise."
For more details, check out:
For more tips, check out these posts:
For some great examples of 31 Days series, check out:
And of course, browse the 31 Days link-ups: