My husband and I are the kind of self-employed entrepreneurs who have a lot of little income streams that, as it were, flow into larger tributaries of income. As much as this helps our savings account grow a bit bigger each year, it can make our bookkeeping a lot more difficult. (Ideally, to continue the metaphor, our savings account would be the ocean—but that's a metaphor, not reality!) It would make us crazy to have a separate credit card and bank account for each little hobby that the IRS sees as a "business". No matter how hard we try, there are always receipts that include split expenses. And I'm convinced that reimbursements are the bane of my bookkeeping existence.
This means that our accounting needs are a unique blend of personal and business. A small town bank, half a dozen Schedule C businesses, with business expenses spread across credit cards and taxable income in different bank accounts. And I wanted it to all come together in one accounting solution.
I used Microsoft Money for years, but as it "sunset" I went searching for something that would automatically import bank accounts and credit cards. I purchased Quicken Home and Small Business and used it for several years, but the general clumsiness of the program and the way it did not interact well with my banks had me on the search again. Everything I read seemed to indicate that QuickBooks was "more" than I needed. But after using QuickBooks Online for our farm's accounting for six months, I was in love. So much so that I did a massive export/import from Quicken to QuickBooks Online in the middle of August. I was that desperate to get everything into QuickBooks.
QuickBooks Online isn't free and it isn't perfect. But it's saved me immeasurable time and too many headaches this past year. And did I mention that I'm already done with my tax-related bookwork? Since I categorize transactions weekly and reconcile statements monthly, there was nothing to do after the year's end. I repeat, nothing. Except for writing this post telling you about how much I love QuickBooks.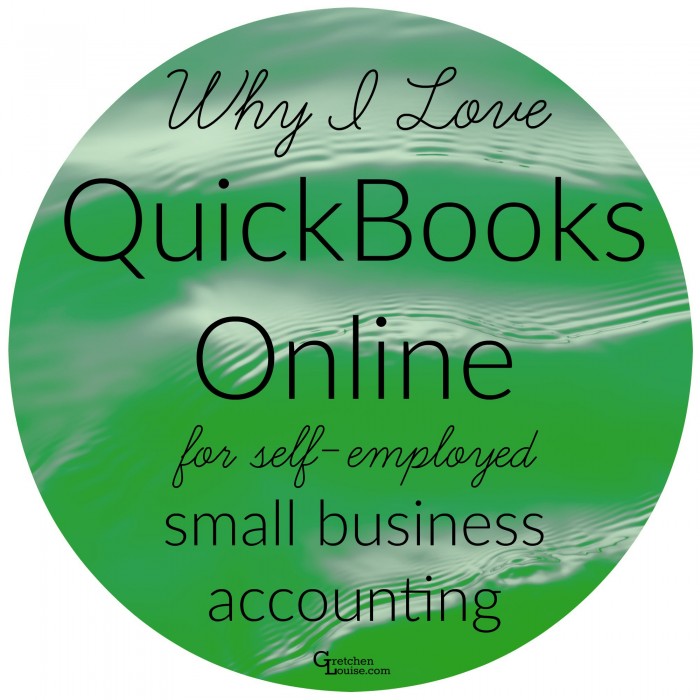 Ten reasons why I love using QuickBooks Online Essentials for our small business accounting:
1. Automatic Download
Automatic download from every financial account we have is absolutely crucial to my sanity. I've tried the method where I keep a stack of receipts to enter later, and it just never happened. I also do not have time to download fifteen different files from half a dozen different banks and credit card accounts and upload them to the right place with the right settings. We pay our credit cards off each month so we have decided to use them for almost everything in order to make it easy to track all our expenses, as well as earn credit card rewards.
2. Suggested Categories
Every time new transactions show up, QuickBooks suggests a category based on my previous transaction categorization. But I have to manually add each transaction to that category—nothing will automatically get put in the wrong category. (Because, let's face it, not all Amazon.com purchases are an Office Expense. We do, after all, have a spending category for Books.)
3. Easily Split Transactions
Some accounting programs hide the "split" option behind several mouse clicks. QuickBooks gives me the option to split almost every transaction with just one click. This is crucial, because sometimes Maintenance and Repair happens on the same receipt as Chicken Feed.
4. Match to Manually Entered Transactions
Because I don't use a pen and paper check register anymore, I manually enter in QuickBooks the few checks I do write. When the check clears my bank, it is imported from my bank and shows as a possible "Match". It's green if it's an exact match down to the penny and check number, it's gray if it's a partial match (i.e. different check number but correct amount). This is 101% easier than the pen and paper check register. Match also applies to transfers and credit card payments that QuickBooks is matching between accounts.
5. Reconciling
My parents taught me how to reconcile a bank statement back in the days before the internet, when all your checks came back to you in their original form, with the endorsement on the back. I learned that it was possible to balance a bank statement down to the penny and therefore that was my goal, every time. But sometimes it meant hours of blood, sweat, and tears (paper cuts cause blood, people) before I got everything to balance out. Enter QuickBooks Online. Where when I hit the "Reconcile" button for each account, I enter the statement ending balance and date and watch it magically show me check marks next to cleared checks, leaving unchecked anything that's still outstanding. 9 times out of 10, it all balances perfectly without me having to do a thing. Once in awhile–when there was a manual transaction or a mismatch on my part–I have to do a bit of toggling to correct my mistakes before it balances. But I absolutely love reconciling our bank statements now. (And in case you're wondering, I still plan to teach my children how to do it with pen and paper.)
6. Search by Dollar Amount or Check Number
I love the fact that when I'm working on accounting, I can click the search button and find any transaction almost instantly if it's in QuickBooks. Feeling déjà vu as I manually enter an expense? I can search to see if I've already added it. Trying to find a transaction that's showing one place and not another? I can see where QuickBooks has it, or if QuickBooks has it twice. The power of search.
7. Customizable Reports
There's nothing like being able to print out a bunch of different profit and loss reports to go over, whether it's on a money date with your husband or at a staff meeting with the rest of the business. Thanks to QuickBooks Online, I can customize reports and then choose to print them out or email them as a PDF. The more expensive your version of QuickBooks online, the more advanced reports you can create and customize.
8. Invoices
While QuickBooks is not currently my primary client invoicing system (I now use Dubsado for client contracts, time tracking, and invoicing), I still use the invoice option in QuickBooks on a regular basis. Whenever we go to Costco, we're always getting something for someone else in the clan. And that's just the beginning of the reimbursements, thanks to cell phone family plans and so much more. I got tired of the IOU sticky notes and receipts we had all over our house, only to be rediscovered when we could no longer remember if they had paid us. But now? I just create an invoice in QuickBooks, and when we get paid that money goes right back into the "Reimbursed Expenses" category in QuickBooks so it doesn't look like we spent all that money we didn't really spend.
9. Access Anywhere
I want to be able to check our spending and categorize expenses when I'm on the road just as easily as when I'm sitting at home at my desk. I want my husband to be able to open the app on his iPhone to enter an expense just as readily as I can on my Android. I love the fact that QuickBooks Online is in the cloud because I can access it anywhere I have an internet connection, without ever having to wait for a massive software program to load. And did I mention that we can give our CPA a login so that we can give them a call in October and ask them if we should plan on a few more end of the year expenses? Cloud accounting for the win.
10. Automatic Backups
I don't keep a paper check register anymore. It's all in QuickBooks. And it's all in the cloud. I don't want to have to freak out that I'm going to lose my financial records every time my computer makes a noise. Peace of mind is priceless.
1. The PayPal App
PayPal is the primary method my clients use to pay me. Not only do I need my PayPal transactions to automatically import, I need them to import with the fees already split from the actual income. The way the QuickBooks Online PayPal App works isn't perfect, but it works. All income goes into a category called PayPal Income, and changing the category of those transactions is a pain (but since 99% of my PayPal income is all for the same business, I've given up on worrying about the fact that category isn't named how I'd like it or incorporated with the category I want it to be). All expenses go into a category named Uncategorized, so I just run a report on that category frequently so I can find and assign each expense to the correct category. While I'd love to see transactions from PayPal work just like regular bank transactions, at this point I'm happy to have found a solution that doesn't require manual entry or splitting
2. Speed Dependent on Internet Speed
If the internet is slow for the day (rural living comes with many benefits, but fast, reliable internet is not one of them), then QuickBooks Online will be slow. That just comes with the territory, unfortunately.
3. Reload After Save
Depending on what you're doing, the QuickBooks Online web page may reload after you save transactions. This means that if you're editing a long list, it's often going to take you back to the top of the list, instead of bringing you right back to where you were working, because it has essentially reloaded the page. This is a bit aggravating when compared to actual accounting software, but for me, the benefits of the cloud outweigh the annoyance.
I signed up for a free trial of several different levels of QuickBooks Online so that I could figure out which features I really needed. I landed on Essentials.
Self-Employed doesn't let you create any of your own categories, but simply gives you the choice of business or personal for every expense, and the categories are pre-selected to match tax forms. Upgrade for integration with TurboTax to make doing your own taxes a breeze. If you don't care about custom categories and only want to keep track of tax-related expenses, this would be the perfect solution for you.
Simple Start will probably work well for the majority of self-employed small businesses owners. It just didn't offer me enough report customization options (what can I say, I like custom reports!).
Essentials seemed to be the happy medium between no customization options and more features than I needed. Since I purchased QuickBooks through Costco, Essentials was the cheapest option available to me, and hardly cost more than a regular subscription to Simple Start. I started with a one-year subscription to Essentials knowing I could upgrade if I wanted to later.
Plus does have two features I covet, and one that would be nice, which means I may eventually justify the upgrade. Class Tracking was the one thing I really liked about Quicken Home and Small Business that made my reporting easier (Quicken called it Tags). Instead of creating multiple subcategories called Office Expenses under each of my official "Businesses", I could just use assign a business class to each Office Expense transaction showing which business it applied to. So while Class Tracking would streamline my categories and reporting, I haven't found it essential at this point (get it?). And, if I ever change my workflow and am not using 17hats for customer contracts and data, I'd like to integrate my invoicing right into QuickBooks. (Edited to add: I now use Dubsado, which integrates beautifully with QuickBooks Online.) At that point, I'd want the Time Tracking option of Plus so that I could keep my time tracking and invoicing all together. (Plus also offers Budgeting features, and after reading the posts about how my friends Emily and Rachel use Mint and YNAB for budgeting, I've been thinking about how nice it would be to have an official budget even when I'm managing so many books and accounts.)
How can you get the best deal for QuickBooks Online?
I hesitated initially to pay for a bookkeeping tool that would require constant payment to keep it active. But when I compared a regular monthly or yearly payment to the huge cost of buying a software program that would quickly become outdated, I realized that QuickBooks Online really is a comparatively cheap and easy solution. Plus, they say time is money, and the amount of time I've saved by using QuickBooks has definitely earned me money elsewhere. Not to mention the fact that I'm hopeful we'll be saving on our CPA fees because everything will be a lot more organized when we turn it over to him.
That being said, it's possible to get a better deal on QuickBooks Online if you shop around. Here are some ways I've found to save.
Is QuickBooks more than you need? Check out my friends' reviews of Mint (free budgeting app) and YNAB (powerful personal budgeting app).
Looking for a cheaper option? Wave Apps Accounting is free and works similarly to QuickBooks Online, though it doesn't seem to have as much bank accessibility.
Want to check out the competition? Xero and Zoho Books are some of the primary competitors. But once I found QuickBooks Online, I had no desire to look any further.
Really prefer desktop software? QuickBooks has a great family of software. And if you're doing separate bookkeeping for many different businesses, then the software is definitely your best bet.
Do you use QuickBooks Online?
I'd love to hear about your experience!