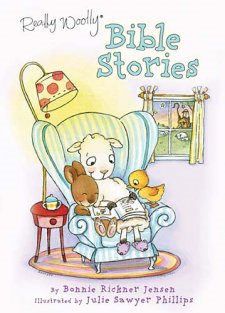 It doesn't get much cuter than Julie Sawyer Phillips' "Really Woolly" character illustrations. And coupled with Bible stories set to rhyme in a board book with easy words children can understand, Really Woolly Bible Stories makes the perfect read-aloud with my almost-3-year-old and 1-year-old.
Bonnie Rickner Jensen covers the highlights of the Bible, from Creation to Jesus' ascension into Heaven while giving the Great Commission, closing with a prayer appropriate for bedtime or any time. Even the days of creation are easily memorized—"Day one the earth was dark as night; then God proclaimed 'Let there be light!'"
Each page spread has a poem on one side with little characters below, opposite a full-page illustration of the Bible story, and the references for where it can be found in the Bible. My oldest daughter was especially worried for the crying lambie on the page with the Good Samaritan story, but was so glad to see on the next page that he was okay again!
Really Woolly Bible Stories is truly a delightful storybook for little ones, with bright and cheerful illustrations. Not only will Mom and Dad actually enjoy the easy-to-read rhymes—but the whole family will probably learn by heart!
(Thanks to both BookSneeze & Dayspring for the free review copy. Opinions expressed are mine and my children's alone!)