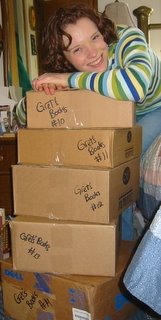 "A room without books is a body without a soul."
-Cicero
"A house without books is like a room without windows."
-Horace Mann
My room has two windows. But no books!
Or at least, no books to speak of.
There are half a dozen of my favorite books on marriage (watch for reviews coming soon). A couple wedding planning books (wedding planning post coming soon). The indispensable books of quotations. And of course, You're in Love, Charlie Brown.
But that is only around 1% of my entire book collection. The rest of my books were packed into 14 cardboard boxes earlier this month, with the help of my cousin Jennifer.
My books were shelved two rows thick, piled on the floor, arranged in baskets, and hidden in cupboards. When I taped up the boxes and carried them outside, my room felt so empty, so devoid of personality.
Like a room without windows.
But not for long. Eight weeks from today, I will marry my best friend and fellow bibliophile. Our merged book collections will create quite the library for our new home.
Friday morning I watched as Merritt drove away with a trailer full of my belongings, our newly purchased appliances, and my many boxes of books.
I look forward to unpacking my books onto our shelves. I look forward to making our house a home. A home with many books and windows.
"Books are not made for furniture, but there is nothing else that so beautifully furnishes a house."
-Henry Ward Beecher