Tune My Heart to Sing Thy Grace: Setting a Tone of Melodious Praise in Your Home
(This post contains affiliate links. Read my full disclosure.)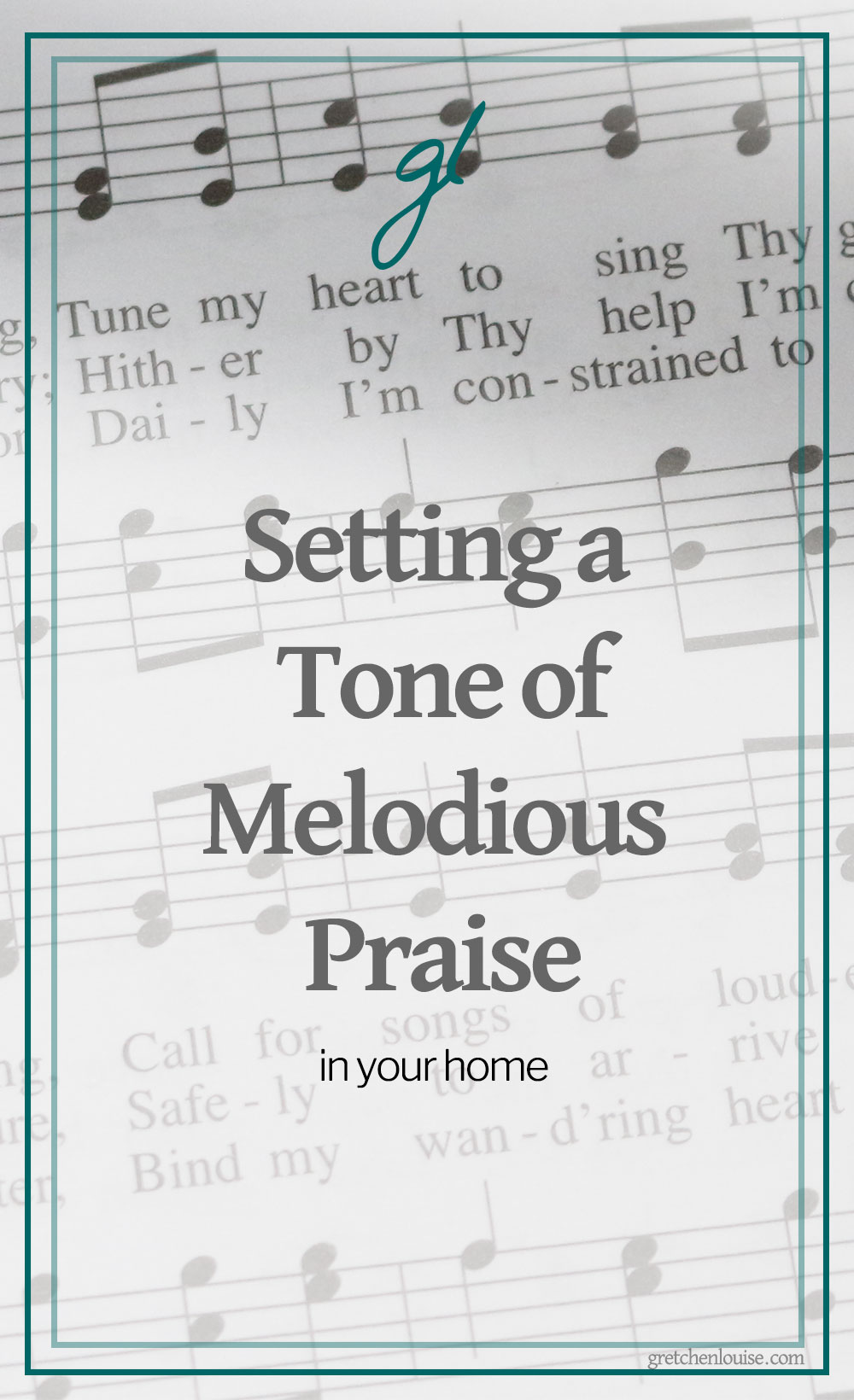 I like to sing. I can't sing parts, but I can usually keep to the melody (if not on key). But I can never remember the right words.
So I make my joyful noise. And I mix up the lyrics and verses and put them in the wrong spot in the song altogether.
And as much as I'd like to be that person who has a hymn for every occasion, more often than not I'm humming the tune of a song I can't always even identity.
Teach me some melodious sonnet, sung by flaming tongues above.
One of my favorite fictional characters has the kind of hymn-singing habit I want to emulate:
"Those who knew Aggie well could determine the state of her spirit by the songs she chose to sing. Some hymns were triumphant and cheerful; others she chose to bolster her spirits."
(For Keeps)
I love reading Chautona Havig's books because her characters are so real. Aggie is a college student when she inherits eight children: she knows a thing or two about shattered dreams and overwhelming situations. She's not perfect, but she uses hymns to deal with the stress in her life and refocus her mind on His grace.
Streams of mercy, never ceasing, call for songs of loudest praise.
My children know how to do loud. And sometimes, to be quite honest, the last thing I want to do is add to the cacophony by turning on more background noise.
But when I purpose to set a positive tone of praise in my home, it makes a difference. And even though they might all decide to sing along to a different song than what's playing, my children are learning the songs I'm playing. (And hopefully I'll eventually learn all the right lyrics to the right parts, too.)
"You know, you set the tone of this house with your hymns. I think that's why your children are so joyful most of the time."
(For Keeps)
Come, thou Fount of every blessing, tune my heart to sing thy grace.
I don't know about you, but sometimes I actually listen to myself talk and I realize how little I like the stress and frustration I hear in my voice. I can't imagine my children or my husband or my Lord like it any better.
I know that out of the overflow of the heart, the mouth speaks (Luke 6:45). Obviously, my heart is in need of some more regular tuning.
So I turned to Spotify. And I made myself several nice long playlists of hymns and praise songs that are easy to hear the words and sing along to. I started with the forty hymns featured in the latest Aggie book, Ante Up!, and what fun I had discovering some old hymns that are new to me.
"Aggie learned the habit of singing hymns as prayerful worship in the fifth grade, and years of singing had so ingrained the habit that her hymns became heartfelt prayers in times of rejoicing or distress."
(Ready or Not)
O to grace how great a debtor daily I'm constrained to be!
If you're looking for some fun fiction reading that's chock-full of encouragement in your motherhood and your walk with God, the Aggie's Inheritance series is it. Ante Up! hit me hard. I found myself shedding tears of both raw emotion and conviction at the deja vu between my life and Aggie's, my heart and Aggie's.
All our favorite characters from the earlier Aggie books have returned–a bit more grown up–and there's a new one on the way. I loved listening in as Aggie and her husband parent teenagers. I've learned so much on parenting from the Aggie books; Ante Up! provided some real nuggets of wisdom I've filed away for the not so distant future. And the refresher course on parenting younger ones after a time of illness or stress when you haven't been diligent in correction was spot-on for me, too.
But most of all, Ante Up! forced me to face the question: have I lost my first love? How would those who live with me answer that question? What am I doing today to cultivate my relationship with my first love? (And if you read the book, you'll find this question has a double meaning.)
"Nearly two decades of habitually turning to the Lord in song won out over a heart bent on rebellion and resistance."
(Ante Up!)
Check out the whole series by Chautona Havig:
Let thy goodness, like a fetter, bind my wandering heart to thee.
I may never be able to think of just the right hymn for the occasion. I'm sure I'll never get all the right words in the right order. But my prayer is that with the renewed encouragement of Aggie I'll find my heart–and my home–more often tuned to praise.
What's on your praise playlist?
If you'd like to listen to my Spotify playlists, you can find them on my Spotify profile or listen right here to the Aggie "soundtracks".
Related Posts:
I Need Thee Every Hour: Devotions in Changing Seasons
A Collection of Hymns to Bring Cheer to Your Home
Hymn Lyrics: "Come Thou Fount" by Robert Robinson (1758)
Disclosure: I was privileged to be on the launch team for Ante Up! and thus got a free ecopy for review. Opinions are my own.