A Delightful Debut Novel: The Star That Always Stays
(This post contains affiliate links. Read my full disclosure.)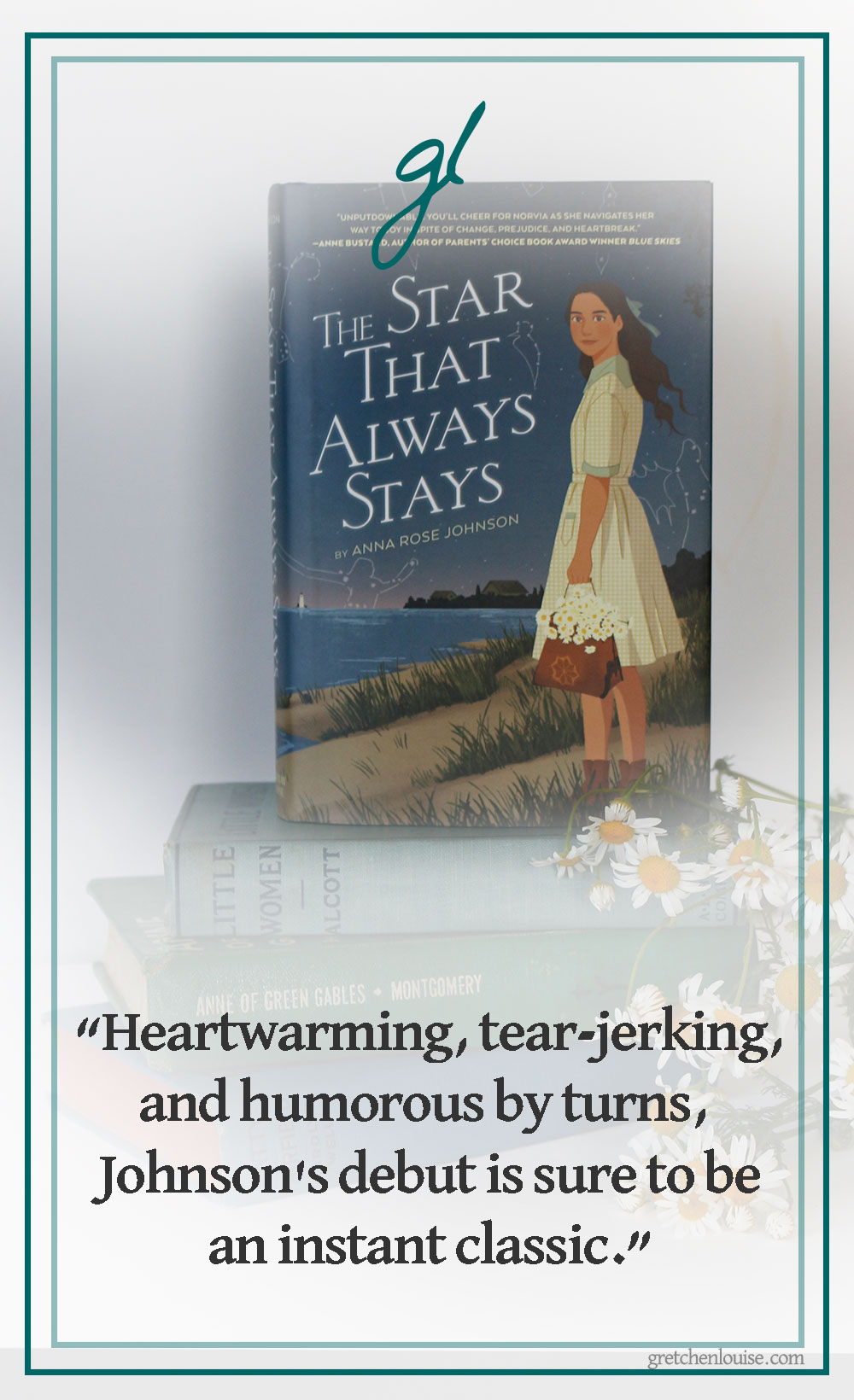 "Mom, I want to pre-order this so I have my own copy!" It's the highest praise that my daughter can give a book. That and reading it over and over again.
Ruth Anne has been raving about The Star That Always Stays since the first time she read it. So I decided to find out what captivated her and read it for myself.
The Star That Always Stays is a simply beautiful debut.
Author Anna Rose Johnson has captured that delightful old-fashioned feel of Little Women and so many other classics in a fresh new way. Heartwarming, tear-jerking, and humorous by turns, Johnson's debut is sure to be an instant classic. The tale takes on difficult topics with grace (including racism and parental divorce) and scriptural truths are woven throughout the story in a very natural way.
As we join in 14-year-old Norvia's teen travails and triumphs in this tale set in 1914, we can't help but learn some important life lessons along with her.
It's a book I'm glad my daughter read (and re-read!).
Take our word for it, you'll want to order your own copy of Anna Rose Johnson's historical fiction debut The Star That Always Stays. Available in hardcover or on Kindle, with an audiobook coming in August (which will delight my younger readers to no end!), it's a book your entire family will enjoy.
"Pollyanna was sort of like Anne Shirley, in that respect. And Pollyanna and Anne were both similar to Jo March, and Katy Carr and Merry Grant and Sara Crewe and Patty Fairfield—all the heroines knew what they wanted, and they didn't let obstacles or fear stop them from being bold and decisive. But most of all, heroines didn't languish in dreariness. Maybe they did at the start of their troubles—Anne certainly did— but they always managed to pull themselves up. And they did so by bringing people together . . . by valuing stories . . . by having grace."

(from Chapter 16 of The Star That Always Stays by Anna Rose Johnson)
Review by my 14-year-old daughter Ruth Anne:
The Star That Always Stays is a truly soulful book written in the style of Maud Hart Lovelace, L.M. Montgomery, and Louisa May Alcott. The naturally flowing storyline, the intense emotions, and the relatable main character are elements of Story which I try to replicate in my own writing.
The Star That Always Stays is a story about being the heroine of God's story, finding a place in the world, and going with the change instead of against it.
Miss Johnson's writing is beautiful and full of warmth and wittiness. I was given a glimpse of the first few chapters of Miss Johnson's wonderful work in 2019; her debut novel was definitely worth the wait.
I loved the main character, Norvia Nelson, who will, I am sure, join Anne Shirley, Betsy Ray, and Jo March in the halls of literary fame.
In my humble opinion, The Star That Always Stays is destined to become a classic.
Thank you, Miss Johnson, for providing a wonderful tale to delight generations of readers to come.