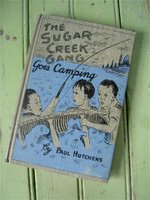 Sometimes, one has to get reacquainted with old friends. And if you are not privileged to know Bill, Poetry, Dragonfly, Circus, Big Jim, and Little Jim, may I recommend that you spend a pleasant hour getting to know The Sugar Creek Gang. The last few evenings have found me too tired to do much housework while my husband cuts hay, so I decided to sit in the hammock with a tattered old favorite.
The adventures of the Sugar Creek Gang, chronicled by "red-haired, freckle-faced ordinary boy" Bill Collins, are some of the most wholesome books I've ever read. It's like taking Tom Sawyer and giving him Christian parents, a growing faith in God, and a gang of boys who have fun together while learning to become men. The books are filled with every kind of adventure, from killing a bear to helping catch bank robbers. And all throughout, without the least bit of "moralizing", the reader learns lessons of obedience to parents, praying for others, and being a good citizen, right along with Bill and the rest of the gang.
My brother and I used to read and re-read the Sugar Creek Gang books every chance we got. And we often caught Daddy with one, too. From those short little books I learned so many lessons about prayer and life. Re-reading some of the tales brought tears to my eyes. I can't think of any books I would rather have my sons (or daughters) read. Will and I read his set of 33 paperbacks from Christian Book Distributors so many times.
My husband only heard the radio versions of the stories growing up, which didn't capture half of their depth or fun, so he didn't quite understand my excitement when I found an original 1941 hardback at an antique store for $2.95. But so far I've managed to collect 9 of the series, and one of these days, I'll convince him to read one. And he'll be quoting "The Village Blacksmith" right along with Poetry, and longing for a sip of Old Man Paddler's famous sassafras tea.