(This post contains affiliate links. Read my full disclosure.)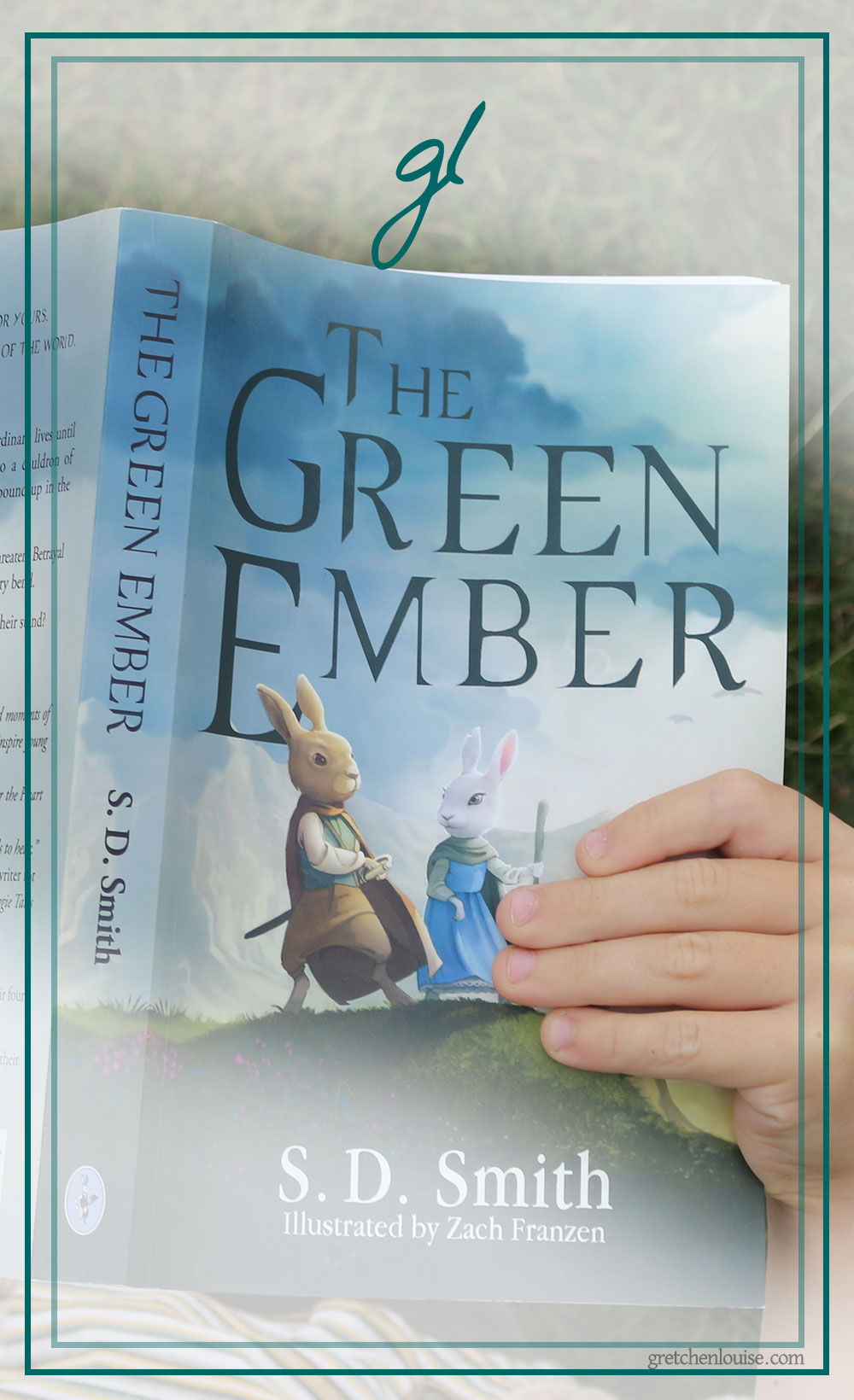 I suppose stories about rabbits are as old as they are beloved. There is Pat the Bunny, The Velveteen Rabbit, Peter Rabbit, Peter Cottontail, Br'er Rabbit, and Uncle Wiggily to name just a few. But these classic children's stories about rabbits have a new companion that numbers among our family's very favorites: The Green Ember by S.D. Smith. And these rabbits have swords.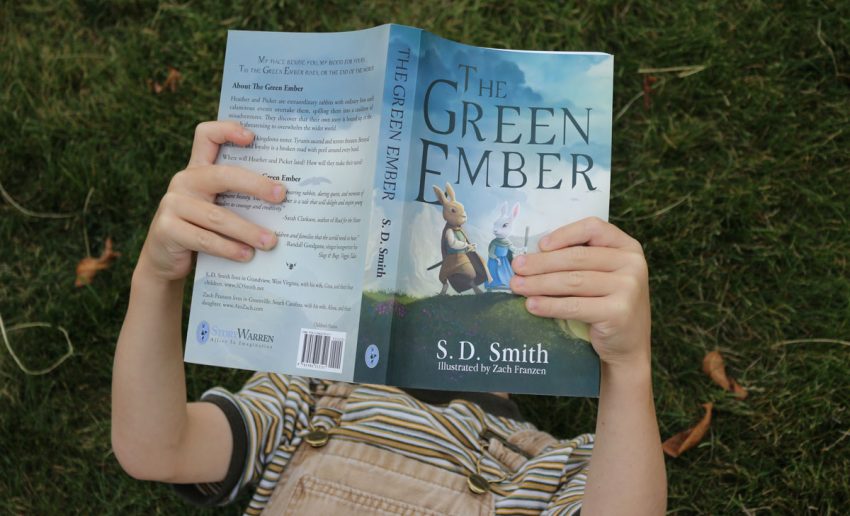 Describing his debut novel, S.D. Smith calls it "a new story with an old soul." And the moment you step into Heather and Picket's world you're struck by the very timeless quality of the story.
Our family first experienced The Green Ember in audiobook form on a 2,000 mile road trip earlier this month. We were instantly transported to the grassy field where Picket and Heather were playing "Starseek." Joel Clarkson's superb narration kept us on the edge of our seats as they encountered danger after danger. And our hearts warmed as the siblings fought to protect each other, against all odds.
The tale kept the entire family entertained–from my husband down to our 3-year-old son (just when we thought he wasn't listening any more he'd pipe up with a question about the characters or a worried comment about how he hoped someone would be okay). Some paragraphs moved my girls and I nearly to tears. But before we knew it, we'd be laughing again at some of the humor cleverly inserted throughout the dialogue:
"What do I always tell you? 'Not enough salt is an in-salt,' and 'Too much salt is an as-salt!'"
The Green Ember is a tale of two rabbit siblings who learn a lot about friendship, bravery, and sacrifice. Somewhat reminiscent of The Chronicles of Narnia and The Hobbit, it also reminded our family of The Tales of Larkin series and Andrew Peterson's Wingfeather Saga. Definite edge-of-your-seat adventure with lovable characters and classic drama appropriate for the entire family.
"You can choose what you believe, Shuffler, but you can't change what's true."
But it's also about pride and trust, the wisdom to be gained in community with mentors and friends, and the hope of a new world in "The Mended Wood". Yet the lessons in character and perseverance are such a natural part of the story that you learn along with Heather, Picket, and their friends, rather than feeling like they are trying to teach you a lesson.
Read The Green Ember. You'll laugh, you'll cry, and you'll hug your family tighter. (But you'll also be anxious to read or listen to the rest of the series!)
"Till the Green Ember rises, or the end of the world!"
The Green Ember Series
1. The Green Ember
Paperback | Kindle |Audiobook
(Listen to the one-hour audio preview available at Story Warren.)
2. Ember Falls
Paperback | Kindle | Audiobook
3. Ember Rising
Paperback | Kindle | Audiobook
4. Ember's End
Paperback | Kindle
The Black Star of Kingston (Tales of Old Natalia, Book 1)
Paperback | Kindle | Audiobook
The Wreck and Rise of Whitson Mariner (Tales of Old Natalia, Book 2)
Paperback | Kindle | Audiobook
The Last Archer (A Green Ember Story)
Paperback | Kindle | Audiobook
To get to know more about the author's dedication to literature, passion for family, and his inimitable sense of humor, read my interview with S.D. Smith over at Kindred Grace.