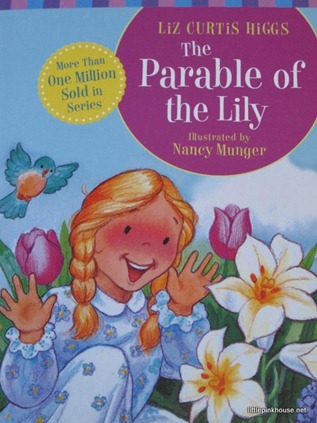 We're a fan of Liz Curtis Higgs' children's books around here—each of her parable stories center around "the farmer," making them extra delightful to this farmer's family. So I was excited when I found out that this month's review options from Tommy Nelson Publishers included The Parable of the Lily.
This story begins with the farmer's daughter receiving a mysterious letter in the mail, promising a special gift. But when the gift came, it was not what she was expecting. So she put it on a shelf in the basement and forgot about it.
What happens next is the miracle of Easter told through The Parable of the Lily. At the bottom of each page of this oversized board book, an applicable Bible verse is printed in the border. And the illustrations by Nancy Munger jump out of the page with their cheerfulness, making me long for spring.
And the story? It made my farmer's daughters shout in excitement, "Easter is coming!"
Tommy Nelson Publishers is giving away a copy of The Parable of the Lily to one of you! To enter the giveaway, comment and tell me one way you have used to teach little ones about Easter (or how you remember learning about Easter growing up). (Giveaway ends March 23. Click here to preview the book. Congratulations to åslaug for winning a copy of The Parable of the Lily!)
(Sharing this post with everyone in the March of Books Children's Books Review link-up over at YLCF this week…)