(This post contains affiliate links. Read my full disclosure.)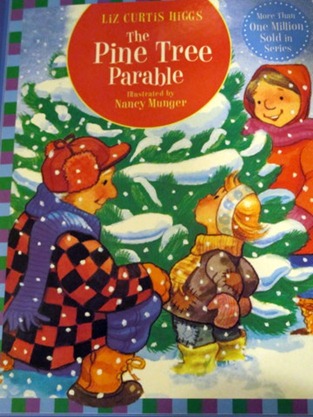 It's a story about a farmer and his family, making it an instant hit in our house. This particular farmer, like ours, grows a lot of things on his farm. But unlike our farmer, he also grows Christmas trees!
The Pine Tree Parable is a sweet tale with cute pictures. On each page you see the children and the trees grow through the years, until finally the trees are ready to sell. Neighbors and friends come to pick out their trees each winter, but there's one tree that's so big and beautiful, the farmer's wife can't bear to sell it.
Until a family comes that has no money for a Christmas tree at all. And that's where the parable comes into play.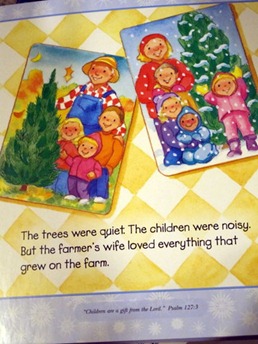 My girls loved this book. And so did I. My favorite line? "The trees were quiet. The children were noisy. But the farmer's wife loved everything that grew on the farm."
It's long been a best-seller and award winner, and it's no wonder. Every family with small children will appreciate this new board book version. The bottom of each page has a Bible verse that goes along with that part of the story, allowing for further discussion.
Congratulations to Mary Jo for winning a copy of The Pine Tree Parable!
Disclosure: I received a free review copy of The Pine Tree Parable from Tommy Nelson Publishers.