An Enthralling Smoky Mountains Split-Time Romance: When Stone Wings Fly
(This post contains affiliate links. Read my full disclosure.)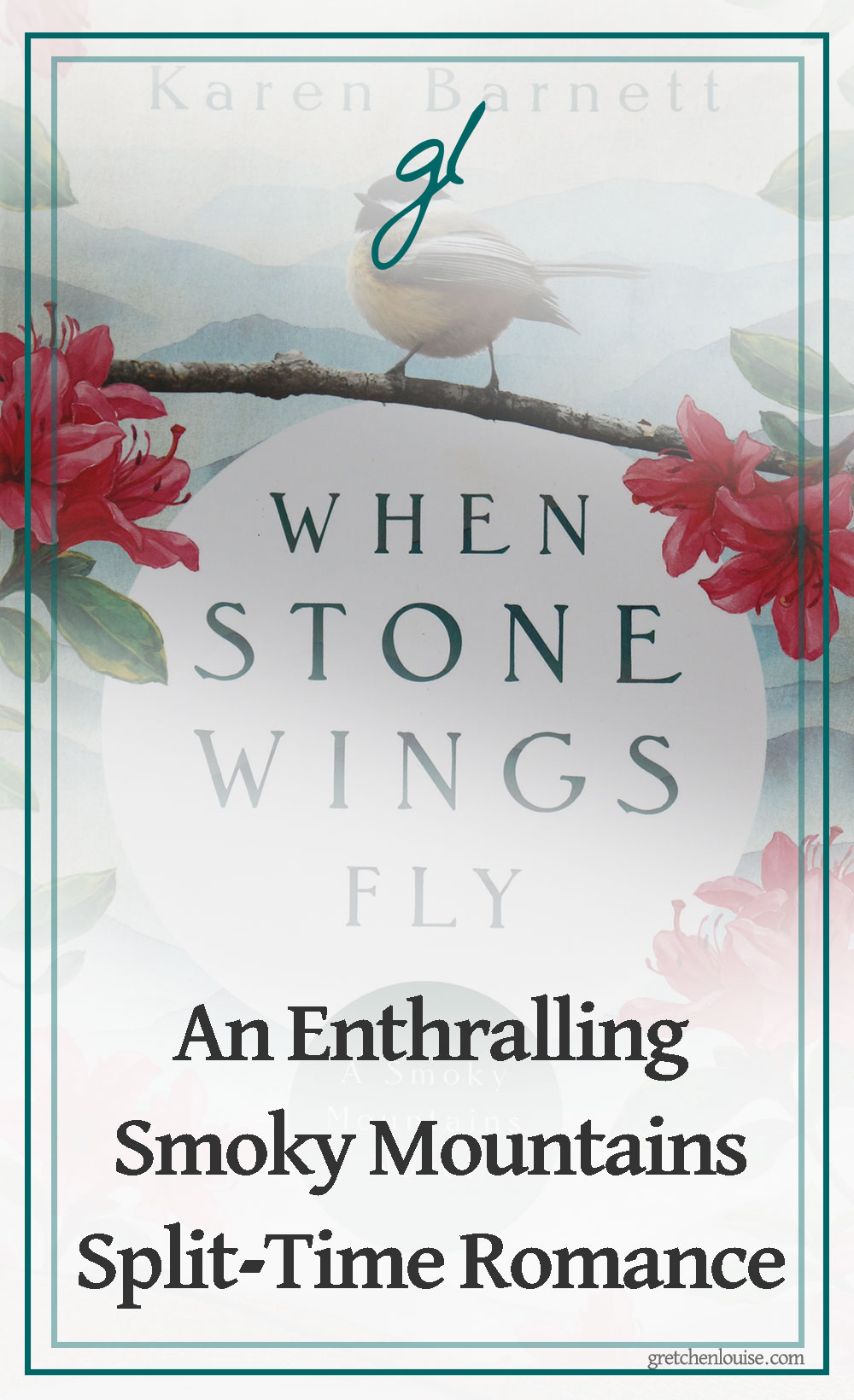 When Stone Wings Fly by Karen Barnett is an enthralling Smoky Mountains split-time that will tug at your heartstrings!
"Her mama's mountain rose in the distance, the forest clinging to its crumbling slopes in much the same way Rosie held fast to this house–with deep roots."

(When Stone Wings Fly)
It's 1931 and Rosie McCauley is struggling to keep body and soul together for herself and her sister Lorna. But the development of the Great Smoky Mountains National Park threatens to force them from their log cabin and homestead. The government was buying up the land of all their neighbors. But Rosie's Cherokee roots are planted generations deep in the Tennessee ridge she calls home. And ornithologist Benton Fuller seems synonymous with the peril to Rosie's property and her sister's welfare.
What choice will Rosie have when it seems the only way to support her sister means to accept the government's offer?
"'"If a bird wants to fly free, first it has to release the branch." That's what my ma used to say. You can't do that if you squeeze too tight.'"

(When Stone Wings Fly)
In present-day, Kieran Lucas is trying to hold down two jobs and care for Granny Mac, the only other family she's finally found after years in the foster care system. But Granny's troubled ramblings about her mother's death lead Kieran to the Great Smoky Mountains National Park—and right into the path of Zach Jensen, a park historian who follows the letter of the law and toes the line to protect himself in relationships.
How will Kieran know what to do when rules and regulations seem directly contrary to the desire for relationship and family heritage?'
"'Kieran, loosen up those stitches. You hold everything too tight. Tension's no good.'"

(When Stone Wings Fly)
When Stone Wings Fly digs deep into family secrets, generational issues, and the conflict between justice and sentiment—not to mention the housing problems facing our country's unemployed and seniors alike. If you've ever had a loved one who struggled with dementia, be aware that this book may evoke more emotions than the typical split-time. But for me, the beautiful word pictures and the tribute to family ties were worth the tears.
"Sometimes it was better to let the memories scatter like autumn leaves, falling wherever the wind took them."

(When Stone Wings Fly)
When Stone Wings Fly is for the National Park enthusiast and historical Christian romance reader alike.
A former park ranger and naturalist, Karen Barnett honors park history while being realistic about how the creation of the Great Smoky Mountains National Park unsettled so many families just like Rosie's. And in perfect split-time form, Karen Barnett gives you just enough hints in the present to prepare you for the past scenes that will break your heart.
"'We thought we'd have more time… Everyone thinks they've got all the time in the world, but that's not how it works. The world takes you when it will—when God wills. He knows best.'"

(When Stone Wings Fly)
If you've enjoyed Pepper Basham's novels set in the Blue Ridge Mountains, Catherine Marshall's Christy of the Smoky Mountains, or even Joanne Bischoff's The Gold in These Hills set in California, you'll want to read Karen Barnett's When Stone Wings Fly. And if this is your first Karen Barnett novel, don't miss her Vintage National Parks series.
Enter to win your own copy on my Instagram or Facebook profile!
P.S. Fun Fact: The bird figurine in my photos was handmade by my mother-in-law Liz when she was 10 or 11 years old. She took a ceramics class in summer school, where she painted it with a glaze and then it was baked in a kiln.