13 Reasons Why to Write a #Write31Days Series
Have you been hearing the blogosphere buzz about #Write31Days and wondering why in the world you'd want to publish a post every day during the month of October? Here are 13 reasons why you'd want to write a 31 Days series.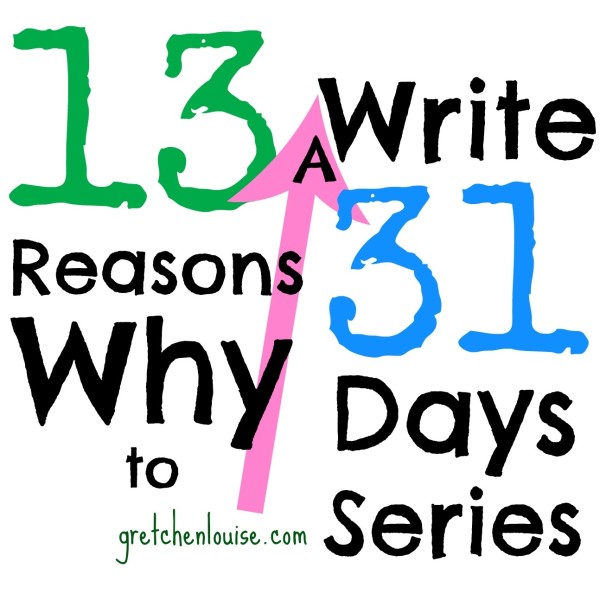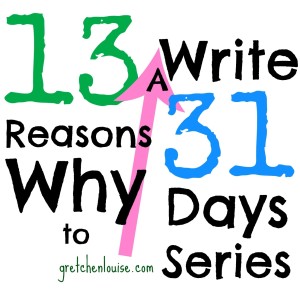 1. As a service to your readers.
Your 31 Days series should be on a topic that will serve your readers. Answer their questions. Talk about their favorite topic. Give them that series they've been asking for. It's a gift that will keep on giving–for them and for you.
2. A personal challenge.
There's nothing like a 31 Days series to test your blogging strength and endurance. Make #Write31Days a personal challenge; and make each post better than the day before.
3. Public accountability.
The accountability of having promised your readers (and yourself) a post every day of the month will keep you writing when you're ready to throw in the towel.
4. Because everyone else is doing it.
Looking for the motivation of group accountability? With over 1,200 people participating, this is the ultimate positive peer pressure. If you don't already know another blogger participating, invite some friends or challenge your mastermind group to join you.
5. Meet new friends.
31 Days is a great networking opportunity. You'll be busy writing and maintaining your own 31 Days series, but don't neglect to find, follow, and share at least a few other 31 Days series.
6. Reach more readers.
Increased traffic shouldn't be the only reason you're joining #Write31Days–or doing anything on your blog. That being said, it is an amazing opportunity for greater exposure for your blog in the ever-growing #Write31Days community.
7. Establish authority on a topic.
#Write31Days is a great chance to become known as the go-to resource on any given topic. Explore your favorite aspects of a topic you're knowledgeable about and you'll establish authority on the subject.
8. Learn more about a topic.
Have something you want to learn more about? Explore it for 31 Days! Just make sure you're sharing what you learn in a way that's honest about the fact you're a student of the subject rather than accidentally claiming to be a pro.
9. Test out a book idea.
Many a 31 Days series has since become an eBook. This is a great chance to test an eBook idea and get instant reaction from your audience. Fiction more your style? Use #Write31Days to share 31 character sketches or introduce readers to your writing by sharing a short story in 31 parts.
10. It's great for SEO.
If you pack your #Write31Days series full of content that's timeless or "evergreen", your series landing page will be a great source of SEO for your site now and in the future. You can even add a bullet list of posts you've already written on the subject in case people are looking for more.
11. Create a habit.
While it's wise to write at least a few of your #Write31Days posts ahead of time, you can also use October as an opportunity to create a consistent habit of writing each day.
12. Sense of accomplishment.
You'll have a great sense of accomplishment when October is done, but it will grow as you continue to see the fruit of your evergreen 31 Days series in future years.
13. Earn the right to a break.
Writing 31 posts in October gives every blogger the opportunity to ease up on their posting schedule for the holiday season. Unless, of course, you've created such a habit of consistent blogging that you can't stop.
Convinced? Click to Tweet it! Then check out these posts for suggestions and ideas:
Overwhelmed? That's okay. 31 Days isn't for everyone. I'm sure we could come up with 13 reasons why not to write a #Write31Days series, too!
Why (or why not) are you writing a 31 Days series? Tell us in the comments!
"I see 31 Days as a great opportunity to serve my readers as well as give myself a kick in the pants to finally write that series I've been sitting on for months. It's the ultimate accountability and motivation for us bloggers to write the words we're called to write."
–Trina Holden