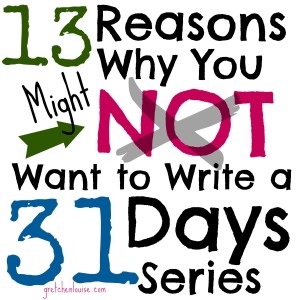 Bloggers usually have one of two reactions to #Write31Days: they're scared stiff to try it, or they're ready to jump in with both feet. I've shared my top 13 tips on preparing for #Write31Days. And I've given you 13 reasons why you should write a #Write31Days series. But now? I'll give you the honest truth. There are also 13 fairly good reasons why you might not want to write a 31 Days series. And not all of them are entirely tongue in cheek. Weigh the pros with the following cons. And let me know in the comments if I've convinced you not to link-up on October 1!
Why wouldn't you want to write a #Write31Days series?
1. You normally only post once a month.
You may scare your readers with a post every day of the month. Or they may love it so much they will expect you to keep it up.
2. Your readers don't want to hear any more on that topic.
#Write31Days is supposed to be a service to your readers. If you're not giving them something they want, then don't give it to them–especially for 31 days straight.
3. You have almost forgotten you have a blog.
What better way to realize you truly did hate blogging than by posting for 31 Days straight? Then again, perhaps it could revive a passion you thought was dead.
4. You can't think of anything to write about.
Please don't spend 31 posts talking about nothing. Thank you.
5. Your posts are time-sensitive.
The traffic from the #Write31Days link-up doesn't come during October alone. If you're writing "31 Days of Sales Going On Right Now", it's not evergreen content. Good 31 Days series often continue to build likes and traffic in later months.
6. Everyone else is doing it.
It's true. It's only the biggest blog link-up of the year. Which is why there are some very valid reasons to blog for 31 Days along with everyone else.
7. You'll get lost in the crowd.
This is certainly a valid concern. But the stellar and unique 31 Days series won't get lost. If your readers love your posts, they'll read them no matter what everyone else is doing. Additionally, their likes and shares will help yours stand out above the crowd.
8. You haven't given your readers fair warning.
If you don't build up anticipation and momentum to your 31 Days series, your readers won't know to expect it, and won't be refreshing your blog 16 times on October 1 waiting for the first post.
9. You're due with a baby in October.
If you're due with a baby near October, then getting the nursery ready is probably enough to think about that month. Unless you invest your nesting instincts into your blog and get the entire series written and scheduled well in advance, then don't try to combine a due date and a blog deadline.
10. You're going to a blogging conference in October.
Preparing for a conference is a lot of work. Making sure all your #Write31Days posts are scheduled ahead of time is even more to add to the "conference prep" list. Ask me how I know. If you're headed to a conference, consider doing your own 31 Days series in November, or even January, while you're full of inspiration from the conference.
11. You don't do well under pressure.
Unless you write simply amazing posts under pressure, forget #Write31Days if you haven't already started planning by now. #Write31Days is an opportunity to create quality, evergreen content for your blog. And that means taking the time to do it well.
12. You're procrastinating.
If you're spending September reading posts about why or why not to write a #Write31Days series rather than actually writing your 31 Days series, you might be engaging in productive procrastination. If that's the case, you probably work well at the last-minute. Now may be when your best #Write31Days plans begin. So what are you waiting for?
13. You don't want that much of yourself online.
Just because you write for 31 Days straight doesn't mean you have to share your posts with the public. Regardless of whether you link-up with #Write31Days, consider treating 31 Days like the NaNoWriMo for non-fiction writers: commit to the discipline of writing once a day in October, whether or not you publish it.
It's okay not to do a 31 days series.

I think everyone needs to know that. Don't do it just because you feel like "everyone else is." This isn't a merit badge for bloggers. While there are many compelling reasons to do this type of writing exercise, there are just as many legitimate reasons for not participating. Be okay with your decision either way.

–

Teri Lynne Underwood at Design by Insight
Still want to write a #Write31Days series?
P.S. If you couldn't tell, I'm procrastinating. And having way too much fun while doing it. But I am planning to write a 31 Days series. No matter how many tongue in cheek reasons I can list against it.