Why Friends Let Friends Use Blogger and WordPress.com
(This post contains affiliate links. Read my full disclosure.)
I switched a large blog from Blogger to WordPress in 2009. And it was not love at first "site." I missed the atomization. I had to learn PHP. It was my biggest headache. Until it became my favorite hobby.
Now, three years after my first glimpse into a WordPress dashboard, I seem to always find myself helping someone make the move to WordPress.org.
But sometimes, I encourage my friends to stay right where they are on Blogger. I've even helped two friends move from WordPress.org to WordPress.com.
Honestly, I've gotten a bit frustrated with every blogging guru telling every single beginner to start out with WordPress.org. It's a fabulous, feature-rich blogging platform—but it's not for everyone. Especially not every beginner. Too often the technical challenges of a hosted WordPress site become such a headache that they avoid blogging altogether. WordPress.org is for techies or those who can afford to hire them. Which is why friends should let friends use WordPress.com and Blogger, too.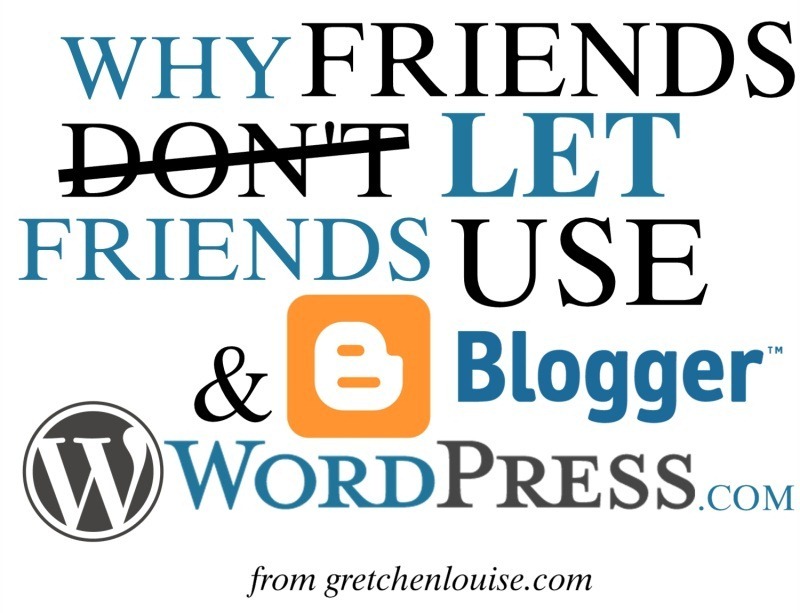 5 Blogging Friends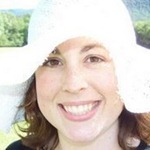 My friend Jessica is a mom of 4 (including triplets!) who loves to play with CSS and HTML in her spare time. She's always changing something about her site design. Blogger is perfect for her.
"Blogger allows me to express my creativity easily. I do all of the graphics/editing myself and I can customize my blog without the cost of being self-hosted with WordPress. That is the only reason why I don't use WordPress.com—I can't customize."
–Jessica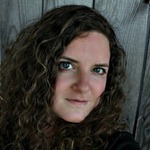 My friend Natasha is a writer. She writes words of beauty and grace and redemption such as I rarely see in the blogosphere. She makes beautiful graphics for her posts, but she doesn't bother much about the technical side of things. Her readership is growing because of her writing—it has nothing to do with her blog platform. WordPress.com is the right tool for Natasha at this point in her writing career.
"I love the feel of a WordPress blog. I find them professional and easier to navigate than those on Blogger."
–Natasha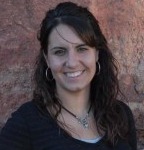 My friend Katie decided to move her blog from Blogger to a WordPress.org self-hosted blog because she was already using WordPress.org at work. But she soon became so bogged down in the technical aspect that the recurring errors effectually kept her from blogging: WordPress.org was not for her. Now that we've switched Katie to WordPress.com, she's free to focus on improving her writing skills, rather than worrying about plugins and hackers. WordPress.com is the best thing that happened to Katie's blogging.
"Gretchen just helped me switch from .org to .com and I feel like a different woman. SO MUCH EASIER to use!!"
–Katie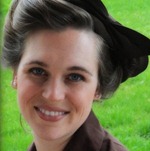 My friend Trina determined to move from Blogger to WordPress just as soon as her Blogger blog was bringing in enough income to support hiring someone to move her and handle the technical maintenance of a WordPress site. Her husband did the graphics and she hired me to do the transfer and WordPress install. When she needs something added to her sidebar, a new plugin or a WordPress update, she emails me. Even though she's not technically-minded, Trina loves WordPress.org and the control it has given her over her blog and website.
"By the time I released my first eBook, I was really ready to switch to WordPress because I felt Blogger was cramping my style."
–Trina (click here to read her first post on WordPress)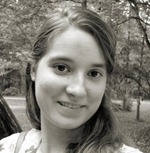 My friend Chantel is a writer who composes more than poetry—PHP, HTML, CSS—she's studied them until they're all becoming like second languages. WordPress.org is a natural choice for every website she does, whether it has a blog or is a static business site. Chantel uses hosted WordPress for everything.
"Switching to WordPress from Blogger gave me the creative freedom that I always wished I had with my blog and opened up a lot of doors for creating better sites with less headaches."
–Chantel (click here to read her first post on WordPress)
Five friends—all in the same blogging mastermind group, all with a love of blogging—but each one of us has a very different set of skills and needs when it comes to blogging. And as each of us has come to know the other, we've gained a mutual respect for each other not only as writers, but based on our unique choices of blogging platforms, as well.

WordPress vs. Blogger
If I were to make very basic generalizations, I would say that Blogger is for the hobby blogger or HTML hobbyist, WordPress.com is for writers and amateur authors, and WordPress.org is for the professional blogger/author, the professional webmaster/designer, and the coding hobbyist. But we could all list someone who's become a professional author using Blogger as their blogging medium, and several more who've defied those definitions.
So let's just get down to the basics of the pros and cons, shall we?
"Having a self-hosted blog (which means you completely own it) is essential for a writer, in my opinion. However, you may want to begin with baby steps, like an account on WordPress.com. Having a free account on some blogging service is nice for updating your grandma (who is, apparently, pretty tech savvy), but it's not enough for a professional."
–Jeff Goins in You Are A Writer
WordPress.com (aka "free")
WordPress.com Price
http://yourname.wordpress.com for free
Already own yourname.com? Use it for your new website on WordPress for $13/year. (In addition, you'll still have to pay the yearly fee to the company with which you originally registered your domain name.)
Want yourname.com? WordPress will provide yourname.com for $18/year.
Free WordPress.com Hosting, Maintenance, and Login Access
everything is hosted on the WordPress.com servers
WordPress.com maintains all the updates
login via your WordPress.com account
Free WordPress.com Pros
no security updates or maintenance to worry about
automatic contact forms
automatic mobile themes
create an entirely private blog or password-protect individual posts
create a website with a home page, rather than just recent blog posts
great first step toward WordPress.org
authors can forget about the technical side of blogging and just write
Free WordPress.com Cons
limited free theme selection
limited permalink styles: http://yourname.com/page/ and http://yourname.com/2012/01/01/post/
custom fonts cost you an upgrade fee
limited image storage
ads may occasionally display on your blog, but WordPress makes the money from them
you can't monetize your blog with your own ads or javascript widgets
you can't use plugins unless you pay an upgrade fee
you don't really have control over your content—WordPress.com could remove your post if it was reported to be offensive or illegal in nature
Who Free WordPress.com is For
beginners
hobby bloggers who don't care about making money on their blog
those who aren't tech savvy and/or don't want to pay a designer/programmer
those who'd rather write words than code
For more Free WordPress.com features, visit: http://wordpress.com/features/
WordPress.org (aka "self-hosted")
Self-Hosted WordPress Price
free to download from WordPress.org
approximately $10/year for a domain, paid to registrar of your choice (I use NameCheap)
approximately $50/year for hosting, paid to host of your choice (I use HostGator)
WordPress.org Hosting, Maintenance, and Login Access
you are responsible for installation on whichever host you choose (I recommend HostGator)
you are responsible for all updates and maintenance
you login to your own site's dashboard—the login is not shared with any other site/account
Self-Hosted WordPress Pros
unlimited customization through plugins (click here for a list of my favorites)
full editing access to HTML, CSS, PHP, .htaccess, etc.
extensive selection of free and professional themes
unlimited monetization
complete control over the privacy of your blog via plugins
complete control over where your pages and posts are shown (home page, blog page, etc.)
complete control over your permalink style—the options are endless: http://yourname.com/p?=322 or http://yourname.com/page/ or http://yourname.com/2012/01/post/ or http://yourname.com/2012/01/01/post.html etc.
complete control over and ownership of your content
Self-Hosted WordPress Cons
Who Self-Hosted WordPress is For
professional bloggers
PHP programmers
those who want to actively make money with their blog
those who can afford to pay a designer/programmer
those who can code as well as they can write
For more Self-Hosted WordPress features, visit: http://wordpress.org/about/features/
Blogger
Blogger Prices
http://yourname.blogspot.com for free
Want yourname.com? Blogger will provide yourname.com for $10/year.
Already own yourname.com? Use it for your new website on Blogger for free. (You'll still have to pay the yearly fee to the company with which you originally registered your domain name.)
Blogger Hosting, Maintenance, and Login Access
everything is hosted on Google's servers
no maintenance for you
use your Google login to access your blog's dashboard
Blogger Pros
lots of free themes available
automatic mobile themes
you can monetize your blog with your own ads and javascript widgets
extensive widget selection
Blogger Cons
the Blogger NavBar across the top of your blog (though it can be coded out)
non-pretty "permalinks" for pages: http://www.yourname.com/p/about-me.html
limited image storage
no contact form
the latest blog post always shows on the front page—you can't have a site with pages only or a different home page
limited search capabilities (old posts rarely show up in searches)
you don't really have control over your content—Blogger could remove your post if it was reported to be offensive or illegal in nature
Who Blogger is For
beginners
hobby bloggers who don't care about making money on their blog
those who love to play with CSS
For more Blogger features, visit: http://www.blogger.com/features
More Charts & Comparisons
"If you are just starting out, I recommend—in my order of preference—WordPress.com (the hosted version), TypePad.com, or Blogger.com. If you attain some success and want the ability to customize nearly everything, I recommend WordPress.org."
–Michael Hyatt in Platform: Get Noticed in a Noisy World
Which one do you and your friends use?
Each blogging platform is suited for its own unique set of users. I started out with Blogger, both personally and for ministry purposes, but now I wouldn't trade the customization of WordPress.org — even though I'm often found encouraging friends to stick with WordPress.com's awesome and easy features.
What's your favorite blogging platform? (Have you tried them all yet?)
"Being on Blogger or WordPress doesn't make a blogger successful. After all, there are successful bloggers on all blogging platforms. What makes a blogger successful is one who enjoys what they're doing and does what works for them."

–Amy Lynn Andrews in "Moving from Blogger to WordPress Part 2"