The 5 Minute Guide to the WordPress Visual Editor
When you add a new post or page (which can be accomplished from either your Toolbar by clicking New or from your dashboard sidebar by clicking Add New under Posts or Pages), you'll find the Visual Editor.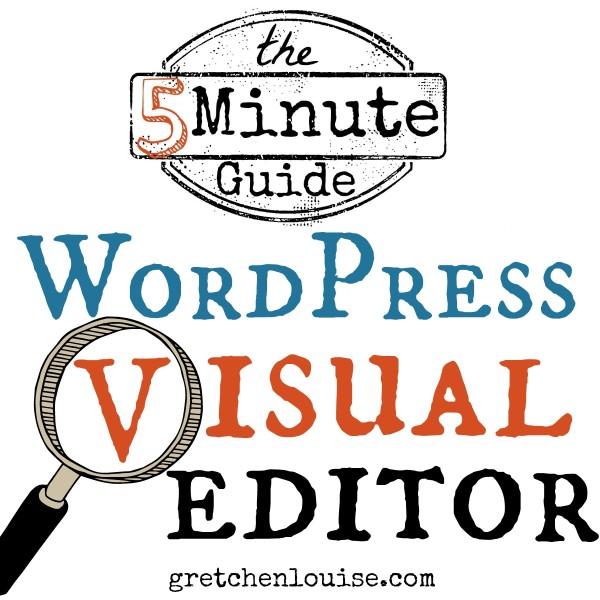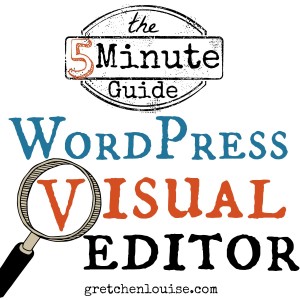 You have two tabs to choose from when you're editing a post or page—the Visual or the Text editor. No need to visit the Text tab unless you have special HTML code to paste there (don't miss the 5 minute lesson in HTML). (If for some reason the Visual tab isn't there, revisit your profile settings.)
In the Visual editor, you have the options you're used to seeing in a word processing or text editor sort of environment. Depending on your theme or plugins, you might have additional buttons available. Here's a 5 minute tour of the default buttons available in the Visual Editor.

Bold
Italic

Strikethrough

Unordered list: bullet points make for easy reading
Ordered list: give numbered steps or points
Blockquote: indent your quote to make it stand out
Align Left
Align Center
Align Right

Insert/Edit Link (only available when text is selected)
Unlink (only available when there is already a link)
Insert More Tag: split a post so that only the first part shows on the main blog or category page, with a link to read the rest of it on the post page
Distraction Free Writing Mode: remove all the distractions and just write
Show/Hide Kitchen Sink: WordPress has everything and the kitchen sink! Click this to show the next row of buttons.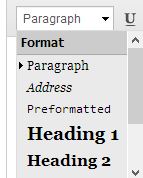 Paragraph: this drop-down is where you choose from different formatting options for your text, the most common being Headings (watch for more details on using headings for optimal SEO in an upcoming post)


Select Text Color: You can change text color within your post, but do so sparingly. That purple you choose now might not look so great with the next theme! Better to change font colors and styles in your theme settings based upon which Heading number you are using.

Paste as Plain Text: Copy text from somewhere that's filled with formatting you don't want? Choose "Paste as Plain Text" in order to keep from bringing strange formatting code into your post or page.
Paste from Word: Pasting straight from Microsoft Word brings with your text a lot of formatting that could cause layout issues. Use this button to paste from Word without worry.
Remove Formatting: If you ended up with strange formatting, try this button to clear it.

Insert Special Character (like £ ä or ♥)
Outdent
Indent
Undo
Redo
Help
And there you have it. The WordPress Visual Editor and Kitchen Sink. What's your favorite tool in the Visual Editor?