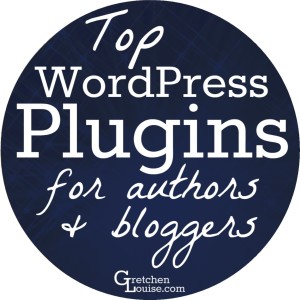 Plugins can literally make or break a WordPress installation. Some, I use as the job demands. But others are on a list of must-have favorites that I install the moment I log in to a friend's dashboard.
I'm always on the lookout for new plugins — and ways to get rid of unnecessary ones. I run between 15 to 35 plugins per WordPress install, depending on the site. Yes, I think that less is more when it comes to plugins. But I'd rather recommend a plugin that won't change with theme updates rather than suggest that too many people hack their functions.php file. (And the truth is, it's not plugins slowly your site down, but poorly coded plugins.)
Here is the list of the plugins I install for my friends and clients. (Don't miss my 5 minute guide to WordPress plugins that will help you navigate the options on this page!)
(Last Updated: August 2015.
Find my ever-changing list of favorites–and the plugins I'm trying–on my WordPress.org profile.)
Comments & Spam
Akismet
it doesn't quite catch it all alone, but it's a good start at combating spam in WP
Growmap Anti Spambot Plugin
not my favorite method of combating spam, but it provides a checkbox that each commenter must check to prove they aren't a spammer

Comment Probation
don't necessarily want to give someone all commenting rights after approving one of their comments? put them on probatio
Subscribe to Comments Reloaded
provides either a checkbox for users to be notified of replies to their comments or a drop-down option so they can choose to keep up with all the comments on a specific blog post, or just the replies to their comments
Yoast Comment Hacks
more options and cleaner notifications on the admin level
Backups, Optimization, & Security
Free Plugins: BackWPup or UpdraftPlus
Pro Plugin: Backup Buddy
Paid Service: VaultPress
Must-have plugin: back up your database and/or files hourly, daily or weekly. 
Broken Link Checker
because otherwise I'd never notice
Sucuri Security – SiteCheck Malware Scanner
site health updates, scans, and one-click security features
Limit Login Attempts or Login Security Solution
keep the hackers at bay by blocking their IP address after a specified number of failed login attempts, or install a complete firewall solution
No Self Pings
get rid of the annoying pingbacks when you link to your own posts
Redirection
the easy way to set up redirects (without having to hack htaccess)
Click here for 6 Simple WordPress Security Tips (and additional security plugin recommendations).
SEO, Social, Stats, & More
WordPress SEO
set your default Facebook thumbnail, add custom text to your RSS feed, create a sitemap, and so much more — all in one plugin! 
Simple Share Buttons Adder
simple and beautiful, with limitless options
Pinterest Pin It Button For Images or jQuery Pin It Button for Images or Official Pinterest Script
shows a Pin It button when anyone hovers over your images (check out The Blog Maven's post about 7 Great Pinterest Plugins for WordPress)
Google Analytics for WordPress and Google Analytics Dashboard
easily install Google Analytics to your site, prevent Google from tracking visits by you and other site authors–and then put your Google Analytics stats right in your dashboard where you can keep an eye on them (see instructions & more from WPBeginner here)
Ninja Forms (free) or Gravity Forms (pro–affiliate link)
add any number of highly customizable contact forms for your site
Compact Archives
provides a neat and clean dated archives section on the archives page, instead of a long list of months (check out WPBeginner's directions here)
Auto Post Thumbnail
automatically set the first uploaded image as the featured image thumbnail when you hit "publish" (can be problematic with custom post types like slides)
Email Lists
MailChimp for WP
easy to install, up to date plugin to add an optin checkbox in your comment form
Mad Mimi for WordPress
all-in-one Mad Mimi integration for your WordPress site
Newsletter Sign-Up
the comment optin option for all other services
Click here for more plugins and tips to integrate your email lists with WordPress.
RSS Plugins
Send Images to RSS
my dream suite of features for a custom RSS feed summary (read more here)
Align RSS Images
makes your RSS images display in the same alignment as they do in your post (not necessary for custom feeds)
Remove Amazon Links from RSS Feed
did you know it's illegal to have Amazon affiliate links in your RSS feed? if you're publishing a full feed and using affiliate links, you need this plugin.
Simple Feed Stats
if you don't use a feed burner, this plugin will give you an idea of how many people are reading your RSS feed
Related Posts Plugins
Check out my reviews of the most popular Related Posts Plugins.
Optional Plugins
WP 101 (affiliate link)
brings WordPress tutorials right into your dashboard

JetPack by WordPress.com
a host of features all in one plugin, including share buttons, a contact form, and related posts
Editorial Calendar
if you schedule your posts in advance, this drag-and-drop plugin may be a lifesaver!
Advanced Plugins
D4P Smashing Tabber or ithemes Tabber Widget or jQuery Tabber Widget
it's hard to find tabber widgets that aren't broken, bloated, or out of date
Search Regex
change your site URL and need to change every image link?  easy.  want to eliminate your last name from your posts? simple.
Widget Logic or Dynamic Widgets
define appearance of widgets based upon what pages, categories, etc. they should be in (WL allows you to write all the PHP rules yourself — DW gives you checkboxes for each page/category/etc.)

Generate Post Thumbnails
if you began blogging in something other than WordPress, this plugin is invaluable for using thumbnails–it generates thumbnails from the first image to appear in the post, even if it's on an external server!
Import External Images or Media Tools or Blogger Image Import
handy for importing images into your Media Library when you move a site from Blogger or WordPress.com, but test first, because they don't always work properly!
Unattach and Re-attach Media Attachments
helpful tool at times!
CodePress Admin Columns
eliminate all the extra columns that pugins like Yoast's SEO plugin add to your post/pages views
P3 (Plugin Performance Profiler)
find out which plugins are making your site load slowly
WP-Optimize or WP-DBManager
great tool for optimizing your database and removing post revisions from within the WordPress dashboard
Maintenance Mode
for when I'm in the midst of a big site change
Grid Columns
easy shortcode columns
RealTidbits PushQuote
add Facebook and Twitter share options for quotes within posts or pages
MyBook Table or Genesis Author Pro
must-have plugin for authors
Plugins for Group Blogs
Draft Notifier
get an email when one of your contributors submits a draft for review
Edit Flow
full of features for the flow of editing posts and providing editorial comments
Members
redefine roles and capabilities of your site contributors (or keep your site hidden from anyone but logged in users when it's in development)
Public Post Preview
handy option to give guest posters a public preview link to see their post before it goes live
WP Biographia or Fancier Author Box or Fanciest Author Box (paid plugin)
thank your writers with a beautiful bio and links to their social media profiles

Author Avatars List
easily create a page showing all your site's authors
Click here for more of my group blog tips.
Want even more plugin ideas?
On the topic of plugins: