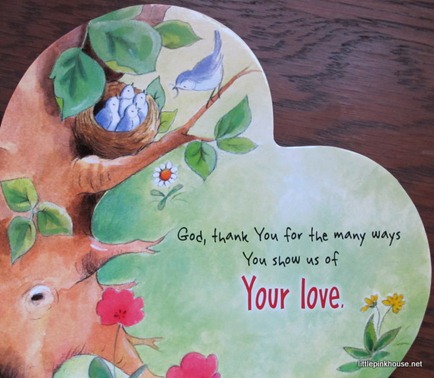 Amy Parker is back with another in the "A Time to Pray" series: An "I Love You" Prayer.  The huggable illustrations in this heart-shaped board book are by Frank Endersby.  And it's all just like a Valentine, in a bright and shiny book for little ones!
Before it had been in our house a day, my 10-month-old had chewed on it, my 2-year-old had drawn on it, and my 4-year-old had "read" it many times.  A simple book but already a favorite.  And I love the way it teaches them to thank God for each and every little blessing!
Tommy Nelson Publishers is going to give one of you a copy of An "I Love You" Prayer, too!  (And I promise it won't be the chewed-up, written-on version that's at our house.

)  To enter the giveaway, just comment to tell me one thing you thanked God for this Valentine's Day.
(Giveaway ends Saturday, February 18, at midnight.  Meanwhile, click here for a flipbook preview of the book.)