Christian Books for Girls Who Love God and Horses
(This post contains affiliate links. Read my full disclosure.)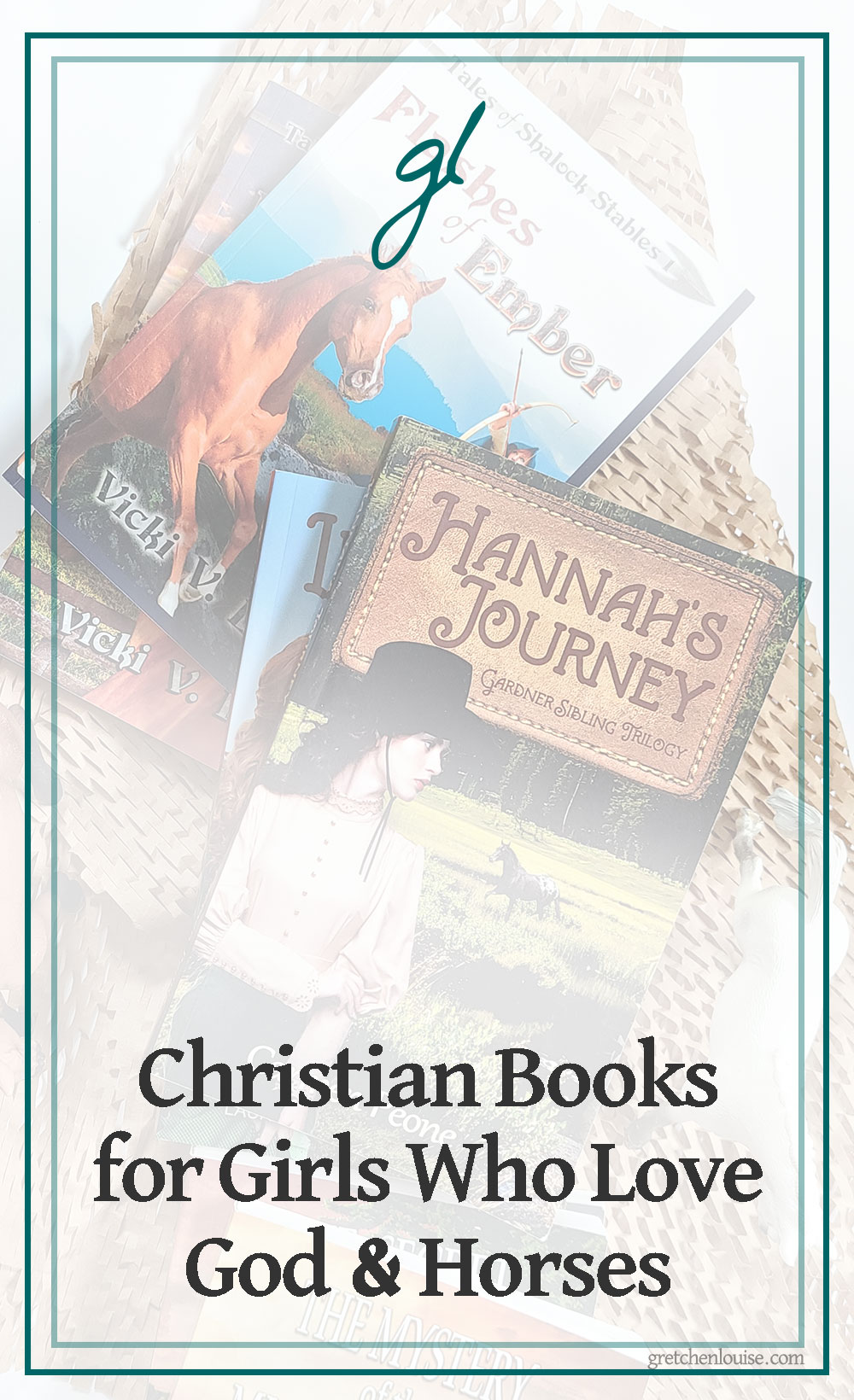 Two girls run around the driveway, flicking at the air with willow twigs. They look a bit old to play with imaginary horses, but that doesn't change their enthusiasm.
One girl reins her steed into a faster canter, calling to the other, "Race you to the corral!"
The other girl hollers back, "Just try!"
I happen to know those two girls very well–they are myself and my cousin. We enjoy playing horses together, running like the wind. And we fueled our imagination with books.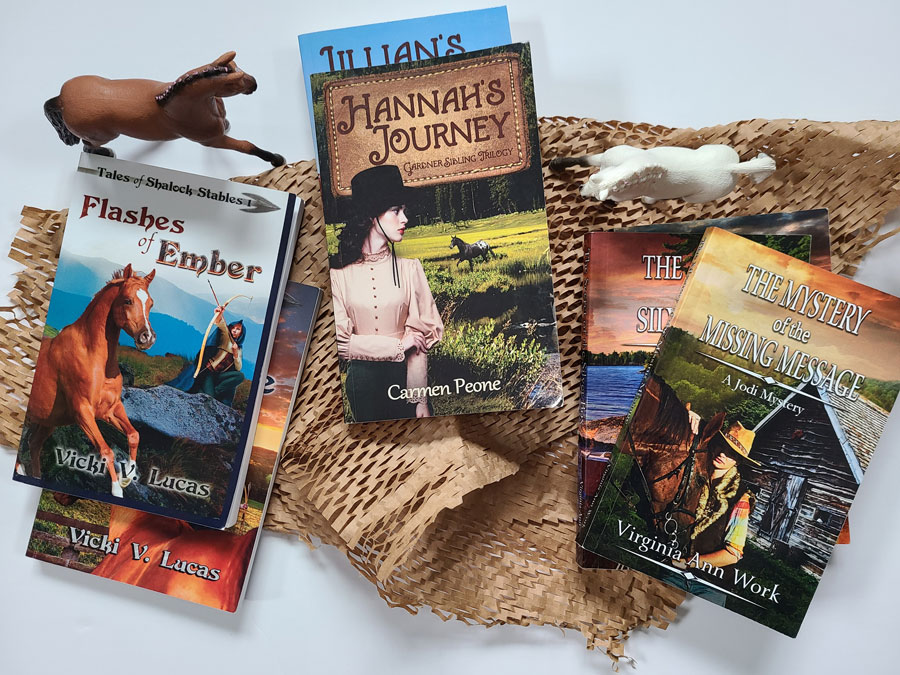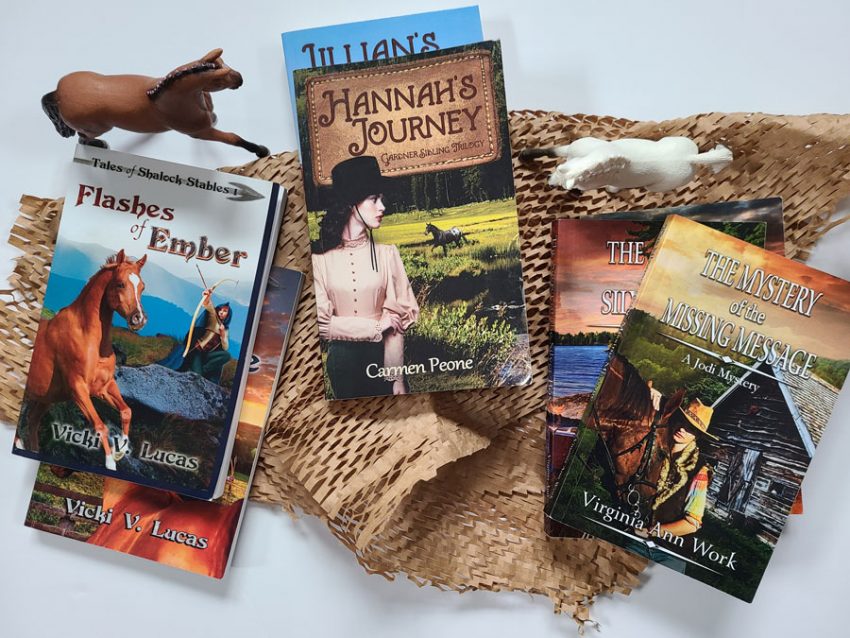 Here are some of our favorite Christian books about horses and the outdoors.
A tale of a young Indian girl named Spupaleena and her adventures in the Washington state territory. Along the way, she is helped by a kind frontier family called the Gardiners, by her brother Pekam and Koolenchooten, as well as the Creator of all living things. The story is set in the 1800s and I love it because it teaches me to rely on God, not man. The books included in this trilogy are Change of Heart, Heart of Courage, and Heart of Passion. (This book series is probably geared for a 10 and up age-range.)
These three amazing books tell the story of the three Gardiner siblings. (You'll remember them if you've read the True to Heart Trilogy.) Hannah, Delbert, and Lillian all struggle to find their goal in life.
Delbert and two of his friends take a trip into wilderness, as proof that they are real men. Unfortunately, they face multiple challenges and near catastrophes, including almost starving. But in the end, Delbert's Weir carries them through. (If you don't know what a weir is, read the book. While these books will mostly be enjoyed by girls, Delbert's Weir would be perfect for a boy 10 and up!)
In Hannah's Journey, her love of horses and her feisty temper get in the way of her mother's wishes for marriage. Spupaleena refuses to train Hannah for racing, and to top it all off, a bitter, evil Indian boy wants his revenge on her. Will things work out for good? Or will she be removed from the horses she loves and sent back East to boarding school?
Lillian Gardiner has big problems. (Or so she thinks.) Her elder sister Hannah decided to have her wedding on Lillian's birthday and Lillian feels that she is completely ignored. Then, Malli Maddox steps into the scene. Malli is a female doctor and Lillian wants to help. But the sight of blood makes her woozy and stitching up a cut or setting a broken leg is not what Lillian thought it was. But Lillian's naturally tenacious spirit prevails, making Lillian's Legacy an unforgettable pioneer style read.
Jodi Fischer is always getting tangled up in a mystery, which gives her constant trouble. Even spending some time at her aunt's ranch with the horses causes problems.
In The Mystery of the Missing Message, Jodi and her best friend Lexie Marshall discover a mysterious paper in a baby's sock. The plot thickens when a baby visits Lexie's house, and another baby is reported kidnapped for ransom. Jodi and Lexie must get to the bottom of this mystery before the baby is gone…or worse.
My very favorite part in The Secret of the Silver Box was when Jodi tried to save a drowning hat! An old man named Joe tells Jodi about a silver box, which holds a clue to a treasure from Joe's past. Jodi, intrigued and anxious to solve a mystery, sets out to discover the treasure. In the end, it turns out to be the greatest treasure of all mankind.
In The Curse of the Broken Feather, Jodi travels with Lexi and her brother Brian to Chilcotin Indian territory and gets wound up in another mystery. An author's note at the end proclaims this mystery based on real facts! I love real stories.
The newest book in the Jodi Mysteries Series is The Mystery at the Miser's Mansion. I was surprised and delighted to find my name in the dedication! At Sophie's insistence, they set off toward a mysterious old mansion, where Sophie is sure her answer to her problems lies. And then…Sophie disappears! This book hooked me as soon as I opened it!
P.S. This series was written by our retired pastor's wife!
Anwen's Chronicles tells the prelude to the Tales of Shalock Stables. Geona weaves the story of Anwen, a horse trainer for Shalock stables, as a homework assignment. Geona relates to her own life in the tale of Anwen's training of a grey stallion named Starburst.
The first book in the series is Flashes of Ember. I read this book over and over. Geona and her family move to Shalock Stables, the biggest stables in the world of Eltiria. Geona and her elder brother Tristan have big plans. For Geona, her summer includes riding horses, and Tristan wants to hike in the Razors. Papa and Mama aren't so ready to comply though. The younger kids need watching, and there are chores to be done. Then Geona spots a gorgeous filly being beaten. She must do something. Flash finally gets fed up and escapes into the Razors, where wolves could destroy her. In the end, Adoyni carries her through.
In the second book, Ember's Choice, Geona and Tristan are totally sick of Mama and Papa's rules. Flash–now renamed Ember–is depressed and Geona convinces her Papa and Master Meyrick to let her train Ember. But just as her training seems to be working, an evasive grey stallion lures Ember towards the mountains. What happens? I'm not telling!
P.S. This series is written by the daughter of Virginia Ann Work. (And at the end of each book, there are horse tips and a Q&A about the horses in the book.)
Andi Carter is always finding trouble. Or maybe trouble finds her. At the Circle C Ranch, Andi's brothers, Justin, Chad, and Mitch, along with their mother Elizabeth, always seem to be helping Andi out of one scrape or another. But if a twelve-year-old girl can't find adventure on a ranch filled with horses, hills, and cowhands, where else would she find it? Everywhere, it seems.
My very favorite book in the series is the first, Andrea Carter and the Long Ride Home. I read the entire series in two days, and can relate to Andi personally. We both share a love for the Lord, an overwhelming passion for horses, and a tendency to be a tomboy. I hope you enjoy the wild ride!
My cousin and I fuel our imaginations with books. I hope you enjoy reading and creating a new world where even the wildest dreams are possible.
Keep reading,
Ruth Anne