hope for the mom who needs to breathe
(This post contains affiliate links. Read my full disclosure.)
"It will kill your heart for motherhood if you compare yourself to everyone else's ideals." (Sally Clarkson in Desperate)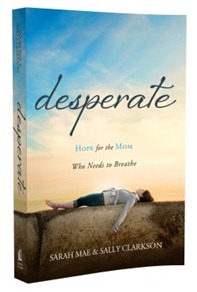 There are times when I begin reading a book and realize that if I could only keep one book on the topic, this would be it. The author isn't just speaking my language—they are speaking God's truth right into my life. That's the kind of book Desperate is for me.
Sarah Mae and Sally don't provide formulas—but they explain why formulas can be a formula for failure and guilt. They encourage idealistic young moms (like I was!) that those ideals are good, but being unrealistic about ideals is unhealthy.
"I want to see my ideals as guideposts to look to. I want to set realistic goals that fit who I am, and what God requires of me." (Sarah Mae in Desperate)
Desperate is practical without being prescriptive, and gets "personal" yet without an ounce of condemnation. In short, Desperate is the most grace-filled book I've ever read about parenting. I wish I could have read it before I became a mother. Yet perhaps I wouldn't have appreciated its message half so much if I hadn't read (and written) so much on parenting that was not smothered in grace.
"Children do not thrive with authoritarian, perfectionistic parenting, because they can never live up to perfection, and neither can you." (Sally)
Sarah Mae is a young mom in the thick of it, Sally became a mom in her thirties and now most of her children are grown. Sarah Mae brings the honesty of the here and now, Sally brings the wisdom of time. Each chapter is introduced with an exchange of a brief letter between Sarah Mae and Sally—the reader gets to listen in as Sarah Mae asks the question that's on her mother heart, and Sally answers with a practical perspective. Then they trade back and forth in the chapters, and between the two, I felt like I was being wrapped in a hug with a sister on one side and a grandmother on the other.
"Living by performance always kills our souls because none of us are perfect mothers, and we will fail in some areas, so we need to live by God's approval and mercy to feel His grace." (Sally)
Don't wait until you're desperate to read Desperate.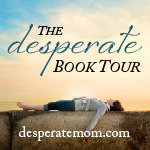 Disclosure: I received a free review copy of this book. Opinions expressed are my own.