How to Find and Listen to Audiobooks
I love to read. But these days, I find myself with less time to bury my nose in a book. My days are filled with tasks that keep my hands and my eyes busy, leaving my ears and often my mind in need of employment. And in those moments, I turn to podcasts or audiobooks.
I'm not the only member of the family who likes audiobooks, however. My husband and I often find ourselves listening to a classic book as we put our feet up for the evening. And my children absolutely thrive on the stories they hear, listening to them over and over and over again.
I find myself raving to my friends about audiobooks all the time. But sometimes, I get a little geeky and talk too fast when I'm rattling off all the places and ways we listen to audiobooks. So today I'm sharing our favorite places to find audiobooks, along with simple instructions for how to use each option.
If you've yet to discover the joy of audiobooks, I hope this post will be helpful. And if you're already a fan, please do leave a comment and share your favorite audiobook resources!
(This post contains affiliate links. Thanks for buying audiobooks through these links and helping support my family's audiobook habit! Read my full disclosure.)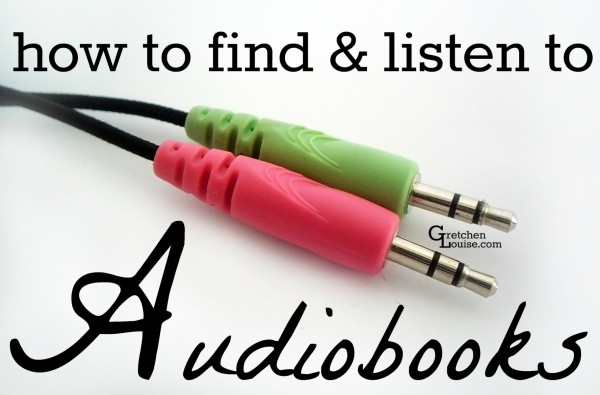 1. Stream or Download from LibriVox
LibriVox is an amazing site where anyone can volunteer to read and record an audiobook of any book that is in the public domain. Some books are a collaborative recording, meaning each chapter may be read by a different reader. But the solo recordings provide the easiest listening, providing the reader is a good one!
How to Find LibriVox Audiobooks:
LibriVox has a clean and simple site that's well organized and easy to search. Browse by title, author, genre, project type (solo or group), or even narrator.
How To Listen to LibriVox Audiobooks:

LibriVox offers several options for listening to each title. If you're going to be listening at home or somewhere with an internet connection, you can simply bookmark the page for the book you're in the middle of and press the "play" button next to each section/chapter. But if you'll be on the road or without a steady internet connection, you'll want to download the files, either individually or as a whole. The easiest methods are to click "Download" next to the "Whole book" option so you have a zip file of all the MP3 files required to hear the book, or to subscribe in iTunes or via RSS feed with your favorite podcasts app.
Favorite LibriVox Readers:
2. Stream or Download from Loyal Books
Loyal Books (formerly Books Should Be Free) is an online catalog of free audiobooks from sources like LibriVox and Project Gutenberg (all books in the public domain). Loyal Books is our favorite source for free audio books. Not only can you easily stream each book from right within the book page, but you can read a description of the book before you listen to it, as well as have easy access to the text, ePub, and Kindle versions of the book. But one of the best features of Loyal Books is the reviews, where you can find out from other listeners if the audiobook is well read and easy to listen to. (You'll also notice that Loyal Books provides the "best of" the LibriVox recordings, so you don't have to sift through the multiple versions often available for each title on LibriVox.)
How to Find Loyal Books Audiobooks:
Loyal Books provides an experience more like Amazon or your local bookstore, displaying the book covers in the genre listings and search results. Even if we shouldn't judge a book by its cover, it does make it easier to find books sometimes. Plus, Loyal Books provides a description of the book so you can learn more about it before you listen to it.
How to Listen to Loyal Books Audiobooks:
We love how easy it is to stream books right from their individual pages on Loyal Books. Even our kids can press play, pause, and progress to the next chapter. And the brand new Loyal Books iPad/iPhone App allows for streaming or one-click download to your device (I'm hoping for an Android version next!).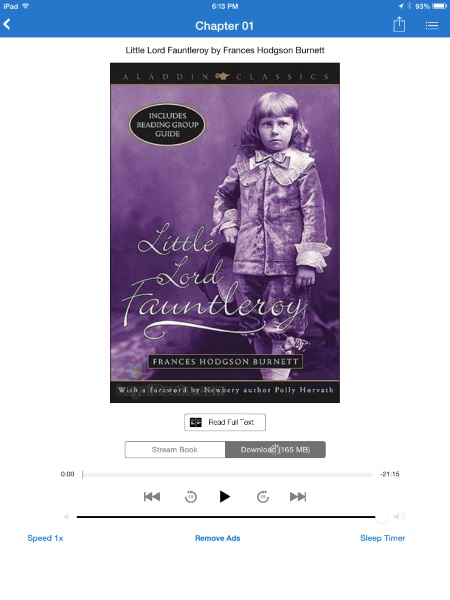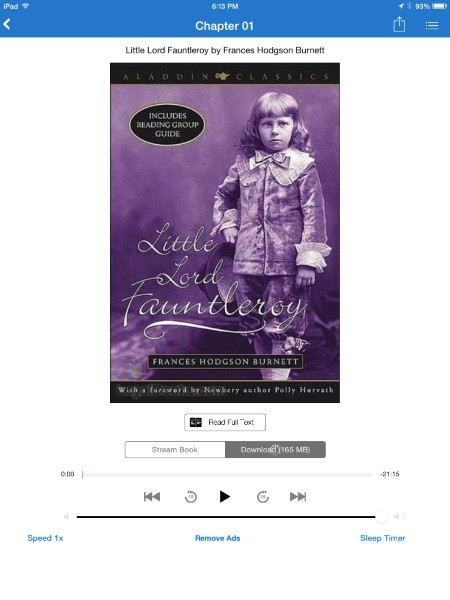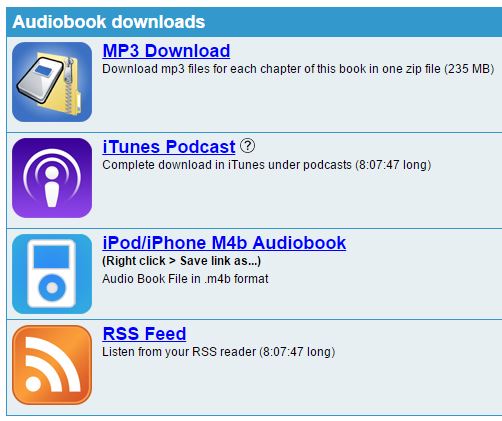 But Loyal Books also provides links for a zipped MP3 download, as well as podcast style through iTunes or RSS feed. In addition, Loyal Books often has the M4b Audiobook link, making it convenient for iTunes users.
Favorite Loyal Books Audiobooks:
3. Check Out from OverDrive
OverDrive is a program that allows libraries and public schools around the world to offer audiobooks and ebooks for checkout for free. If your library participates in OverDrive, all you need is your library card and you can login and check out books from OverDrive. The draw of OverDrive is the fact that the audiobooks are professionally recorded and include modern-day titles (rather than just public domain books). The only problem is that so far I've found OverDrive to have a very cumbersome process to check out and download books.
How to Find OverDrive Audiobooks:
Visit https://www.overdrive.com/ and search for your library, or go straight to your library or school website and look for the OverDrive option.
Sign in to your library's OverDrive account with the information requested (usually your library number, PIN, etc.).
Search for a title or author, or browse by genre. When you find an audiobook you like, you can choose to listen to a sample, place the book on hold (if it's checked out), or borrow now.

Once you've borrowed a book, it appears on your Bookshelf, where you can download an audiobook (or read an ebook).
To download an audiobook, you'll need to download and install the OverDrive app for your device.
The first time you open the OverDrive app, you'll be prompted to create an OverDrive account.
Once you've created an OverDrive account, you'll need to add a library and once again login to your library's own OverDrive site.
Finally, once you are logged into both your OverDrive account and your library's OverDrive site from within your OverDrive app, you'll have access to the Bookshelf within your library's OverDrive site.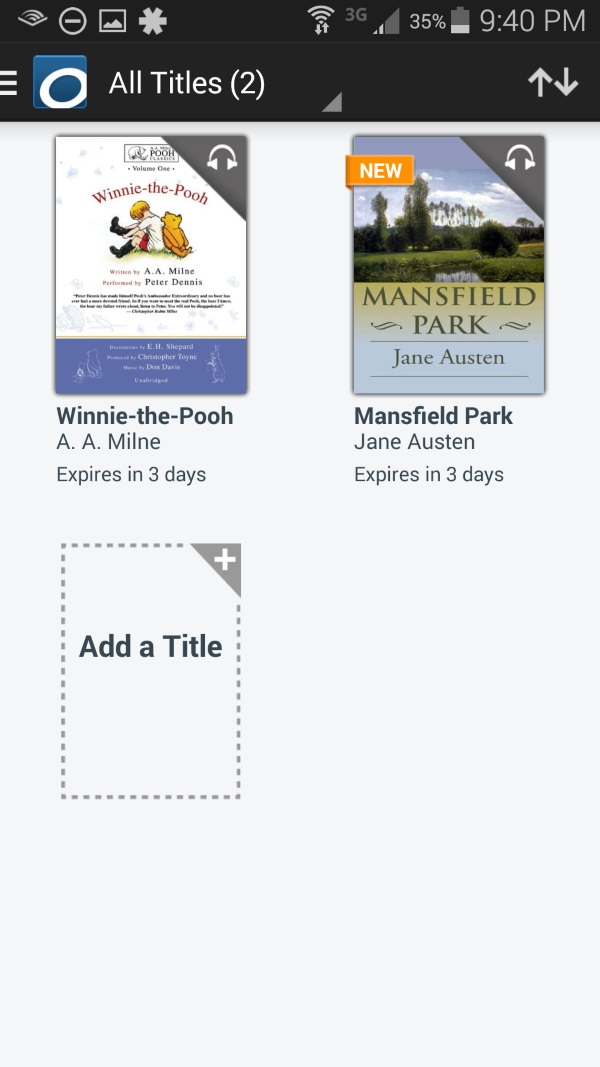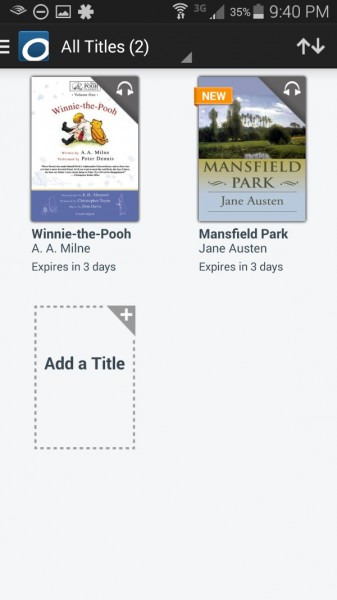 Check out OverDrive's extensive Getting Started and Troubleshooting sections for more information–you'll need it!
How to Listen to OverDrive Audiobooks:
Computer: Visit your OverDrive Bookshelf from your internet browser to open and download your audiobook directly into the OverDrive program installed on your computer.
Device: Open the OverDrive app, choose Bookshelf, choose "Add a Title" from your library, then browse, search, or visit your bookshelf to download a title into your OverDrive app.
Favorite OverDrive Audiobook:
4. Purchase from Audible
Audible is an Amazon company that provides audiobooks for purchase through Amazon.com or Audible.com, or via a subscription to Audible.com. The power of Audible is in its combination with Amazon.com. Often, you can get Audible audiobooks at a discount when you've already purchased the book or ebook from Amazon. You can even switch back and forth between reading the book on Kindle and listening to it in Audible.
How to Find Audible Audiobooks:
Browse Audible.com or Amazon.com. It's easy as pie. Choose to buy an individual title, or subscribe to Audible in order to choose one or two titles each month. Either way, the audiobooks are yours to keep. Once you've purchased an audiobook through Amazon or Audible, it's yours, and is available for download to any device linked to your account.
If there's just one audiobook you have to have, then buy it without subscribing. But if you think you might get hooked on Audible, sign up for a free trial and receive one book for free. Then, if you decide to continue your subscription, you can choose the one or two books per month plan: pay one set price per month and choose from any of the Audible books for that's month's purchase.
The Audible membership plans use credits. 1 credit equals 1 book, no matter the regular price of the book. Not only do credits roll over if you don't make a purchase within a given month, but your credits never expire. Become a savvy Audible user and take advantage of all sorts of credits to get lots of audiobooks for next to nothing.
How to Listen to Audible Audiobooks:
Listening to an audiobook from Audible is as easy as downloading the Audible app to your device or computer, logging into your Audible account, and clicking the Download button. Audible books have the option to sync across devices, which means you can pick up where you left off, regardless of which device you are listening on.
Favorite Audible Audiobooks:
5. Buy or Burn to CD
Compact Discs may be considered rather old-fashioned by many in this day and age of iPods and smartphones, but not all family cars have audio input jacks, and not all toddlers have iPods (thank goodness). So while digital downloads may be the most inexpensive option, they might not always be the easiest, or most feasible.
Thankfully, there are many retailers who still carry a huge selection of audiobooks on CD. Plus, free CD audiobooks may only be as far away as your local library (check library book sales for great deals on used audiobooks!).
How to Find Audiobooks on CD:
Note: If you are going to give younger children free reign over your audiobook collection, protect your audiobook investment by backing up each CD audiobook onto your computer, an external hard drive, or another set of CDs before the original CDs get scratched beyond recognition. Just put each CD in your computer and choose the "rip" or "import" option, depending on your media program.
How to Burn Audiobooks to CD:
Just because you have a digital audiobook doesn't mean you can't burn it to a CD. Almost any form of digital media can be burnt to a CD so you can take it with you wherever you go, no device needed.
MP3: Any audiobook you download in MP3 format can be burnt to an audio CD (that will play in any CD player) or an MP3 CD (that will play in any MP3 compatible CD player). Just unzip the files if you downloaded a compressed zip file of the audiobook, then burn the MP3 files with your CD burner of choice. (For directions, just Google "how to burn an audio CD" or "how to burn an MP3 CD" followed by the name of your media program: iTunes, Windows Media Player, etc.)
Audible: Audible audiobooks can be burnt to audio CDs, but not MP3 CDs. Click here for CD burning directions from Audible.
Favorite Audiobooks on CD:
Tips for Playing Audiobook File Downloads
Zipped MP3 Audiobook Files:
If you want to listen to an audiobook on your computer, burn it to a CD, or copy it to a device like an MP3 player or smartphone, choose the zipped MP3 version. Check the file size so you'll know when you've gotten the complete file downloaded (incomplete downloads result in corrupted files or incomplete books!). Then, unzip the file, putting the MP3 files in a location you can find them (perhaps the "My Music" folder). Open the MP3 files in the media player of your choice, burn them to a CD, or sync them with your mobile device.
RSS Audiobook:
Click on the RSS feed link for the audiobook of your choice. If it doesn't automatically open the audiobook "podcast" into your podcast player or app, copy the link, open your favorite podcasts app, and choose the "add new" or "subscribe" option. Just paste the RSS feed link you just copied into the search bar or add new feed option, and subscribe. You'll need to mark each podcast episode for download so you have all the book's chapters. And be sure to tell our podcast player to play in reverse order so you start at the beginning of the book! (Loyal Books has a helpful Podcast Listening Guide.)
iTunes Audiobook:
Subscribe to an iTunes audiobook "podcast" using the iTunes app on your device or the iTunes program on your computer. Clicking the iTunes link on any audiobook site should open the audiobook in your iTunes app or program. Be sure to check and make sure all of the episodes are set to download. iTunes views these kinds of audiobooks just like a podcast, so it may only download the most recent episodes by default. Plus, you'll need to configure iTunes to play the audiobook "podcast" in reverse order so that it starts at Chapter 1.
iPod/iPhone M4b Audiobook:
Loyal Books provides the M4b audiobook file format which will allow you to play the audiobook more easily on your iPod, iPhone, or in the iTunes program. Simply download the file on your computer and import/drag it into iTunes, then sync with your devices as necessary. (Check the file size when you begin downloading so you'll know when you've gotten the complete file–incomplete downloads result in incomplete books!)
Where do you go to find audiobooks?