Top Ten Reasons Why I Love Podcasts
I'm not an auditory learner (I'm a writer; I'm a visual learner). And I don't like having extra noise turned on in the background (there is usually more than enough noise in a house full of little people). I never thought I'd be someone who listens to podcasts (I don't even listen the radio very often).
Sometimes, however, a mom's need for quiet is overcome by a mom's need for grown-up conversation. And that's when the flexibility (complete with a pause and rewind button) of podcasts can become a mom's best friend.
But wait, what is a podcast, you ask? "Podcast" is both a noun and a verb. Like blog is the short version of web log, podcast is the short version of iPod broadcast. The noun form refers to an audio recording that can be downloaded and listened to on an iPod or almost any other device. The verb form is what a podcaster does when they record a podcast: they podcast–recording words, conversations, interviews, and perhaps even music, into a form they can share with you via the internet. Anyone with a computer and an internet connection can stream a podcast or download it to listen later. But a podcasts app makes it easy as pie to search for and subscribe to podcasts, so that each episode downloads automatically, ready and waiting for you to listen to.
Podcasts combine the best of radio and the best of your favorite conference. Podcasts bring blog posts to life and make authors feel like personal friends. Podcasts are one of the most flexible forms of verbal education and audio information available today. But the best thing about podcasts? Well, I can't narrow it down to just one. Here are the top ten reasons why I love podcasts.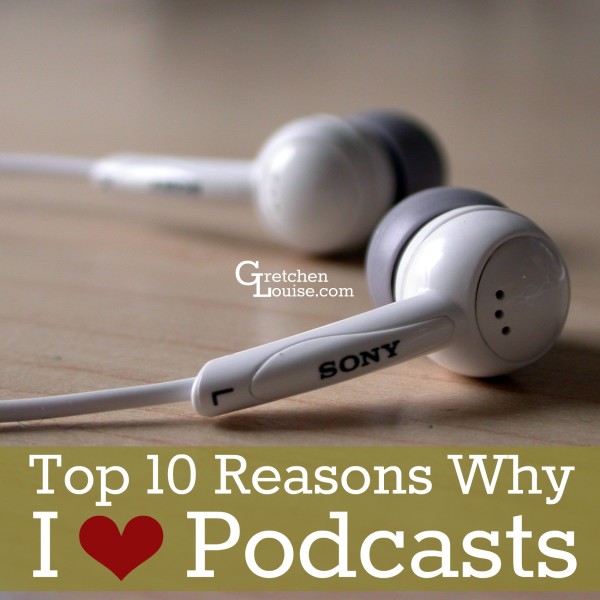 1. I don't have to use my eyes to absorb the content of a podcast.
I don't read a lot of blogs any more. That takes the use of my eyes, which means I can't really be doing anything else. And since much of my work and my to-do list are on the computer, the last thing I want to do when I have free time is sit down and read more blogs on a screen. Instead, I listen to podcasts. Because that way, I can do at least two things at once. And if I don't have anything else to do, I can close my eyes and just listen.
One of my favorite forms of podcast consumption is actually not one that fits the traditional definition of a podcast. When we're too tired to read aloud but not quite tired enough to fall asleep, my husband and I love to listen to audio books. There are all sorts of audio books available at Loyal Books, in podcast form as well as other stream and download options. Just search for "Loyal Books" and tell your podcasts app to sort episodes oldest to newest. (Right now we're listening to The Adventures of Sherlock Holmes. And you can't beat Sir Arthur Conan Doyle.)
2. I can listen to podcasts on the road.
My commute to work is hardly long enough to play one song, let alone one podcast. But when I'm headed to town or off to a meeting, I love to have a podcast to focus on as I drive. It keeps me awake, keeps me company, and depending on the topic, gets my brain in gear for where I'm going or what I'll be doing.
It's always helpful for me to immerse myself in a topic right before I'll be discussing it with a client or at a workshop. The How They Blog podcast is a favorite of mine, and always great for preparing me for a meeting with a blogging client. (During which I might quote Kat Lee or the blogger she's just interviewed.)
2. I can listen to podcasts while I work.
Not all aspects of my job as a virtual assistant and WordPress coder require my full concentration. Whether I'm doing routine updates on someone's site or working with CSS that I could code in my sleep, I like to turn on a podcast to kick up my productivity a notch.
There's nothing more inspiring than listening to a podcast like Novel Marketing while working on an author's website! I really appreciate the insightful tips Thomas Umstattd and James L. Rubart share–their podcast is great for authors of any genre. (It's not just for authors, either.)
3. I can listen to podcasts while I clean my house.
I really don't like housecleaning. The dust accumulates just as fast whether I dust once a week or once a month. In just a few days, you can hardly tell I even had a dust rag near the place. Thus, I have to keep my mind off these depressing facts while I clean my house, or I just won't stick with it. But give me a good podcast to focus on, and I'll get a room clean in no time. The only problem is that I can't vacuum because then I can't hear the podcast. (Sorry, honey.)
Janet Parshall's In the Market radio program via podcast keeps me informed about current events while giving me a positive biblical perspective on news that's so often negative. I so respect her wisdom. (I want to be like her when I grow up.)
4. I can listen to podcasts together with my friends.
When a friend introduces me to a podcast, I am sure to check it out. And when we both develop a love for a specific podcast, usually one or the other of us will ask, "Have you listened to so and so's podcast on such and such yet this week?" And of course, if we haven't, you can be sure we do. I love the way podcasts allow my friends and I to do laundry together across the miles, and then talk about what we're learning together.
My friend Trina introduced me to the God Centered Mom podcast. We often chat about each week's episode topic. But that's because God Centered Mom is a podcast produced with both personality and professionalism. Heather's sweet voice always shares such genuine encouragement (and sometimes, genuine conviction).
5. Podcasts provide me with energy and encouragement.
Sometimes, I need that extra momentum to get going for the day. And some days, I'm down in the dumps and need of some serious laughter and encouragement. That's when I either call a friend or turn on a favorite podcast. Because I trust the people who love me and the podcasts I listen to will remind me of God's truth as it applies to my life. And that usually not only gets me going in the right direction, but lifts my spirits, too.
When it comes to inspiration, you can't beat the energy and excitement Kat Lee conveys in her podcast Inspired to Action. I so appreciate her wisdom, her winsomeness, and her willingness to be humble. If you're a mom, you have to listen to Inspired to Action. Seriously. (Also, it's not just for moms.)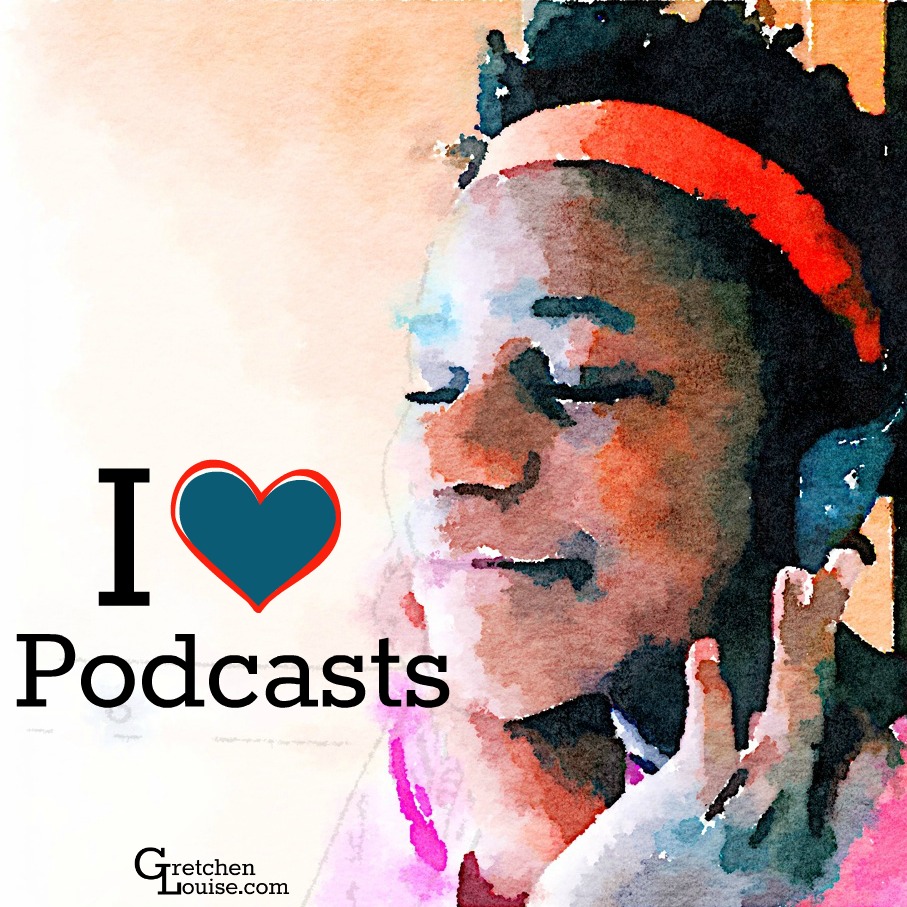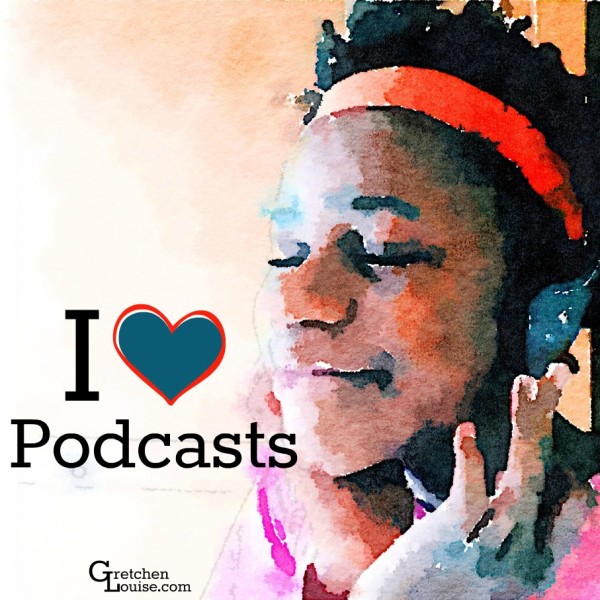 6. Podcasts provide a personal connection with beloved authors and speakers.
I don't often tap to see the popular or top podcasts everyone else is listening to. The podcasts I love are the ones that are done by authors and speakers I already respect–because each episode gives me more of a personal connection with the podcaster. It's one thing to read someone's words on their blog or in a book; it's another to hear their voice explain the same concept with passion and excitement.
I've always had great respect for Tsh Oxenreider of The Art of Simple (formerly Simple Mom). I love her story and I appreciate her business sense. I love listening to Tsh speak in person, but her podcast is a close second. The Simple Show is fun and informal but always interesting and enjoyable. (And, Tsh has a really cool name that you need to hear to pronounce.)
7. Podcasts free me from the radio's schedule.
I grew up visiting my grandma and hearing her listen to the radio from the moment she got into the shower each morning until she was making dinner in the kitchen each afternoon. She knew her radio schedule by heart and was at her desk at the necessary times to hear her favorite programs. Thanks to podcasting, my favorite podcasts app automatically downloads my favorite programs when they become available and they are ready for me to listen to any time, any where, whenever I like. Plus, getting my favorite programs via podcast saves time–I can listen to them at 1.2x speed and not be interrupted by news or advertisements (except for the in-podcast sponsor ads, of course).
My mom and grandma listened to Elisabeth Elliot each morning. I haven't been able to find a podcast yet that replays the classic Gateway to Joy broadcasts, but a close second is Revive Our Hearts with Nancy Leigh DeMoss. (I really do admire Nancy Leigh DeMoss, but no one can replace our beloved E.E.)
8. Podcasts allow me to continue my education.
My time at college was brief, but I loved the challenge of the classes, and the wealth of knowledge I gained from the professors. Going to a writer's conference reminds me of being back in Advanced Composition in my college days: my senses are alive as I'm soaking up new information on a topic I'm passionate about. But writer's conferences are expensive, and don't happen every day. Podcasts, on the other hand, are free, and provide unlimited options for continuing my education in whatever field I choose. I can take a course on a different topic every day, or absorb everything possible on one specific subject.
It's clear that a podcaster is an excellent author when their podcasts average just 10 minutes each. K.M. Weiland's podcast Helping Writers Become Authors is geared toward novelists, but has something to teach everyone about brevity. And when I feel like my English might slipping, I turn on Grammar Girl to up my grammar nerd IQ. (I think my college writing professor would be proud.)
9. Podcasts help maintain a positive atmosphere in our home.
I love it when I realize my girls have been listening to the podcast I have on. One of them will pipe up, "Mom, we're just like the girls on that story you're listening to!" Not only does their presence keep me careful about the podcasts I listen to, but the podcasts we share together have a positive influence on our relationship together.
When I'm listening to Learning to Speak Life, it makes me pause before I react in negativity to the child who is interrupting me. When I'm listening to Homeschooling IRL, it keeps both the responsibility and the joy of homeschooling in perspective. When I'm tuning in to the latest sermon from Truth for Life or Covenant Life Church, my children and I are both hearing the truth. (And we all know how much moms need truth to put everything in their home into perspective.)
10. Podcasts help me immerse myself in Scripture.
In my ideal world, I would rise while it is still dark and spend an hour in prayer with my Bible and my coffee cup. But in reality, no matter how quiet we are, everyone in the house wakes up the moment one of us gets up. And that quiet time with my Bible doesn't always look like I want it to. But I started using the YouVersion Bible app on my tablet for helping with the kids' Scripture memory, and I realized how much it helped just to have the Word playing in the background of our day.
I began searching for a Bible podcast that would feed me a new portion of Scripture each day along with the rest of my playlist, and settled on the ESV Bible Reading Plans. With the Every Day in the Word plan I get a bit of the Old and New Testament, as well as the Psalms and Proverbs, every day. And even though I don't catch each word, I know it's sinking in–for me and my children–as we're "washed with the water of the Word". (And praise the Lord, His Word never returns void.)
What are your favorite podcasts?
As a wife and mom, podcasts get me through laundry and dishes. But as a blogger and small business owner, my time for listening to podcasts is limited. I try a lot of podcasts, but only a select few stay on my playlists. That's why I love asking my friends what podcasts they listen to–I know they are sound recommendations worth my time. I'd be thrilled if you'd comment with the favorites from your podcasts playlist!
More podcast resources:
Image Credits: James Lin and Everly Pleasant