The 5 Minute Guide to Kefir Soda
(This post contains affiliate links. Read my full disclosure.)
Kefir soda is a probiotic beverage filled with all sorts of good bacteria. It's like getting all the benefits of eating healthy yogurt while drinking something as flavorful as your favorite carbonated drink. It's a great replacement for a soda pop addiction, and a healthy alternative to sugary fruit juice.
Kefir soda is made by culturing kefir grains in sugar water (the grains feed on the sugar, resulting a low-glycemic drink). After the first culture, the grains are removed, and fruit is added for flavoring. The second culture adds a delightful carbonation (and just a tiny bit of alcohol). It's easy to make, very inexpensive, and can be enjoyed by all ages.
I've been making kefir soda for over three years now. I've continued to refine and streamline my process so that it takes just five minutes a day to keep this probiotic beverage ready in our fridge. Here is my five minute guide to making kefir soda (and a free printable for reference).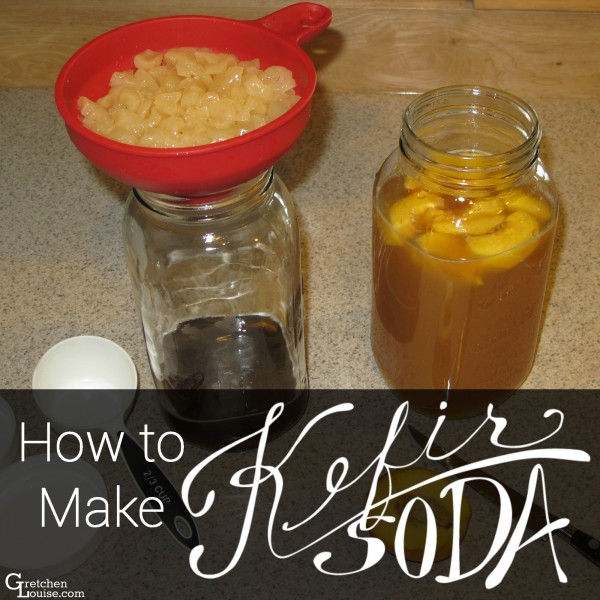 Kefir Soda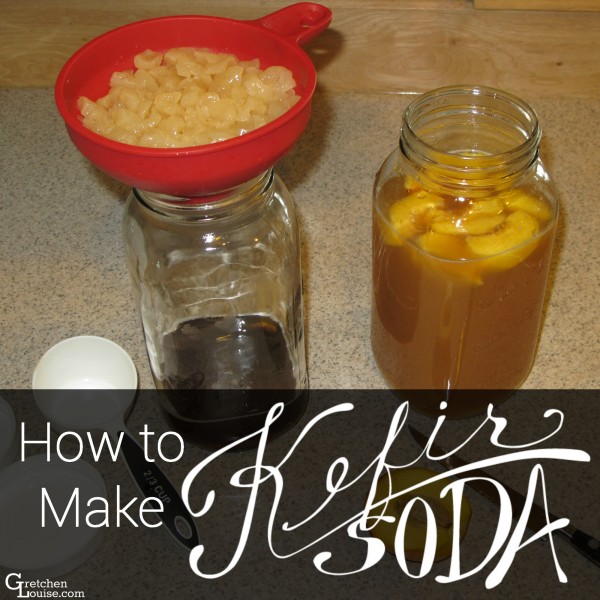 Ingredients
Supplies
First Culture
Second Culture Carbonation Options
3 T. fresh fruit, slightly smashed
3 T. dried fruit (raisins, elderberry, etc.)
1/2 to 1 c. fruit juice
Second Culture Flavor Ideas
Citrus Slices or Peels
2-3 tsp. Vanilla Extract
Whole Caraway, Anise, or Fennel Seed
Fresh Mint Leaves
Instructions
First Culture: In a quart jar, dissolve sugar in a small amount of warm water. Then fill the rest of the jar to two inches below the rim with cold water. Add kefir grains and cover securely with cheesecloth or a linen napkin (use a rubber band or the canning jar ring to hold the cloth in place). Let this culture for 24-48 hours in a warm place, away from direct sunlight. You can strain the kefir water from the grains and enjoy it immediately after the first culture. Or, for added flavor and carbonation you can add ingredients for carbonation and flavor during a second culture.
Strain: Strain the cultured kefir water into a new quart jar (keep and set aside the grains for another batch).
Flavor: Now, add a source of fructose (fruit sugar) to simultaneously feed and carbonate the kefir (you'll only need one of the fruit source measurements listed above). Also, add any combination of flavors (the ideas above are just a few suggestions).
Second Culture: Secure a lid (but not super tight or it may explode) and leave it to culture for an additional 24-48 hours. (You'll know it's working if, after a few hours, bubbles rise when you tip the jar slightly.)
Enjoy: Discard fruit. Serve immediately over ice, or refrigerate for up to two weeks for future use.
Rinse & Repeat: Rinse kefir grains and repeat process.
Dos & Don'ts in Kefir Care:
Do use un-chlorinated, un-fluoridated, un-distilled water.
Don't add kefir grains to hot water (room temperature is best).
Don't use metal containers or utensils.
Do use unrefined, raw sugar (with the molasses still intact) like Sucanat or Rapadura for best results. If using white or brown sugar, add 1/3 teaspoon organic blackstrap molasses with each 1/3 cup sugar.
Don't use raw honey (the antibacterial properties in honey will fight with the good bacteria in the kefir).
Do use a fructose sugar source in the second culture.
Do change out fruit every 24 hours during the unrefrigerated part of the second culture (so the kefir has something to feed on).
Do store in glass (or food-grade plastic).
Do brew away from direct sunlight.
Kefir Soda Quick Reference Guide
Water: Kefir thrives on the minerals in clean, untreated well water. If you don't have well water available, bottled spring water is a great option. If your only water source is city water, do your best to filter out the chlorine (but not the minerals). Boil the water for 20 minutes, let the water sit in an open bowl or pitcher overnight, or aerate the water in the blender for 20 minutes. If your only water source comes from reverse osmosis or carbon-activated filters, you'll likely need to supplement it with mineral drops, a pinch of baking soda, or a dollop of organic blackstrap molasses.
Alcohol: The second culture fermentation process does produce some alcohol that varies with each batch; but, according to most, it's less than 1%, which is less than naturally occurs in ripe fruit. But if you don't want the fizziness or any alcohol, you can enjoy all the probiotic benefits of kefir water by drinking it after the first culture. Just add some fruit juice or maple syrup for flavor right before you drink it, or mix it with a smoothie.
Ratios: It's easy to remember the right ratios if you remember the rule of 3s: 1/3 cup kefir grains, 1/3 cup sugar, 32 ounces water (1 quart). For the second culture, it's 3 Tablespoons fruit to every 32 ounces of kefir water.
Culture: You'll know the probiotic culture has worked if the water changes color throughout the first culture and if it develops bubbles throughout the second culture. The flavor should change from sugar water to a slight yeast/vinegar taste after the first culture, with the first cultured kefir being less sweet than the sugar water. If anything else starts growing in your kefir (mold, bugs), or it smells differently than normal, ask an experienced friend for help or contact the support at Cultures for Health (or wherever you purchased your kefir grains).
Grains: Healthy kefir grains multiply quite rapidly. Share the bounty with friends, toss a few in smoothies (go easy–they are super rich in yeast and good bacteria), or add them to your compost. A quick Google search reveals dozens of creative ways to use leftover kefir grains.
Rest: If you're traveling or otherwise need a break from making kefir, add enough water to cover your grains, add the sugar, secure the top with a lid, and put them in the refrigerator. Rinse and feed with fresh sugar water every few weeks.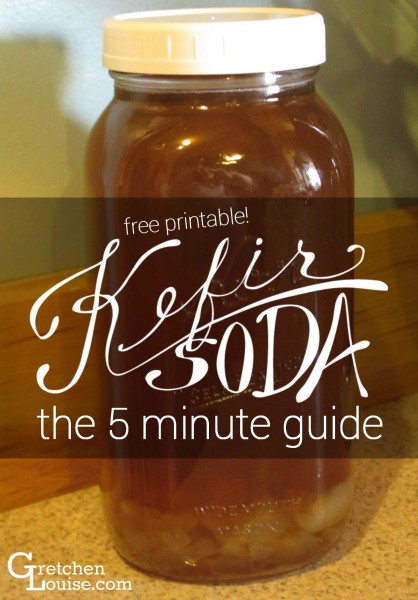 Free Printables!
Since the kefir grains multiply rapidly, I love sharing them with my friends–and I know you will, too. So I have two free downloads for you. One is a printable quick reference guide to making kefir soda, the other is a gift version for introducing kefir grains to your friends. Enjoy!
Download the FREE Printables
My Go-To Resources for More Information About Kefir:
More questions?
Follow Gretchen Louise's board kefir on Pinterest.


Many thanks to Simply Darlene for the kefir grains and all the inspiration and education she's provided in my kefir soda journey! Click here for Darlene's water kefir tips and tricks.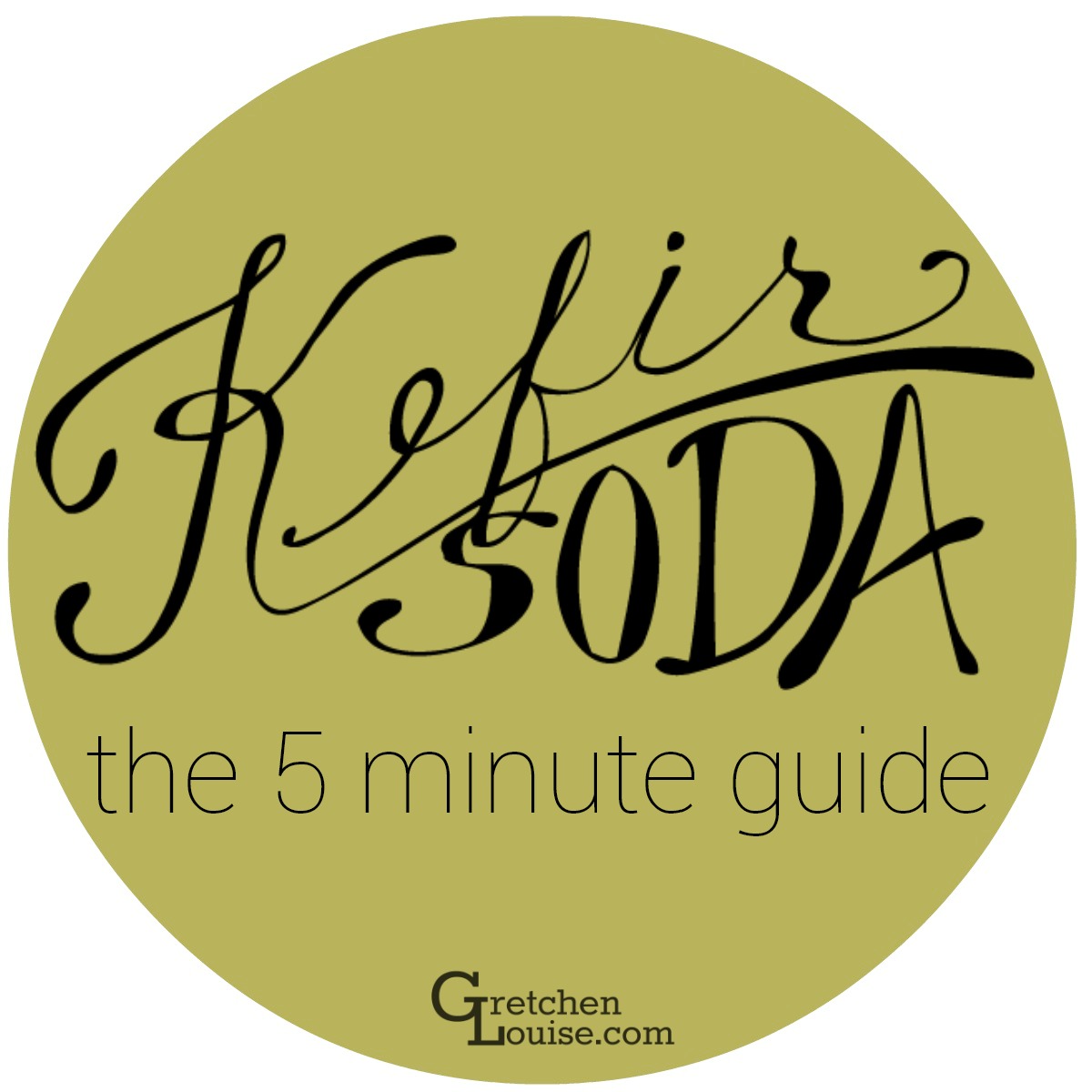 Thanks to Trina Holden for the "kefir soda" word art. Stay tuned for a review of her upcoming book Your Real Food Journey in which you'll find the details on making kefir soda, as well as other cultured foods!