(This post contains affiliate links. Read my full disclosure.)
When the beating of your heart
Echoes the beating of the drums
There is a life about to start
When tomorrow comes!
(lyrics to "Do You Hear the People Sing")
It was over ten years ago that I was first introduced to Les Miserables. I knew it was a classic book, of course, but that was all I knew—until the boy I loved started raving about the story and made me watch the 10th Anniversary Dreamcast version of the Broadway musical. He tried to explain the storyline to me as it went, but it would take a few viewings before I could follow along (especially since he fast forwarded through a song or two). Meanwhile, the stirring songs gripped my heart (but then, I've always been a sucker for songs from musicals!).
Phantom faces at the window.
Phantom shadows on the floor.
Empty chairs at empty tables
Where my friends will meet no more.
(lyrics to "Empty Chairs at Empty Tables")
Then the Focus on the Family Radio Theatre presentation of Les Miserables came out. I could finally follow the story from start to finish, and such a tale of forgiveness and redemption it was.
I made one attempt to read the book sometime in my late teens. But even the paperback version was inches thick and had too much French for me to be able to get through the first chapter.
When we heard there was a new movie version of Les Miserables coming out—well, my husband was excited! We frequently listen to the CD from the Broadway musical, and we're always telling someone about the story. But we missed out on seeing the new movie in the theater due to travel and sickness, so I was thrilled to be able to tell my husband that I got a copy for review (and one to give away to one of you!).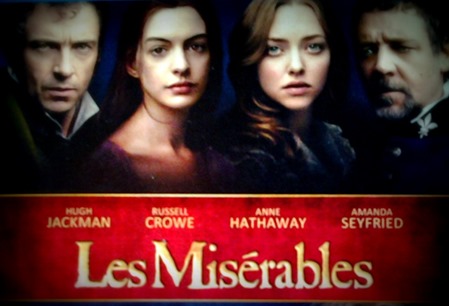 The Movie
Though I've never seen a non-musical version of Les Miserables, I was still surprised to find out that this newest movie is a musical. It presents a very unique experience for the modern day viewer. While being a musical makes the movie a bit harder to follow for those who are not familiar with the storyline, it enables you to connect with the story on a deeper level. It was simply beautiful when the voices blended into a trio and even a quartet or two. My husband recognized the priest's talented voice immediately: Colm Wilkinson played Valjean for years in the Broadway musical. But this was not your usual Hollywood film with lip-syncing to a studio recorded song: the lyrics were sung on set, as the film was being shot, providing a Broadway-like experience (though with much more lavish sets!)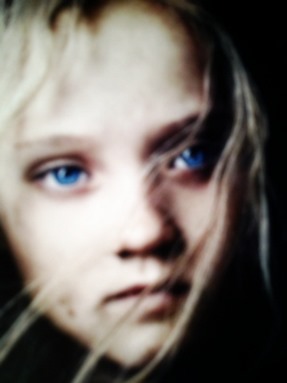 Les Miserables is not a family film. I will not be showing the movie to my children until they are much older, but I will be telling them the story as they grow old enough to understand it. Because the story of Les Miserables is about so much more than an orphan, a convict, and a prostitute. It is about redemption and forgiveness, mercy and grace. It is very raw and very real; but the very rawness of Les Miserables is a reality we need to be confronted with. Otherwise we run the risk of turning a blind eye to suffering, just like Valjean first did to that of Fantine. As one blogger put it, "Misérable means miserable… But only les misérables find mercy."
But what struck me most throughout the movie was Eponine. Somehow, in focusing so much on Cosette and Marius' love story, I'd always missed Eponine. And what a story of sacrificial love hers is!
I love him,
But every day I'm learning,
All my life,
I've only been pretending!
Without me,
His world will go on turning…
(lyrics from "On My Own")

Whether or not you choose to watch the latest musical adaptation of Les Miserables, please familiarize yourself with the story. Because you can't experience Les Miserables without coming face to face with the paradox of grace.
Giveaway
Allied Faith and Family has put together a brief, 8-page film companion guide with discussion questions that is free for anyone to download (and is available in print upon request). It highlights the principle characters and the biblical parallels.
And, Allied has also provided a giveaway copy of Les Miserables for one of you! (My friend Kristen is also giving away a copy of "Les Miserables" on DVD over at her blog Five in Tow, so head over there for another chance to win!)
"a story filled with the gritty filth of sin and the pure glory of grace."
–Natasha Metzler in a review of Les Miserables Radio Theatre
"This powerful story of grace and mercy, redemption and forgiveness completely levels me, and speaks deeply to the tender places of my own fragile heart."
–Kris Camealy in a review of Les Miserables Radio Theatre
"The story powerfully represents the struggles of each individual soul. The struggle of choosing between right and wrong when the path is unclear. Between conscience and duty when the two seemingly contradict each other."
-my sister Jessica Elisabeth in a book review of Les Miserables
(Disclosure: I received a free review copy of the movie from Allied Faith and Family in exchange for this review.)