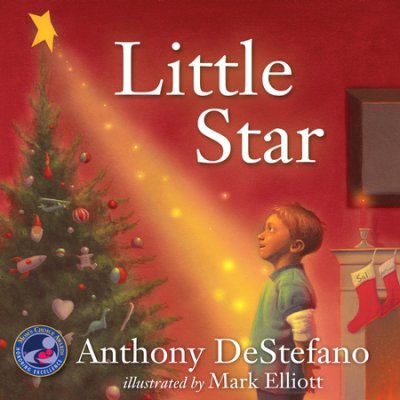 Anthony DeStefano's Little Star is my girls' favorite Christmas story this year. But it's not the typical cheerful Christmas story, at least not at first glance.
Little Star is so small and tiny that everyone ignores him. But then, on that special night, Little Star understands that it truly is a King being born in that lowly stable. Seeing what the other more popular stars overlook, Little Star shines his brightest to celebrate.
All the stars tell him to stop or he will burn out. But Little Star shines so brightly that he literally lays down his life to shine the joy of Jesus' birth.
The story doesn't end there—Little Star truly receives the reward that was offered for the star who could shine the brightest on the night of the King's birth. And the verse on the last page points to the reason that King was born: to lay down His life for us.
A perfect gift book this Christmas, Little Star is filled with bright illustrations which children can easily identify with. But most important, it has a story that helps them learn, not only about Christmas, but about the importance of being willing to stand alone, and even lay down our lives, for Jesus.
Thanks to WaterBrook Multnomah Publishing Group for the free review copy we received of Little Star!
P.S. I just have to say that something else fun about Little Star is it reminds me of a story I read as a child, a vintage pop-up book of my grandma's: The Shiniest Star. Beth Vardon's 1950's tale is of a little angel named Touslehead, whose job it was to shine that very important star. (Search E-bay for adorable shots of the pages.)