(This post contains affiliate links. Read my full disclosure.)
"To be a woman is to have a body image problem."
-Mary Pipher, PhD. in Mom in the Mirror
"You're so cute," Marlys would say.
"No, you are the cute one!" I'd counter.
It was our little ritual all throughout our teens. We were four years apart, but our friendship formed out of the closeness of our families and the way I was falling in love with her brother.
"No, you are the cute one," she'd come back again.
Our brothers rolled their eyes. "Just say thank you!" Merritt would admonish.
But to say thank you would be to accept the compliment, and admit that I was cute. And I didn't feel cute. Even though I knew Marlys was.
Ten years have come and gone. I'm married to that brother of hers. And now she's married, too. We don't argue about who's cute these days. Instead we share the woes of shopping for maternity clothes and mourn our pre-pregnancy body sizes we fear we'll never see again.
And that brother of hers whom I married? He must have caught on back when Marlys and I were always arguing about who was cuter. Because he's always telling me how awfully cute I look. (Though cute is not always the adjective he uses.) And I'm always looking down at my rolls and sighing, trying to will myself to say thank you. But I can usually only muster an, "I'm glad you think so."
"No amount of eating or not eating can resolve something food isn't intended to fill. No amount of the physical can satisfy the spiritual."
-Emily Wierenga in Mom in the Mirror
(Disclosure: This post includes affiliate links.)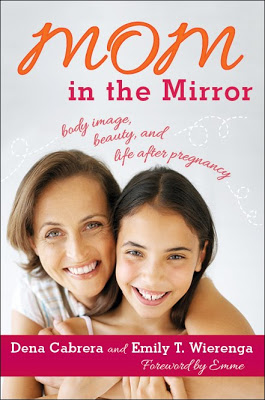 When I first heard about the new book Mom in the Mirror, I wrongly assumed it was another book about eating disorders, like Emily Wierenga's first book Chasing Silhouettes. But I wasn't many pages into Mom in the Mirror before I discovered it was about so much more than eating disorders–and I could hardly read the words for the tears. Layer by layer, story by story, the words of Emily Wierenga and Dena Cabrera peel back the facade of "I'm fine" and get deep into the heart of a mom's perception of beauty and relationship with food.
Mom in the Mirror is not just for women who struggle with eating disorders. Mom in the Mirror is for every mom who has ever looked in the mirror and made a face at the image reflected there. It's for the mom who has healthy eating habits but an unhealthy body image. It's for the mom who has at least 10 extra pounds of baby fat–for each pregnancy she's carried. It's for the mom of little girls who is beginning to realize that she does not want to pass on her own body image to the next generation. It's for the woman whose husband loves her no matter her size but desperately wants her to feel beautiful enough to let him look at her.
I loved the way Mom in the Mirror focused on more than just eating and weighing habits–it gets to the heart of beauty and body image and the way they affect and are affected by relationships. It is filled with words I need to remind myself of over and over again. It is filled with truth about bodies and birth and the beautiful creation they are.
"When I am able to extend grace to myself, there is an absolute change in my feeling about the rest of the world."
-Anne Lamott, quoted in Mom in the Mirror
"Mommy, you're so beautiful!"
I'm caught off guard by the voices of admiration.
"That dress is so lovely, Mommy!"
They exclaim about my clothes and my hair and I question whether I should take literally any compliments on my wardrobe from these two whose outfit combinations are often "unique".
But haltingly, I say, "Thank you."
Because really, what else can I say? I tell my girls they are beautiful, and I never want them to doubt it.
"And this is what having children does. It humbles you. Breaks you. Makes you better than you'd ever thought you could be, and all because of a diapered creature who depends entirely on you."
-Emily Wierenga in Mom in the Mirror
Disclosure: I received a free electronic copy of this book for review purposes. Affiliate links are included in this post.