Picture Books That Will Help Your Children Fall in Love with the Library
(This post contains affiliate links. Read my full disclosure.)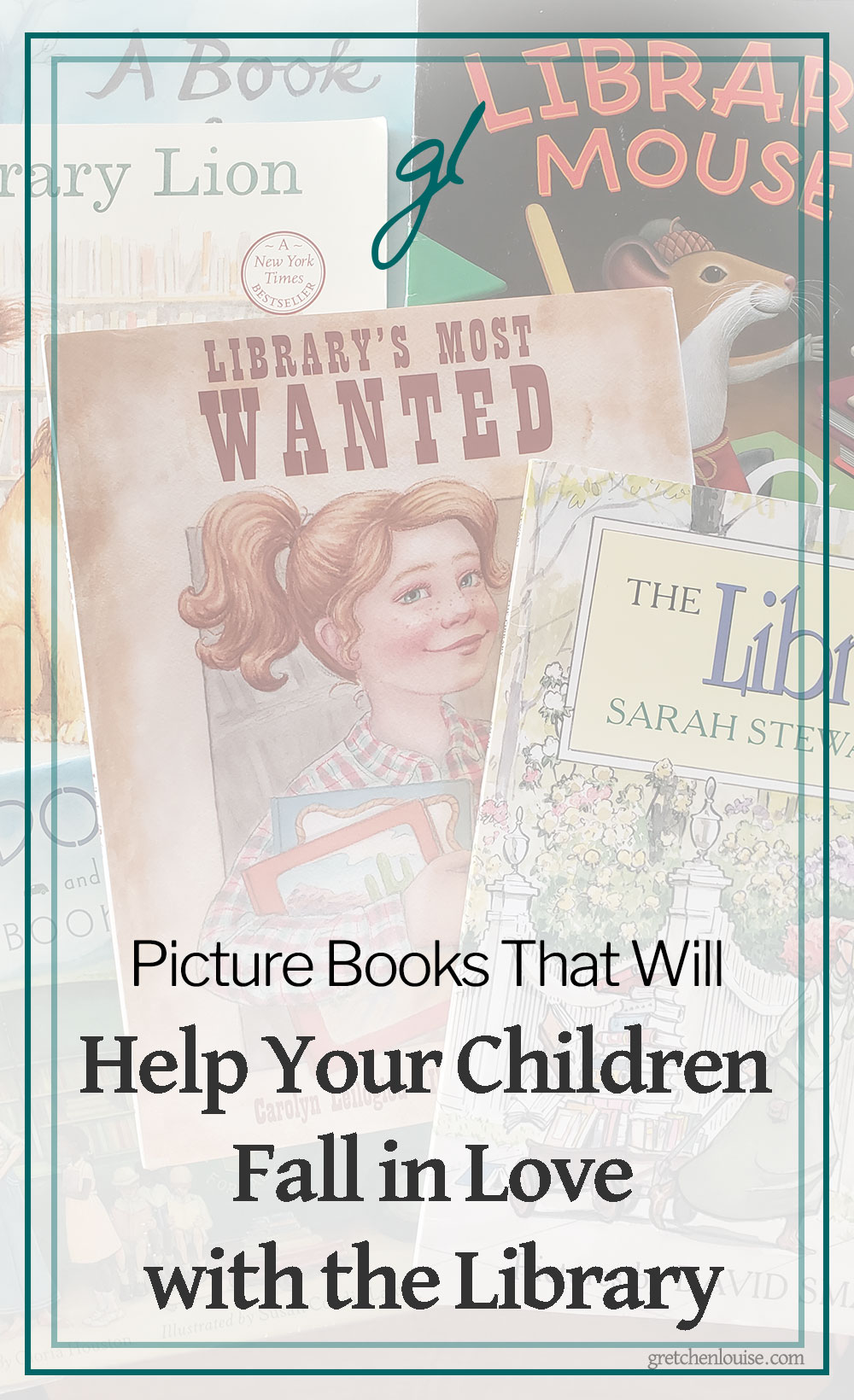 I grew up less than a mile from our local public library. It was back in the day when there were rows and rows of little drawers holding the card catalog, each card representing a book on the library's shelves. To check out a book, you signed your name on the card you pulled from the pocket in the back of the book and the librarian stamped the due date on the remaining flap.
Once in a while we entered the halls of the local public school library, the same one my dad would have visited when he was in school there. And as we got older, friends introduced us to the public library in a neighboring town, where we'd stop after swimming lessons or grocery shopping with Mom.
But my favorite was the little library down the road with a dear librarian named Mrs. Unruh (who helped me track down The Wide, Wide World via interlibrary loan). Where I could check out the whole Boxcar Children series and find the entire set of Childhood of Famous Americans. Where I met authors like Margaret Sydney and Maud Hart Lovelace. Where my brother and I found priceless treasures at library sales. Where my hunger for endless reading material was safely satiated. (The watchful eye of the friendly Mennonite librarian saw every title I checked out, after all.)
Now, though our home library could be said to rival that of Elizabeth Brown, my children consider going to the library a delightful treat. They love to seek out new books on favorite topics or track down an old friend they checked out before. And they are quite delighted when Miss Anja is there to help them check out books using their very own library cards.
While we await the re-opening of libraries across the country, here are some of our family's favorite picture books celebrating libraries and librarians. Because, as my oldest says, "You can never be too old for picture books!"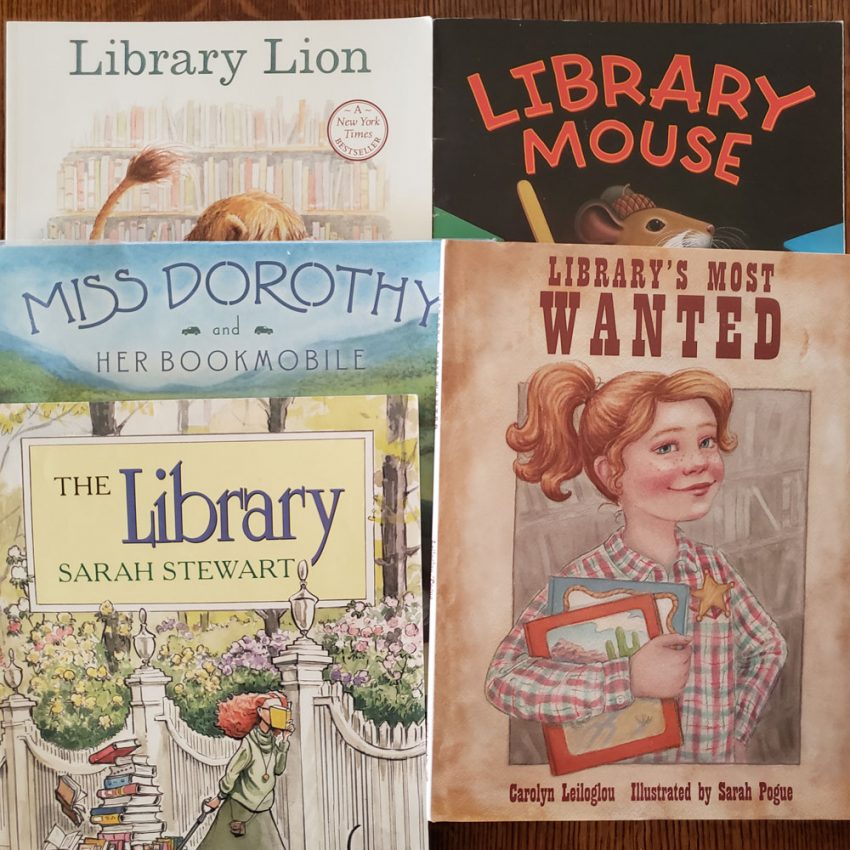 Picture Books Celebrating Books and Libraries
Elizabeth Brown read and read and read; "she always took a book to bed, with a flashlight under the sheet." Books were piled everywhere, climbing up the parlor walls,and blocking the front door. And then came the awful day she realized there was not room for one more… With its delightful illustrations and rhyming storytelling, this family favorite is a celebration of books and bibliophiles everywhere!
"When Aunt Nora asked her to be deputy librarian, Libby took her job very seriously." Libby thinks it's her duty to keep the books safe. But what if being a librarian isn't all about protecting books? Cheerful, charming illustrations and a fun Texan vernacular made Library's Most Wanted an instant favorite in our home. Libby's lesson was also a gentle reminder to this mama that it's more important that books be read and loved than perfectly preserved.
Once there was a brand-new book that was so popular it hardly ever had a chance to sleep at the library. Years passed, its cover faded, and the last page was torn out before it was finally discarded to the basement for the library book sale. This is the story of The Lonely Book and the girl who loved it. (As the owner of many once-lonely books, and the mother of four enthusiastic library sale shoppers, this book was a must for our shelves.)
Lil redefines the librarian stereotype of a bun and glasses. From the time she was a girl, "Lil loved to read and she imagined herself the hero of every book she checked out of the library." But when she became a librarian in a neighboring town, Lil discovered that not everyone shared her love of good books. The "devil's invention" of TV was keeping the people of Chesterville from good books. But one stormy night, the town's ancient bookmobile and Lil's strong arms (strengthened by carrying stacks of books and encyclopedias!) came to the rescue. When a motorcycle gang rode into town, they were surprised to find the bar devoid of a TV. And then they met Libray Lil…
Picture Books About Libraries Throughout History
"Books are for rich people; farm people like us do not have time to read," says Papa. But that doesn't change Clara's eagerness to learn to read. Thankfully, Miss Mary the librarian knows that "books are for everyone." An I Can Read Book, level 3, based on the true story of Mary Lemist Titcomb–the perfect way for young readers to learn to appreciate our easy access to books from modern-day libraries!
"Although it had another name, 'Tricia Ann always called it Someplace Special because it was her favorite spot in the world." The moving story of one girl's journey–on a segregated bus, through segregated streets–to her favorite spot in the world, where there were no signs, where all are welcome.
When Dorothy was a little girl, she decided that she would become a librarian in charge of a fine brick library, just like the one she loved to visit. But then she grew up and got married and moved to a farm in the Blue Ridge Mountains of North Carolina where there was no library at all. Miss Dorothy and Her Bookmobile is more than a tribute to Dorothy Thomas, a librarian from North Carolina in the 1940's; it is a tribute to every librarian who has instilled a love of reading in their patrons.
"Words travel with her; stories her abuela taught her. Now a new island stretches before her–ripe for planting seeds of the cuentos she carries." A breathtaking biography of Pura Belpré, New York City's first Puerto Rican librarian, who went on to become a renowned author of bilingual literature, "planting stories" like Johnny Appleseed planted apple trees. (Watch the author read Planting Stories aloud on YouTube.)
Cal's sister Lark is "the readenest child you ever did see" and he doesn't understand why she will sit still and stare at "some chicken scratch" all day. Until "That Book Woman" returns to their home in the dead of winter… A touching free-verse tribute, not just to the "Book Women" of the Appalachian Mountains of Kentucky, but also to every reluctant reader. (Read with Kindle Unlimited!)
"Tom gobbled books the way a starving man eats." Guess what he started collecting? Books, of course! A fascinating picture book, peppered with real quotes and historical facts, all about Thomas Jefferson's love for books–and how he helped rebuild the collection of the Library of Congress.
Anna has read and re-read the one book she owns. She spends her days and nights making up new stories and wishing for new books. Then one day, a man with two burros comes to town, carrying…books! Inspired by real-life librarian Luis Soriano who carried books to remote villages in Colombia on the backs of his two donkeys. With bright and cheerful illustrations, Waiting for the Biblioburro also provides inspiration for writing one's own stories. (Read it now on Scribd.)
"Katherine Tasaki returned a stack of books and turned in her library card." In return, librarian Miss Breed gave Katherine a stamped, addressed penny postcard, saying, "Write to us." It was 1942 and the Japanese Americans living on the West Coast were being forced to move to prison camps. But Miss Clara Breed, the children's librarian at the East San Diego Public Library, didn't let them leave empty-handed. She met them at the train station to give them books to take along. She mailed them packages of books. She even boarded a train to visit them and deliver more books. This heart-wrenching true story is a testament to the power of a librarian who knows how to choose good books to grant hope in dark times!
Learn more about how children around the world find books to read in Margiret Ruur's photographic essay, My Librarian Is a Camel.
Picture Books About Animals in the Library
It's a rainy day and Benny just wants to play with Sam. But Sam is reading. Then Sam has an idea: maybe Benny would like reading if only she could find him the perfect book. Dogs aren't allowed in the library, but that doesn't keep Sam from finding A Book for Benny. This one made my youngest laugh!
When our friend Curious George goes to story hour at the library, we wouldn't expect him to sit still and listen, would we? But The Man in the Yellow Hat comes back just in time to pick up George, who is checking books out with his brand new library card. Definitely not a classic Rey, but will be enjoyed by young fans of Curious George. (Read today on Scribd in A Treasury of Curious George. You can also check out the early reader Curious George Librarian for a Day.)
Bear had never been to the library. Bear told Mouse that libraries were, "Completely unnecessary… Terribly extravagant." But Mouse was determined to convince Bear otherwise. Will Mouse find the right book for Bear? Will Bear learn to be quiet in the library? A fun title from the Bear and Mouse picture book series.
Sam lived in a little hole in the wall behind the children's reference books. He read and he read and he read until he finally decided that it was time to write a book of his own. His little books made from folded squares of paper are the talk of the library. What will happen when the head librarian organizes a "Meet the Author Day"? A fun picture book that encourages children to write the stories that have never been told. (Read for free on Kindle Unlimited!)
What happens when a lion comes to story hour at the library? There are no rules about lions in the library. But Miss Merriweather has many other rules–rules about running and rules about being quiet. This fun book is a reminder that sometimes there is a good reason to break rules–even if you're a librarian.
Madeline Finn does NOT like to read. Especially out loud. She never gets a star sticker from her teacher. Just a "keep trying" sticker. On Saturday, Madeline Finn reminds librarian Mrs. Dimple that she does not like to read. But Mrs. Dimple has a special idea… While the beginning of the book puts a strong emphasis on Madeline's struggle with reading, Madeline Finn and the Library Dog ends in an encouraging tone: "it's okay to go slow, and to keep trying." (Read it now on Scribd!)
When a little girl librarian and her three little owl assistants run an all-night library, they never know what a night might bring! A band of squirrels, a wolf reading a sad story, or even a tortoise who is a very slow reader… A simple tale with tri-color illustrations, The Midnight Library is a favorite with my 5-year-old (she nearly has it memorized)! (Read it tonight on Scribd!)
It was almost story time. The children couldn't wait. But where was the librarian? And what happened to Baby Bear in Goldilocks and The Three Bears? (Read it now on Scribd!)
What's your favorite picture book about a library?
We'd love to add to our collection!
---
My 12-year-old daughter Ruth Anne's review of Library's Most Wanted:
"Libby has been made deputy of the library. It is her (supposed) duty to keep the books safe. But when Sammy returns a well-loved book, Libby is forced to give him another. She puts up posters and that brings in the Library's Most Wanted! (Which, in case you didn't guess, is readers!) I love this book (maybe because I love books!). It is such a sweet story and has fantabulous pictures."
---
Looking for more picture books about libraries and librarians?
Picture Books About Libraries from House Full of Bookworms
11 Memorable Children's Books About Libraries and Librarians
30 Picture Books About Libraries from The Multi Taskin' Mom
Visit my Goodreads shelf featuring library-themed picture books!
---
(Thanks to Pelican Publishing for the digital review copy of Library's Most Wanted.)