Animal Friends Leap to Greet You in These Picture Books About the Library
(This post contains affiliate links. Read my full disclosure.)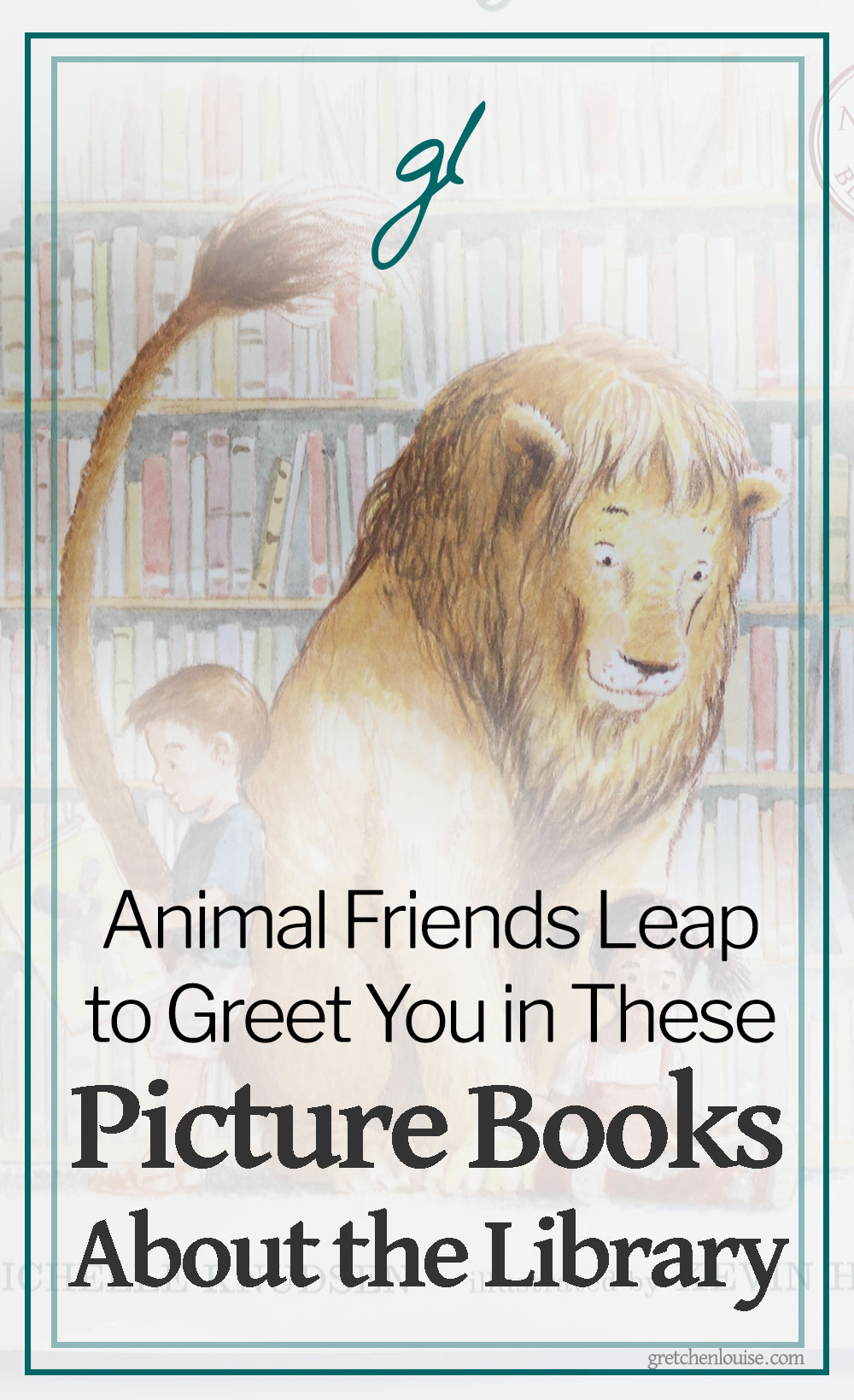 All ages will love these whimsical children's picture books about animals at the library.
Have you ever heard the story of Dewey, the kitten who was dropped in the book return slot at a library in Iowa on a cold winter night? If not, you need to read Dewey the Cat.
Did you know that the majestic marble lions outside a New York Public Library building have names? World-renowned Patience and Fortitude appear in lovely picture books and even a wordless book.
Did you know that a letter was found in a twelfth-century manuscript in which one brother abbot requested to borrow a book from another because their copy had been eaten by a bear? Clearly, you need to read Brother Hugo and the Bear.
Animals aren't allowed in most libraries these days. But that doesn't keep them from entering via the pages of a book—in fantastical stories of reading lions and writing mice, or in anthropomorphic tales of bear librarians and inchworm bookworms.
In honor of National Library Week, we'd like to introduce you to some delightful and whimsical animal friends within the pages of picture books about the library. (Find even more suggestions in our original list of picture books that will help your children fall in love with the library!)
Watch for the book stack emoji 📚 denoting favorites we're adding to our own library!
We're huge fans of Scribd, so I've also noted when books are currently available through Scribd's digital library. (Grab your own 60-day free trial!)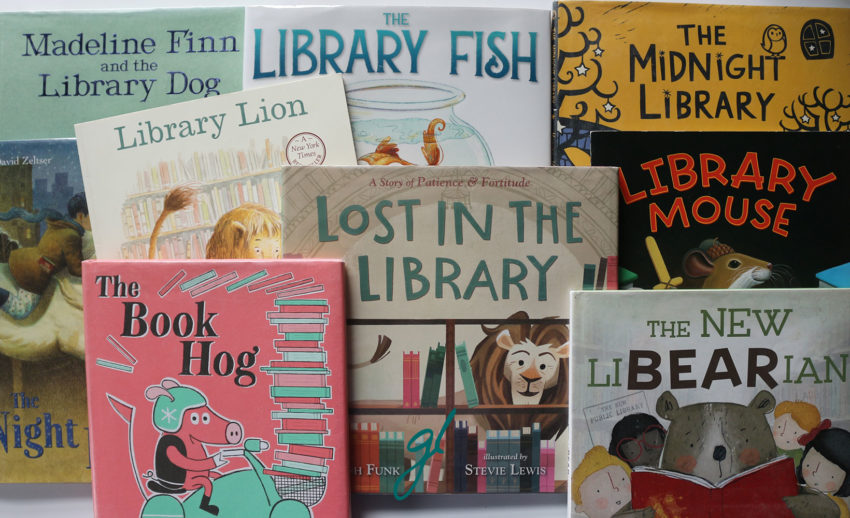 When Animals Become Library Mascots
My children loved this picture book based on the true story of Dewey Readmore Books, the kitten who was abandoned in the book return slot at a small town library in Iowa. (Read the full story in Vicki's book Dewey the Cat.) And don't miss Dewey's Christmas at the Library!
What would happen if the lion statues guarding the New York Public Library came alive at night? This fun debut wordless picture book follows Patience and Fortitude on a subway ride to Coney Island.
When one of the lion statues who guards the New York Public Library disappears from his post one night, his twin ventures into the library in search of his story-telling friend. The other statues and portraits within the library try to help, so that Fortitude can find Patience before sunrise. Lovely illustrations in this rhyming tale!
When lions Patience and Fortitude sneak into the New York Public Library one night, they find their usual destination—the Children's Center—missing! They set out on a city-wide tour searching for their library, seeking help from the statues in Central Park. Another delightful rhyming tale with beautiful illustrations, published in conjunction with the New York Public Library.
The night before his eighth birthday, a boy is disappointed to learn his birthday present is nothing but a book. Then, he falls asleep and dreams of a lion named Fortitude, who whisks him away to the New York Public Library. There, the books come alive and remind him of many stories he read with his grandpa. Whimsical illustrations in this sweet story that reminds us of the beauty of sharing books with others!
Download printable activities and a coloring page of Patience and Fortitude from The New York Public Library!
When Pets Come to Visit the Library
It's a rainy day and Benny just wants to play with Sam. But Sam is reading. Then Sam has an idea: maybe Benny would like reading if only she could find him the perfect book. Dogs aren't allowed in the library, but that doesn't keep Sam from finding A Book for Benny. This one made my youngest laugh!
Madeline Finn does NOT like to read. Especially out loud. She never gets a star sticker from her teacher. Just a "keep trying" sticker. On Saturday, Madeline Finn reminds librarian Mrs. Dimple that she does not like to read. But Mrs. Dimple has a special idea… While the beginning of the book puts a strong emphasis on Madeline's struggle with reading, Madeline Finn and the Library Dog ends in an encouraging tone: "it's okay to go slow, and to keep trying." (Read it now on Scribd!)
When Animals Don't Belong at the Library
What happens when a lion comes to story hour at the library? There are no rules about lions in the library. But Miss Merriweather has many other rules–rules about running and rules about being quiet. This fun book is a reminder that sometimes there is a good reason to break rules–even if you're a librarian.
On the first day of Lent, Brother Hugo discovers that he cannot return The Letters of St. Augustine to the monastery library, because the book has been eaten by a bear! Brother Hugo is granted the opportunity to create a careful replacement of the manuscript. But will the bear beat him in his quest to return it to the library? Inspired by a note found in a twelfth-century manuscript, the medieval-inspired illustrations are as charming as the story! (Available as an audiobook on Audible and Scribd.)
It's an emergency! Little Lucy Lupin alerts the librarian to a lie: there's a lion in the library. What happens when Lucie tells a tale one too many times? A reimagination of The Boy Who Cried Wolf. (Content warning: as with many fables, this one has a violent ending!)
When Anthropomorphic Animals Check Out the Library
Sam lived in a little hole in the wall behind the children's reference books. He read and he read and he read until he finally decided that it was time to write a book of his own. His little books made from folded squares of paper are the talk of the library. What will happen when the head librarian organizes a "Meet the Author Day"? A fun picture book that encourages children to write the stories that have never been told. (Read for free on Amazon Kids. And if you fall in love with Library Mouse, don't miss the rest of the series!)
"The book hog loved books. And he had quite a few. He loved the way they smelled… He especially liked the ones with pictures." The vintage feel makes this sweet story extra special! A new favorite in our home, the illustrations reminded us of a classic favorite, Robert the Rose Horse. (Also available as a 4-minute audiobook.)
When a French snail named Escargot visits the library and doesn't find any books featuring a daring snail hero, he sets out to write his own. In the process, the reader learns the elements of a story. A cute stand-alone tale from the Escargot series! (Available on Scribd.)
Bunny loved to listen in on story time outside the library each summer day. But when the cold weather came and outdoor story time ended, Bunny was sure he couldn't live without books. Long nights of bookless brainstorming led Bunny to a solution that took him inside the library each night. Before long, his friends were coming along to discover the delightful stories to be found inside books. But what will happen when they get so engrossed in their books that they don't hear the librarian arrive one morning? A fun tale!
Mouseling wakes up each day surrounded by words Aunt Tillie has collected. Father and Mother are ready to push him from the cozy, familiar nest—away from his beloved words. But what if there were more new and delicious words waiting to be found beyond the nest? His daring adventures take him into the heart of the library, where he becomes a swashbuckler of words. My youngest insisted on having every single word in the illustrations of Mouseling's scraps of paper read to her—and it was a good opportunity to have her sound out some of the simpler ones!
Mr. Wiggle the inchworm goes to the library and learns about all it offers! Don't miss the companion titles: Mr. Wiggle's Book, a cautionary rhyming tale about how to care for books; Mr. Wiggle Loves to Read, which explains the difference between fiction and non-fiction, and how they are arranged in the library.
Leilong loves stories. But he's too big for the library! After he causes an apparent earthquake during story time, the library manager comes up with a solution that makes everyone happy. (Available on Scribd.)
A new take on the poem "Going on a Bear Hunt," this tale includes many similar repetitive rhyming phrases as a group of bears go on a book hunt in a woodland library. Concepts such as the five-finger rule are introduced (along with many Goldilocks references!), as well as the fact that you can't judge a book by the outside: "Can't tell from outside. Have to look inside."
Homer is a quiet cat who lives in a quiet house with a quiet lady. But one day, a loud noise draws Homer out the window and into his very noisy town. He journeys from post office to fire station before he discovers the perfect quiet place for a quiet cat: the library, of course!
Once upon a time, Mr. Hughes the librarian found a fishbowl on the library steps. "Some libraries have their lions, but this library will have you, Fish." Library Fish grew to love story time and outings on the bookmobile. But then one day, it snowed so much that the library was closed. Library Fish knew it didn't matter: she found her own story! From the author of Biscuit.
Bear had never been to the library. Bear told Mouse that libraries were, "Completely unnecessary… Terribly extravagant." But Mouse was determined to convince Bear otherwise. Will Mouse find the right book for Bear? Will Bear learn to be quiet in the library? A fun title from the Bear and Mouse picture book series.
When the Library Turns into a Zoo
If Cary was the librarian, she would have a special day when animals and birds could come to the library. She imagines how she'd welcome each animal into the library, how they'd all sit down to read, and then what a rumpus! From the creator of Corduroy.
When a little girl librarian and her three little owl assistants run an all-night library, they never know what a night might bring! A band of squirrels, a wolf reading a sad story, or even a tortoise who is a very slow reader… A simple tale with tri-color illustrations, The Midnight Library is a favorite with my youngest (she nearly has it memorized)! (Read it tonight on Scribd!)
When the Springfield librarian Molly McGrew accidentally drives the bookmobile to the zoo, each animal finds a favorite title and learns more about how to read, write, review (and not to eat!) a book. A fun rhyming tale with several nods to Seuss! (Available as a 7-minute audiobook on Audible and Scribd.)
It's story time at the library. With "One librarian. One story. Children. And a chicken." But one week later, there are more children, and more chickens, but still only one librarian. Chaos ensues with the noisy cluck, cluck of the flock—until the librarian figures out a solution. Even though it's a simple tale, we enjoyed this book since our chickens are often part of story time at our house.
What would happen if you took your favorite pet to the library? Here's a book full of possibilities. Fun reasons not to take your frog, your chicken, your python, or your pelican to the library! "The next time you come to the library, please leave your animals at home."
Mr. Dewey needed more room for books—so he bought a nine-story house to be his own personal library. Soon, different animals begin to arrive at Mr. Dewey's, each one specially gifted in a classification of the Dewey Decimal System. Don't miss the companion: Mr. Dewey's Zoo: Coloring Book Edition. (Also available on Apple Books.)
When Animals Are Librarians
Miss Lotta Scales fit the advertised job description of a thick-skinned librarian—she was, in fact, a dragon. Miss Scales took her new job seriously. She incinerated inflammatory books: "Books that depict cruelty to dragons should never have been published in the first place." She didn't allow anyone to touch the books. And she declared the idea of story time positively medieval. Then Molly Brickmeyer walked into the library looking for her glasses…
When Sunrise Elementary School's beloved librarian is finally ready to retire from guarding the books, disaster strikes on her last day of work: all the books disappear. As the new librarian Mike Krochip lauds the benefits of the new "Sunrise Cybrary," things in the library heat up as the Library Dragon returns.
It was almost story time. The children couldn't wait. But where was the librarian? And what happened to Baby Bear in Goldilocks and The Three Bears? (Available as an 8-minute audiobook—and on Scribd!)
When Goldie Socks takes a shortcut through the woods, wanders into the home of the Three Libearians, and begins perusing their bookshelves—well, you can guess what happens in this retelling of a classic tale. Author Jackie Mims Hopkins introduces the helpful principle of the five-finger rule to help you find books that are "just right"!
When Classic Animal Characters Visit the Library
When our friend Curious George goes to story hour at the library, we wouldn't expect him to sit still and listen, would we? But The Man in the Yellow Hat comes back just in time to pick up George, who is checking books out with his brand new library card. Definitely not a classic Rey, but will be enjoyed by young fans of Curious George. (Read today on Scribd in A Treasury of Curious George. You can also check out the early reader Curious George: Librarian for a Day.)
Corduroy's favorite day of the week is the day he goes to the library. One week, Corduroy and his friends get to dress up as their favorite character from a book! A lift-a-flap book based on Don Freeman's classic bear, Corduroy.
"The whole Bear family loved to read. They went through books the way most bears go through honeycomb." When the Bear family visits Ms. Dewey at the Bear Town Library, you'll find a celebration of imagination fueled by reading, as well as fun bearish references to classic titles (like Paws and Prejudice). But then the Bear family finds out the library might be closing. Will the cubs be able to help save the library?
An "I Can Read!" book about our favorite dog. Can Biscuit find a book that's just right?
---
Is your library missing some of these titles? Or do you want to preview a book before you order it? Search for the book title along with the words "read aloud" on YouTube. Many authors and librarians feature picture book read alouds on their channels! It's a great way to preview a book—or save your voice when you've read a whole stack of library books over and over again.
---
My 14-year-old daughter Ruth Anne's review of Mr. Dewey's Zoo:
"In a graphic-novel style, with a whole lotta books and one man, we learn how the Dewey Decimal System is used—and which animals like to read what kind of book."
---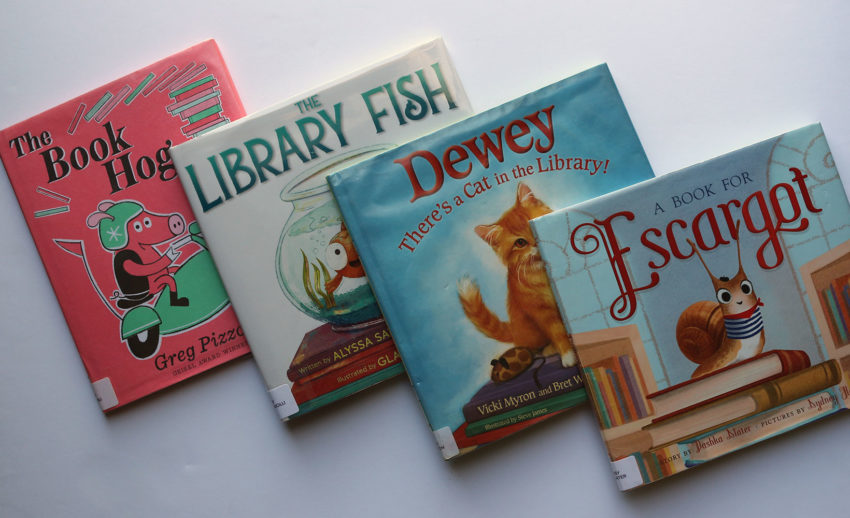 More Picture Books About Animal Friends at the Library
Even more titles—not a huge hit at our house, but worth checking out if your library has them on the shelf!
---
Looking for more picture books about libraries and librarians?
Picture Books That Will Help Your Children Fall in Love with the Library
Children's Books That Celebrate the Library (and Librarians) from Imagination Soup
---
(Thanks to Doug Cturtle for a digital review copy of Mr. Dewey's Zoo.)