#ReformingSocialMedia: a review of the book by Mandy J. Hoffman
(This post contains affiliate links. Read my full disclosure.)
When my oldest daughter lost her two front teeth, I immediately snapped pictures. And my first instinct was to post them to Facebook and email them to the great grandparents. But then I remembered a story Mandy J. Hoffman told in her book #ReformingSocialMedia. When her daughter got her ears pierced, Mandy refrained from immediately posting the pictures to social media, and instead let her daughter get the joy of showing her grandparents her earrings in person. I adopted the same approach and got to watch the exclamations of surprise when my parents encountered my daughter's toothless grin a few weeks later.
Pausing before I post is just one lesson I've learned from Mandy's new book. #ReformingSocialMedia is about using social media to glorify God rather than our selves by examining our use of social media in light of God's Word. Mandy exhorts us that in this information age, it is of utmost importance that we let the Bible not only inform our use of social media, but literally reform it.
While social media is not sinful, sin abounds in social media. However, wherever there is sin, there is also the opportunity for God to display His redemptive power.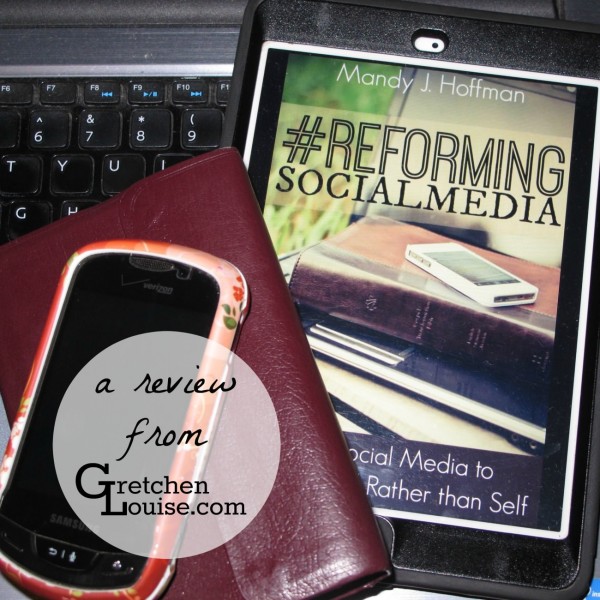 In a style that's both conversational and convicting, this pastor's wife addresses the tough topics of social media with confidence and grace. She's quick to point out that even though social media claims to be all about connecting us to each other, it can often make us feel more disconnected than ever. Not only does it often give us "too much information", but the endless scrolling can leave us lonely, and the daily drama can divide friends.
Gossip is already a sin that seems to be easy for anyone to commit… Social media just makes it faster.
But Mandy doesn't leave us staring at the negative aspects of social media; she shines the light of the Gospel into an often dark place. #ReformingSocialMedia explores how our use of social media can complement God's original design for community: the church.
Social media should not drive us away from real community; it should draw us to it.
Whether you use social media every day or it is something you avoid like the plague, Mandy's book will have many a word of wisdom for you. Using personal stories and practical application of Scripture, Mandy exhorts us that whether or not we use social media, our choice must be for the glory of God.
Disclosure: I was delighted to receive a free review copy of this book. I'm even more delighted to review and share it with you, because I believe so firmly in the message it contains.