4 Science Fiction Adventure Series About Creation That Christian Kids Will Love
(This post contains affiliate links. Read my full disclosure.)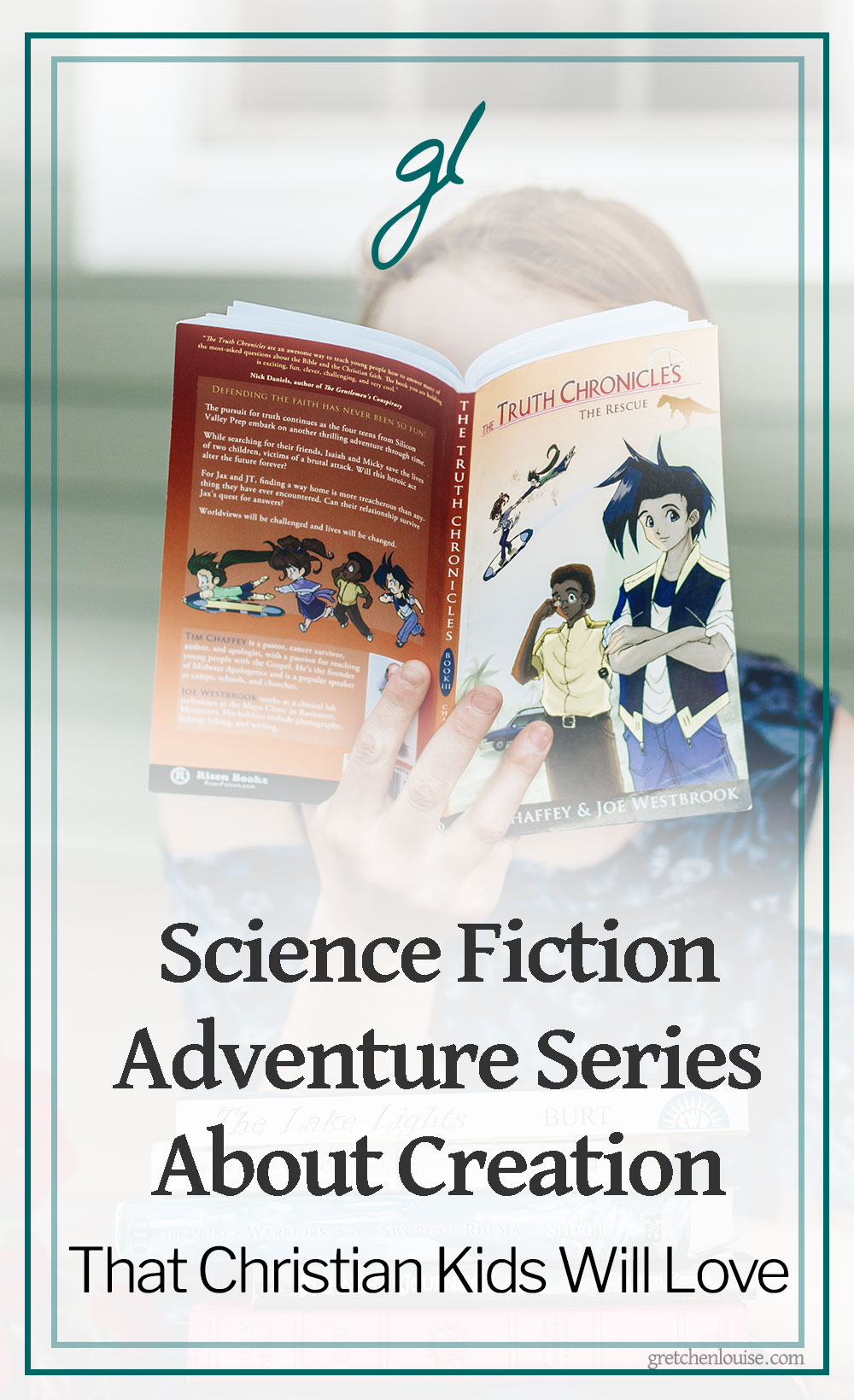 Science fiction was never a favorite genre of mine until I discovered The Truth Chronicles. My cousin was reading a book while we were on a day trip with our families. My curiosity piqued by the intriguing cover, I asked what this book was about.
My cousin told me all about four kids and their quest for the truth about creation. Her tale included dinosaurs, cars turned time machines, and daring rescues.
I borrowed the first book and soon had devoured all six of The Truth Chronicles which were then published. I learned things I didn't know about my faith, discovered how extremely uncomfortable it is to have an Allosaurus breathing down my neck, and swooned over Melissa Mathis' gorgeous illustrations. I was caught by science fiction, hook, line, and sinker.
And then I discovered more books about creation versus evolution…
What words can describe a barren landscape, around the time of Noah's flood? A time machine whirls you back through misty ages and into a world of dinosaurs, crazy weird animals, and a trial hard enough to challenge the most steadfast of beliefs.
The Meeting tells the story of how the four teens met in 7th grade when they entered Silicon Valley Prep School. Jax, Isaiah, Mickey, and JT learn about all things science–and that they don't have to hide their Christian faith as students. (This Kindle-only prequel can be read before or after the whole series. It was spectacularly done by the amazing Tim Chaffey and the talented Melissa Mathis.)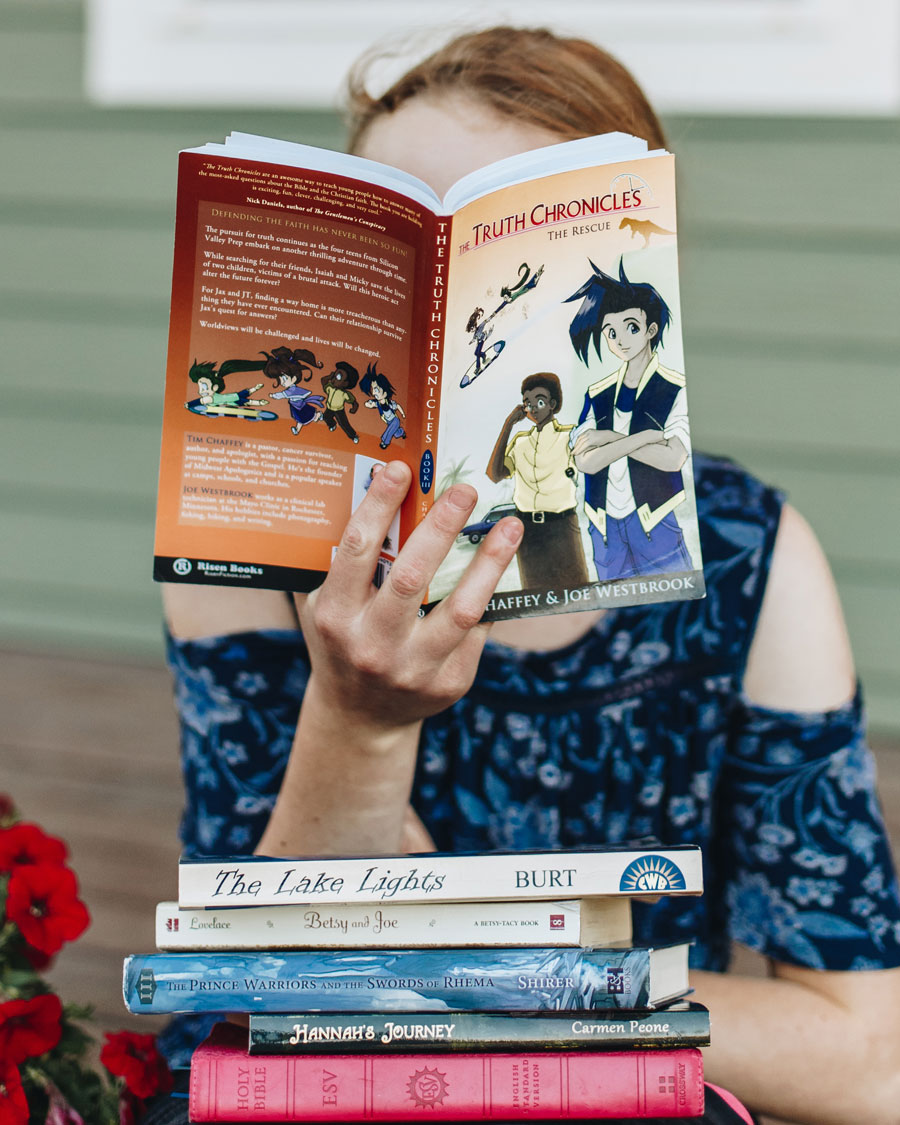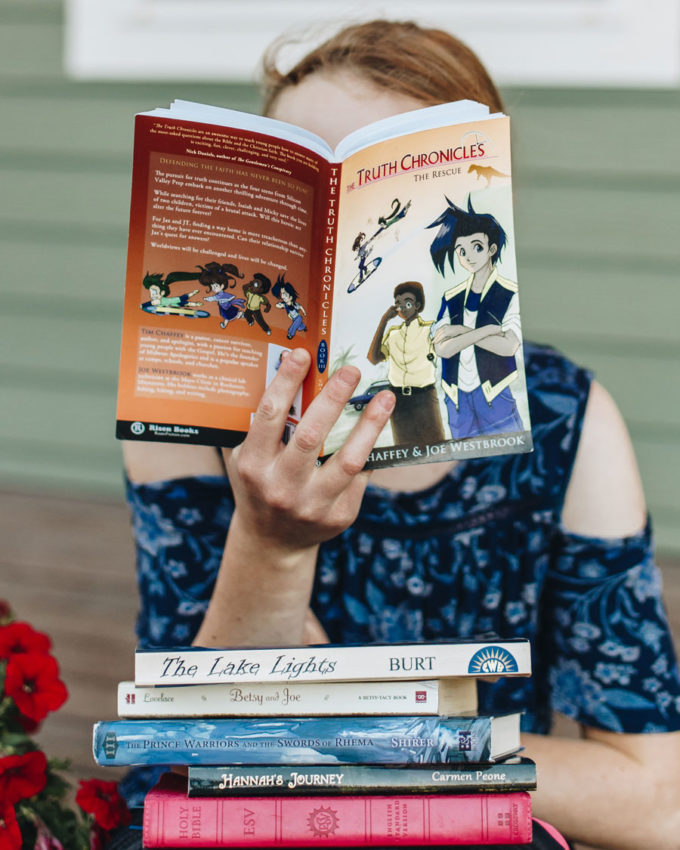 Jonathan Matthew Oliver is an ordinary boy with extraordinary adventures and an extraordinary God. Jon and his younger sister, Jennica, have a crazy time of it.
In the first book, The Lake Lights, Jon discovers what he calls "mutant raccoons" living under his house, finds something amazing in the basement, learns that some inventions aren't just the dreams of scientists for years past, and evades the mysterious "Dr. Stalker" in many (hilarious and harrowing) ways.
In book two, The Vikings of Loch Morar, Jon and his family travel to Scotland to test the Repulsor, a force field submarine. Much to Jon's amazement, a French girl he knew from high school awaits him.
The Creation Seekers series is easy to read and humorous. Even though the main character is a boy, I found Jon easy to relate to and rather like my boy cousins and my younger brother: annoyingly clever and completely hilarious!
Jay and Lila Cooper have joined their dad, Dr. Cooper, on numerous archaeological expeditions since their mother died, including quests to islands, Biblical sites, and abandoned temples. With each quest, they learn things about themselves that they didn't know and find out that God has a purpose for each minute of their lives.
A few of the Cooper Kids' destinations include: The pit mentioned in Revelation where the Devil is imprisoned; a sinking island where a man is worshipping a god who only wants blood; a Babylonian temple with a six-fingered giant waiting for his chance at murder.
Jonathan Park reminds me of The Cooper Kids' Adventures and The Truth Chronicles, mashed into a delightful mix. Jonathan Park has been around since my mom was a girl. I've listened to the CDs for years but now we have an Unlimited subscription, so we have access to all the adventures and get the latest episodes in the app as soon as they release.
Through Jonathan Park's adventures, I've gathered facts about the Truth that help me navigate the evolution theory. As I listen to each album, my faith is challenged, my brain absorbs the scientific information, and my mind builds a defense against Satan's lies.
Jonathan, Jessie Brennan, Dr. Kendall Park, and Isaac Brennan have become my role models. I hope that your faith, too, will grow as you enjoy Jonathan Park's adventures.
---
These books check all the boxes that teens like me want checked. Suspenseful? Yes. Captivating? Definitely. Creatures only known to science fantasy? Um, yeah! And teaching the truth? Positively.
I have had a blast sharing these books with you. I hope your kids enjoy them!
God bless you and keep reading,
Ruth Anne