Stepping Heavenward while Loving the Little Years
(This post contains affiliate links. Read my full disclosure.)
It seems like the parenting books that have the most answers are the ones about which most questions are asked.
And the more I parent, the fewer answers I have.
Which is, perhaps, why my two most favorite books on parenting at the moment are books of personal reflection from a mother's heart, and not books with points one, two, and three of child training.
In the early nights of nursing my newest little one, I kept my eyes open only by reading the pages of Elizabeth Prentiss' Stepping Heavenward. I'd read it years ago, but not again since becoming a mother. I was moved to tears over and over, as my conscience was pricked and my hope and joy in motherhood and life renewed.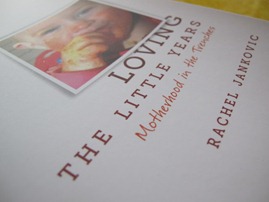 Then Jessica commented on one of my posts about busyness and life and mommyness, asking if I'd read Loving the Little Years by Rachel Jankovic. The title kept popping up after that, until I ordered a review copy and ate it up. It's not perfectly written, it's not filled with perfect answers—it's just one mom's very personal, very real struggle to keep the right perspective on the years her children are little.
One a fictitious woman's diary written in old-fashioned prose, another a modern-day mom's collection of choppy blog posts—both with direct insight into and encouragement for the heart of a mother. Neither has all the answers—but both point to The Answer, The Perfect Parent, our Heavenly Father. One thick, one thin—both permanently on my read, read, and re-read list.